Hi there! We are 
The Letter 4
! Four sisters that grew up stealing each others clothes, hogging the bathroom, staying up till 3 laughing, and always doing projects together. Now we have grown and moved away from each other and honestly, we miss it! Our blog is a place we can share with each other again. We share outfits, recipes, ideas, crafts, printables with each other and with all of our readers too! We love being able to feel close to one another again despite the distance and being able to connect with everyone that also reads our blog. We are so happy to be able to share one of our posts here today on
"Or so she says…"
I introduce to you the Modern Rosie Riveter…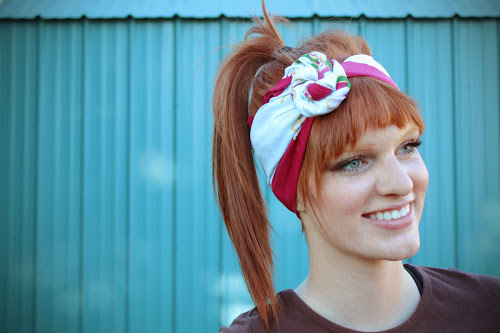 I personally love it because it hardly takes any time at all, and if you don't want to straighten/curl/etc. your hair, you don't have to! Just pull it up and wrap!
Or, you can leave it down! Simple and easy. My two favorite words when it comes to hairstyles.
It's another favorite.

I'm excited for you to try it. If you have any questions, email us from
our blog
. You're looking fabulous!