Making my sandwiches on croissants is one of my favorite things. I love how the bread is so light that you can actually taste the flavors of everything piled in the middle of it! Once upon a time, I was at Costco (love you!) and one of the aisle-foodie-friends handed me a cracker with a pile of chickeny stuff on it. They were hoping I would like the cracker but, I was like "Hello, what is this chickeny stuff?!?" The lady dug up a recipe and gave it to me….and now this chickeny stuff graces my croissants on a regular basis. It's a fun alternative to the standard chicken salad sandwiches (which I also love…although, there's lots of poopie recipes out there). You know how you have bukoos of people over and you serve chicken salad sandwiches and a plethora of finger foods?? Switch it out for this version, you'll be the star of the party! Oh, oh…these are also a great picnic food, lunch box meal, etc. Just individually wrap the sandwiches in saran wrap and you're ready to go!
———————————————————————-
Okay, you will need: milk, mayo, chopped green onion (I always forget to buy this and it's not a big deal), garlic powder, onion powder, dry mustard, Hidden Valley ranch dressing mix, diced celery (I leave this out for the Beard Mans sake), lettuce (if you want to add), canned chicken, and Hormel real bacon pieces.
In a bowl, blend together 1/2 cup milk, 1/2 cup mayo, and 5 tsp. ranch dressing powder mix. Add 1/2 tsp. garlic powder, 1/2 tsp. onion powder, and 1/4 tsp. dry mustard.
This is the part I often leave out cause my family is really picky….but, if you want to add it, throw in about 1/2 cup or more of diced celery and 4 TBS. chopped green onions.
Flake 2 cans of chicken with a fork and add it to your mixture. Dump in a bunch of Hormel bacon pieces and stir up. Preferably, chill for a few hours for the flavors to combine…but, sometimes I can't wait and eat them right away.
My family loves these sandwiches with no additions, meaning NO lettuce. But, for the picture's sake I needed some.
Okay, now I just have to introduce you to my yard friends…
Every year the same house finch couple comes back, make a nest in my wreath and we have baby birds in my door! (I think I showed you a couple pics last year) If you ring my doorbell, the mama will fly right over your head and make you scream! Good times, good times. The kids love climbing up a ladder and peaking at the eggs and checking back everyday until they're little birds! They're so cute…only problem, they poop all over my door, chew up my wreaths and make them pretty much unusable ever again. Boo.
Today the ducks came by for a visit, the kids made them completely full on bread…hoping they will come back every day.
And, here is our winter friends who are my enemies in the spring and summer. A family of like 10 deer come grazing in the yard. We love watching them out the window. If they didn't poop so much and eat all my plants, they would be always welcome. But, I love nature! It's so neat to have all these cuties be a part of our lives 🙂
Anyway, make that sandwich.
Ranch & Bacon Chicken Croissants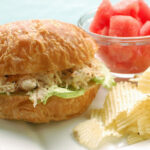 Bacon & Ranch Chicken Croissants
Ingredients
1/2

cup

milk

1/2

cup

mayo

4

TBS.

chopped green onion

optional

1/2

tsp.

garlic powder

1/2

tsp.

onion powder

1/4

tsp.

dry mustard

5

tsp.

Hidden Valley Ranch Dressing mix

1/2

cup

- 1 cup diced celery

optional

2

10-13 oz. cans of chicken, drained.

1/2 - 3/4

bag of Hormel Real Bacon Pieces

Croissants

Lettuce

optional
Instructions
Blend together the mayo, milk, and ranch dressing mix in a bowl.

Add the garlic powder, onion powder, and dry mustard.

Add the celery and onion (optional).

Flake the chicken with a fork and add to the ingredients. Mix well.

Chill for several hours for the flavors to combine.

Serve on croissants (add lettuce if you want ).