If you're looking for some gift ideas for men, chances are that a book is a great idea. But, the hard part is knowing which one to get, right? I got you covered. I talked to my Facebook gals, had them hit up their men to find out their most favorite book, and then tell me all about it. Real men, real favorites. Here's 15 of the best books for men that they suggested (some new favorites, others are favorites from their childhood that they still love today.) I hope you find the perfect one!
When you're done checking out this list of the best books for men, be sure to see my Father's Day Gift Ideas, follow my Gifts for Men Pinterest board for continuous ideas, and check out the Gifts for Men categories tab on the blog, where you'll find all previously shared gifts for men that have been featured.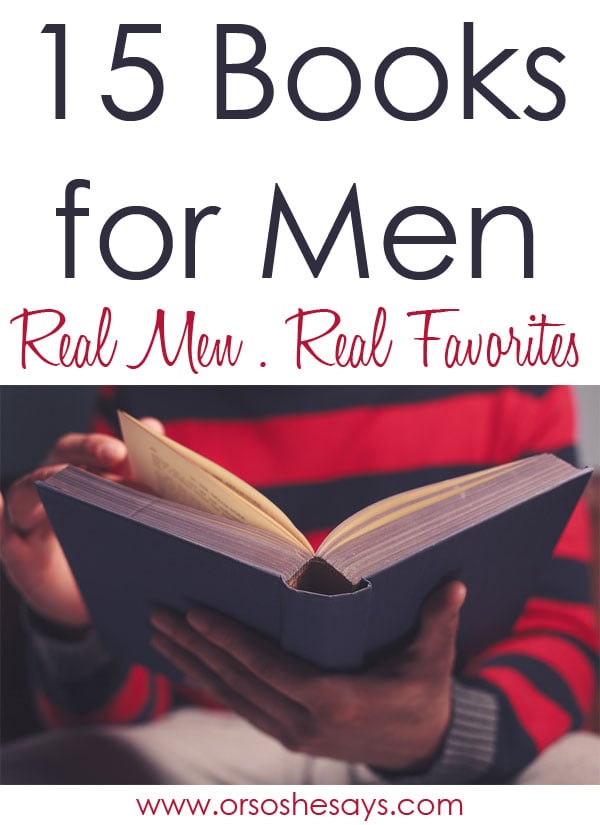 15 Best Books for Men: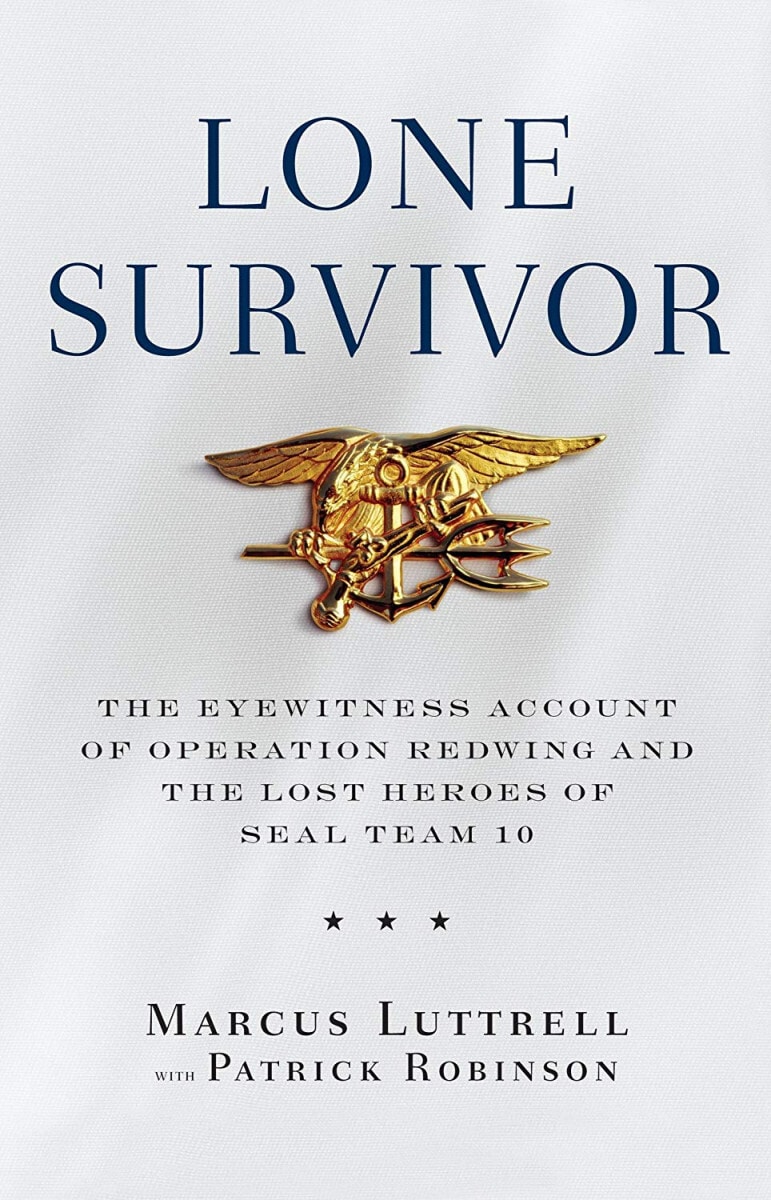 Lone Survivor by Marcus Luttrell with Patrick Robinson ~ "On a clear night in late June 2005, four U.S. Navy SEALs left their base in northern Afghanistan for the mountainous Pakistani border. Their mission was to capture or kill a notorious al Qaeda leader known to be ensconced in a Taliban stronghold surrounded by a small but heavily armed force. Less then twenty-four hours later, only one of those Navy SEALs remained alive.
This is the story of fire team leader Marcus Luttrell, the sole survivor of Operation Redwing, and the desperate battle in the mountains that led, ultimately, to the largest loss of life in Navy SEAL history. But it is also, more than anything, the story of his teammates, who fought ferociously beside him until he was the last one left-blasted unconscious by a rocket grenade, blown over a cliff, but still armed and still breathing. Over the next four days, badly injured and presumed dead, Luttrell fought off six al Qaeda assassins who were sent to finish him, then crawled for seven miles through the mountains before he was taken in by a Pashtun tribe, who risked everything to protect him from the encircling Taliban killers.
A six-foot-five-inch Texan, Leading Petty Officer Luttrell takes us, blow-by-blow, through the brutal training of America's warrior elite and the relentless rites of passage required by the Navy SEALs. He transports us to a monstrous battle fought in the desolate peaks of Afghanistan, where the beleaguered American team plummeted headlong a thousand feet down a mountain as they fought back through flying shale and rocks. In this rich , moving chronicle of courage, honor, and patriotism, Marcus Luttrell delivers one of the most powerful narratives ever written about modern warfare-and a tribute to his teammates, who made the ultimate sacrifice for their country." Amazon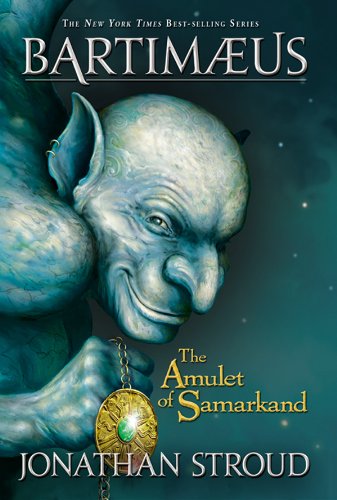 The Bartimaeus Series by Jonathan Stroud ~ "Nathaniel is a magician's apprentice, taking his first lessons in the arts of magic. But when a devious hot-shot wizard named Simon Lovelace ruthlessly humiliates Nathaniel in front of his elders, Nathaniel decides to kick up his education a few notches and show Lovelace who's boss. With revenge on his mind, he summons the powerful djinni, Bartimaeus. But summoning Bartimaeus and controlling him are two different things entirely, and when Nathaniel sends the djinni out to steal Lovelace's greatest treasure, the Amulet of Samarkand, he finds himself caught up in a whirlwind of magical espionage, murder, and rebellion." Amazon
Inferno by Dan Brown ~ "Harvard professor of symbology Robert Langdon awakens in an Italian hospital, disoriented and with no recollection of the past thirty-six hours, including the origin of the macabre object hidden in his belongings. With a relentless female assassin trailing them through Florence, he and his resourceful doctor, Sienna Brooks, are forced to flee. Embarking on a harrowing journey, they must unravel a series of codes, which are the work of a brilliant scientist whose obsession with the end of the world is matched only by his passion for one of the most influential masterpieces ever written, Dante Alighieri's The Inferno." Amazon
Gentle Ben by Walt Morey ~ "The Alaskan wilderness is a lonely place for Mark Andersen, especially after the death of his brother. But Mark finds a friend named Ben, who happens to be an Alaskan brown bear. Ben and Mark form a special bond, but the townspeople are determined to destroy it. It is only through the strength of an enduring friendship that Ben—and Mark—have a chance of being saved." Amazon
For Whom the Bell Tolls by Ernest Hemingway ~ "The story of Robert Jordan, a young American in the International Brigades attached to an antifascist guerilla unit in the mountains of Spain, it tells of loyalty and courage, love and defeat, and the tragic death of an ideal. In his portrayal of Jordan's love for the beautiful Maria and his superb account of El Sordo's last stand, in his brilliant travesty of La Pasionaria and his unwillingness to believe in blind faith, Hemingway surpasses his achievement in The Sun Also Rises and A Farewell to Arms to create a work at once rare and beautiful, strong and brutal, compassionate, moving and wise." Amazon
One Way Out: The Inside History of the Allman Brothers ~ "Now an instant New York Times bestseller, One Way Out is the powerful biography of The Allman Brothers Band, an oral history written with the band's participation and filled with original, never-before-published interviews as well as personal letters and correspondence. Tracking the band's career from their 1969 formation to today, One Way Out is filled with musical and cultural insights, riveting tales of sometimes violent personality conflicts and betrayals, drug and alcohol use, murder allegations and exoneration, tragic early deaths, road stories, and much more, including the most in-depth look at the acrimonious 2000 parting with founding guitarist Dickey Betts and behind-the-scenes information on the recording of At Fillmore East, Layla, Eat A Peach, Brothers and Sisters, and other classic albums." Amazon
The Bronx is Burning by Jonathan Mahler ~ "A passionate and dramatic account of a year in the life of a city, when baseball and crime reigned supreme, and when several remarkable figures emerged to steer New York clear of one of its most harrowing periods.
By early 1977, the metropolis was in the grip of hysteria caused by a murderer dubbed "Son of Sam." And on a sweltering night in July, a citywide power outage touched off an orgy of looting and arson that led to the largest mass arrest in New York's history. As the turbulent year wore on, the city became absorbed in two epic battles: the fight between Yankee slugger Reggie Jackson and team manager Billy Martin, and the battle between Ed Koch and Mario Cuomo for the city's mayoralty. Buried beneath these parallel conflicts—one for the soul of baseball, the other for the soul of the city—was the subtext of race. The brash and confident Jackson took every black myth and threw it back in white America's face. Meanwhile, Koch and Cuomo ran bitterly negative campaigns that played upon urbanites' fears of soaring crime and falling municipal budgets.
These braided stories tell the history of a year that saw the opening of Studio 54, the evolution of punk rock, and the dawning of modern SoHo. As the pragmatist Koch defeated the visionary Cuomo and as Reggie Jackson finally rescued a team racked with dissension,1977 became a year of survival but also of hope." Amazon
Killing Lincoln by Bill O' Reilly ~ "In the spring of 1865, the bloody saga of America's Civil War finally comes to an end after a series of increasingly harrowing battles. President Abraham Lincoln's generous terms for Robert E. Lee's surrender are devised to fulfill Lincoln's dream of healing a divided nation, with the former Confederates allowed to reintegrate into American society. But one man and his band of murderous accomplices, perhaps reaching into the highest ranks of the U.S. government, are not appeased.In the midst of the patriotic celebrations in Washington D.C., John Wilkes Booth—charismatic ladies' man and impenitent racist—murders Abraham Lincoln at Ford's Theatre. A furious manhunt ensues and Booth immediately becomes the country's most wanted fugitive. Lafayette C. Baker, a smart but shifty New York detective and former Union spy, unravels the string of clues leading to Booth, while federal forces track his accomplices. The thrilling chase ends in a fiery shootout and a series of court-ordered executions—including that of the first woman ever executed by the U.S. government, Mary Surratt. Featuring some of history's most remarkable figures, vivid detail, and page-turning action, Killing Lincoln is history that reads like a thriller." Amazon
The Odd Thomas Series by Dean Koontz ~ "The dead don't talk. I don't know why." But they do try to communicate, with a short-order cook in a small desert town serving as their reluctant confidant. Meet Odd Thomas, the unassuming young hero of Dean Koontz's dazzling New York Times bestseller, a gallant sentinel at the crossroads of life and death who offers up his heart in these pages and will forever capture yours.
Sometimes the silent souls who seek out Odd want justice. Occasionally their otherworldly tips help him prevent a crime. But this time it's different. A stranger comes to Pico Mundo, accompanied by a horde of hyena-like shades who herald an imminent catastrophe. Aided by his soul mate, Stormy Llewellyn, and an unlikely community of allies that includes the King of Rock 'n' Roll, Odd will race against time to thwart the gathering evil. His account of these shattering hours, in which past and present, fate and destiny, converge, is a testament by which to live—an unforgettable fable for our time destined to rank among Dean Koontz's most enduring works." Amazon
7 Habits of Highly Effective People by Stephen R. Covey ~ "When it was first published in 1989, The 7 Habits of Highly Effective People was an almost instant bestseller–and quickly became a permanent part of the cultural lexicon. With over 25 million copies sold worldwide in over 40 languages since its first publication, this book continues to help millions of readers become more effective in both their personal and professional lives.
This is one of the rare books that has influenced presidents, CEOs, educators, and individuals all over the world not only to improve their businesses and careers but to live with integrity, service, dignity, and success in all areas of life. It has had an undeniable impact for the past 25 years–and will no doubt continue to be influential for many more." Amazon
The Giver by Lois Lowry ~ "The Giver, the 1994 Newbery Medal winner, has become one of the most influential novels of our time. The haunting story centers on twelve-year-old Jonas, who lives in a seemingly ideal, if colorless, world of conformity and contentment. Not until he is given his life assignment as the Receiver of Memory does he begin to understand the dark, complex secrets behind his fragile community. Lois Lowry has written three companion novels to The Giver, including Gathering Blue, Messenger, and Son." Amazon
The Dark Tower Series by Stephen King ~ "In 1978 Stephen King introduced the world to the last Gunslinger, Roland of Gilead. Nothing has been the same since. Over twenty years later the quest for the Dark Tower continues to take readers on a wildly epic ride. Through parallel worlds and across time, Roland must brave desolate wastelands and endless deserts, drifting into the unimaginable and the familiar as the road to the Dark Tower extends beyond its own pages. A classic tale of colossal scope—crossing over terrain from The Stand, The Eyes of the Dragon, Insomnia, The Talisman, Black House, Hearts in Atlantis, 'Salem's Lot and other familiar King haunts—the adventure takes hold with the turn of each page." Amazon
The Jack Ryan Series by Tom Clancy ~ Starting with The Hunt for Red October, "the runaway bestseller that launched Tom Clancy's phenomenal career. A military thriller so gripping in its action and so convincing in its accuracy that the author was rumored to have been debriefed by the White House. Its theme: the greatest espionage coup in history. Its story: the chase for a top secret Russian missile sub. Lauded by the Washington Post as "breathlessly exciting," The Hunt for Red October remains a masterpiece of military fiction by one of the world's most popular authors, a man whose shockingly realistic scenarios continue to hold us in thrall."Amazon
Hatchet by Gary Paulsen ~ "Thirteen-year-old Brian Robeson is on his way to visit his father when the single-engine plane in which he is flying crashes. Suddenly, Brian finds himself alone in the Canadian wilderness with nothing but a tattered Windbreaker and the hatchet his mother gave him as a present—and the dreadful secret that has been tearing him apart since his parent's divorce. But now Brian has no time for anger, self pity, or despair—it will take all his know-how and determination, and more courage than he knew he possessed, to survive." Amazon
The Hobbit and The Lord of the Rings by J.R.R. Tolkien ~ "One Ring to rule them all, One Ring to find them, One Ring to bring them all and in the darkness bind them
In ancient times the Rings of Power were crafted by the Elven-smiths, and Sauron, the Dark Lord, forged the One Ring, filling it with his own power so that he could rule all others. But the One Ring was taken from him, and though he sought it throughout Middle-earth, it remained lost to him. After many ages it fell by chance into the hands of the hobbit Bilbo Baggins.
From Sauron's fastness in the Dark Tower of Mordor, his power spread far and wide. Sauron gathered all the Great Rings to him, but always he searched for the One Ring that would complete his dominion.
When Bilbo reached his eleventy-first birthday he disappeared, bequeathing to his young cousin Frodo the Ruling Ring and a perilous quest: to journey across Middle-earth, deep into the shadow of the Dark Lord, and destroy the Ring by casting it into the Cracks of Doom.
The Lord of the Rings tells of the great quest undertaken by Frodo and the Fellowship of the Ring: Gandalf the Wizard; the hobbits Merry, Pippin, and Sam; Gimli the Dwarf; Legolas the Elf; Boromir of Gondor; and a tall, mysterious stranger called Strider." Amazon
Love books?? Want more suggestions? Check out the books category page for lots more posts with book ideas for kids and adults!