Have you seen Toy Story 4 yet?? Either way, this DIY Forky from Toy Story will make your kids squeal with delight! Look how fun and simple it is to make… seriously. It would be perfect to make with kids at a birthday party or on a simple, summer day. You need hardly any supplies, and the ones you do need are super cheap. That's my kind of craft! And, if your DIY Forky from Toy Story is as special to your child as it was to Bonnie, in the movie, then extra bonus!
Oh, by the way… speaking of not being able to get enough of Forky, it's been announced that A 10-episode short-form series, Forky Asks a Question, will be released exclusively on the Disney+ streaming service on November 12, 2019. How fun is that?? Also, a short film, called Lamp Life, will spill the beans on Bo Peep's whereabouts between leaving and reuniting with Woody. The date hasn't been announced yet, as far as I know, but it will also be on Disney+. I'm super excited about this new streaming service. It sounds like it will be cheaper than Netflix and filled with awesome shows. I have my fingers crossed that they will have the old Mickey Mouse/Donald Duck/Pluto type cartoons that were always on the Disney Channel in the 80's… none of this Mickey Mouse Clubhouse stuff. 😉
Anyway, let's get to our Toy Story craft!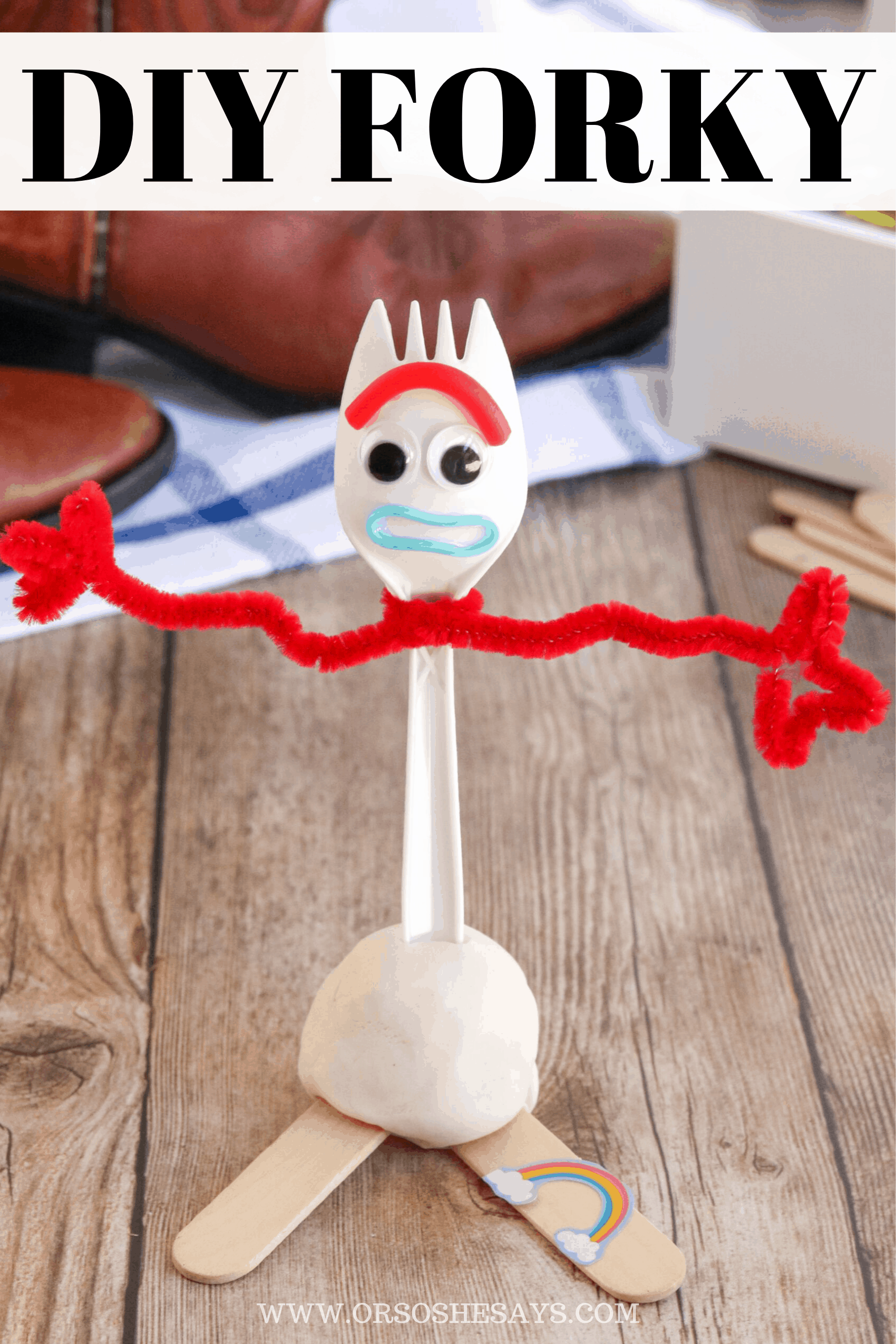 DIY Forky from Toy Story
Alright, so here's what you need:
1 spork
2 small googly eyes
1 small blue rubber band
1 Twizzler Pull n Peel
1 red pipe cleaner
White playdough
1 craft stick
1 small rainbow sticker
Hot glue (Optional- E6000 is ideal for the rubberband)
Scissors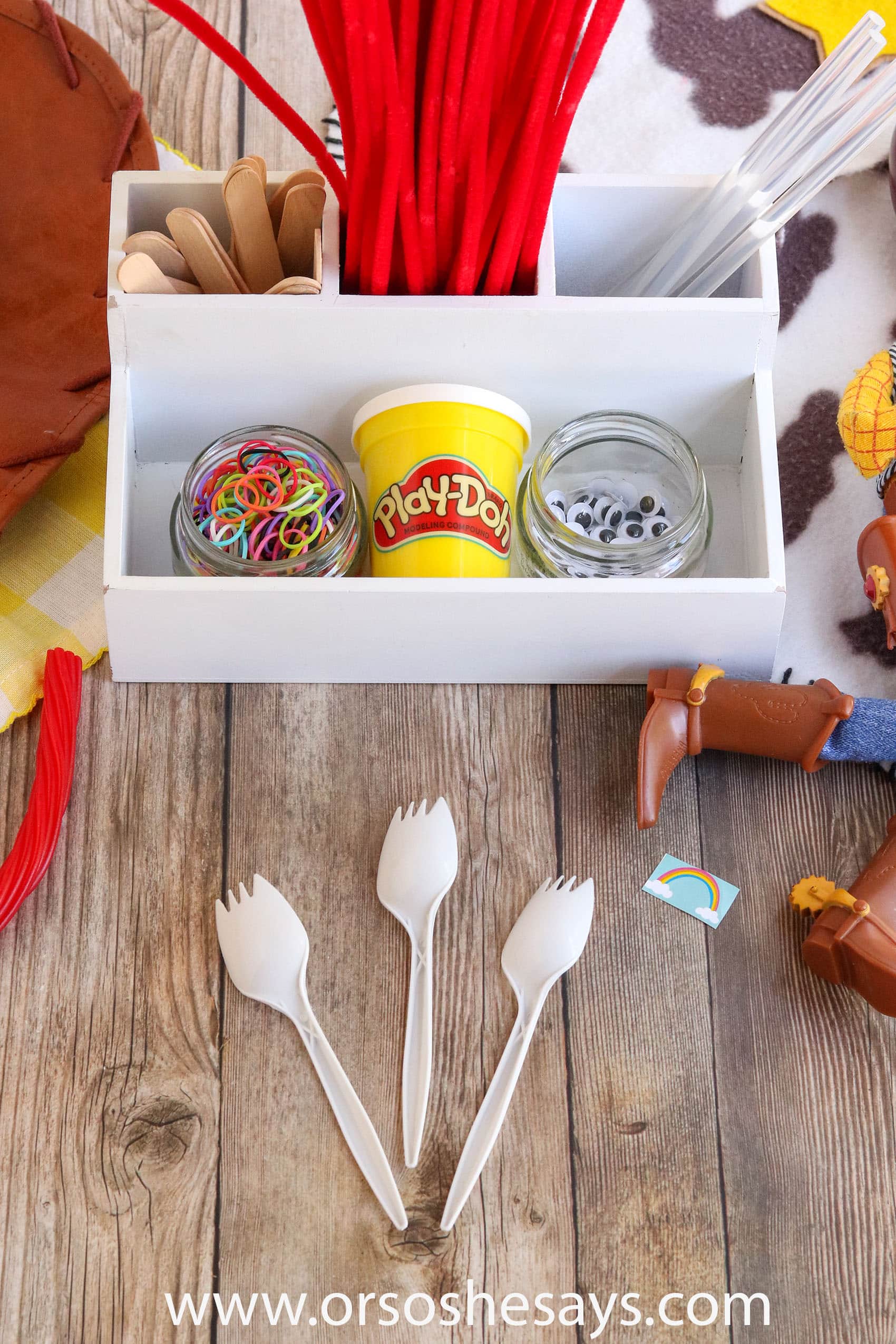 Instructions for DIY Forky from Toy Story
Pull one strand of licorice off the Twizzler and use the spork to measure for an eyebrow to make sure you get the right size. Use the scissors to cut the desired width and glue the eyebrow on with a hot glue gun.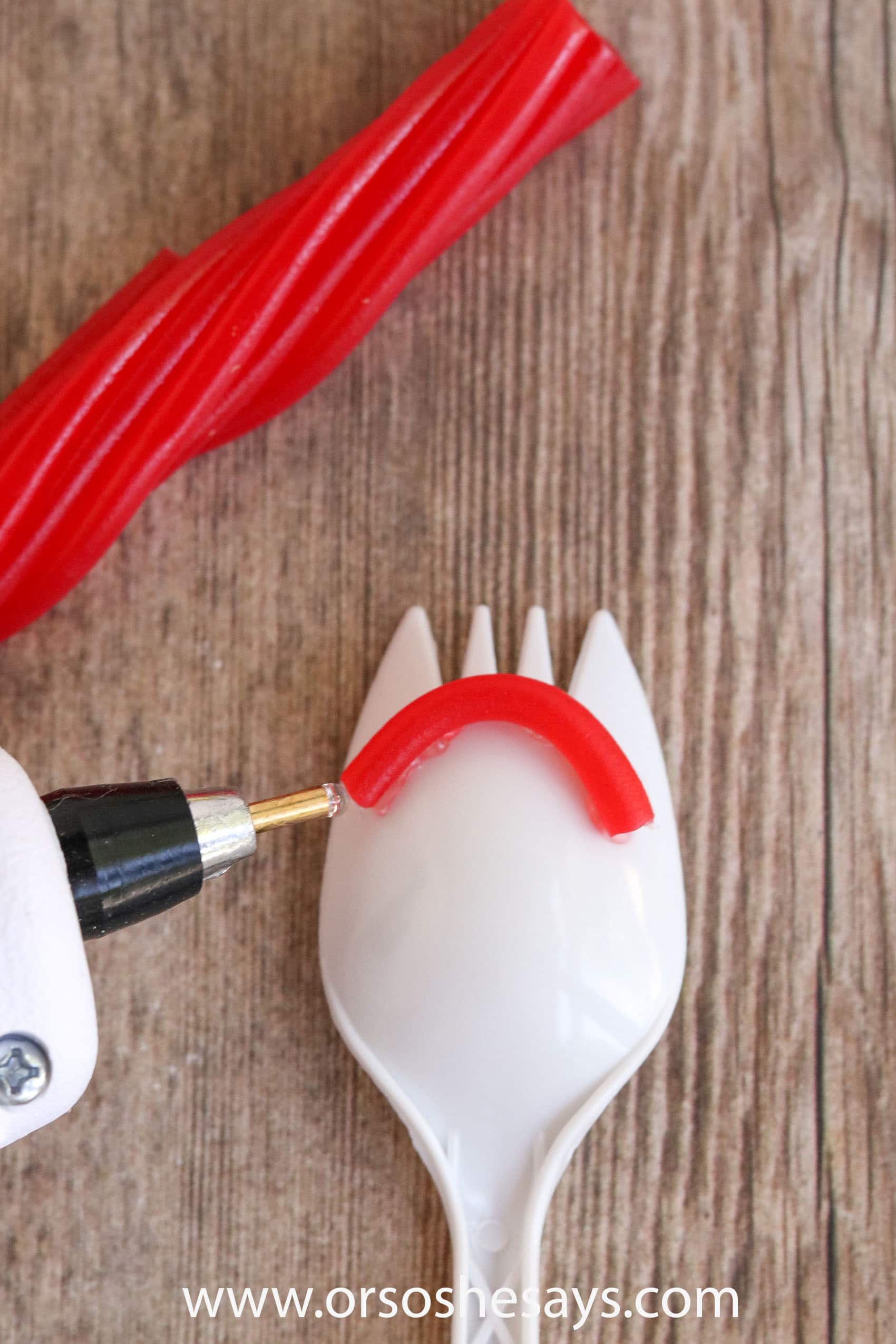 To place the mouth, apply using hot glue or E6000. When applying it, squish the rubber band to make a mouth shape. Hot glue is best because it dries so quickly, but for the mouth the E6000 is even better. It dries clear, and the rubberband sticks so well. You can find the small blue rubber bands at craft stores or online. Make sure to place the mouth BEFORE the eyes, to make sure you have enough space! Glue the googly eyes into place using hot glue or E6000, whichever is fine.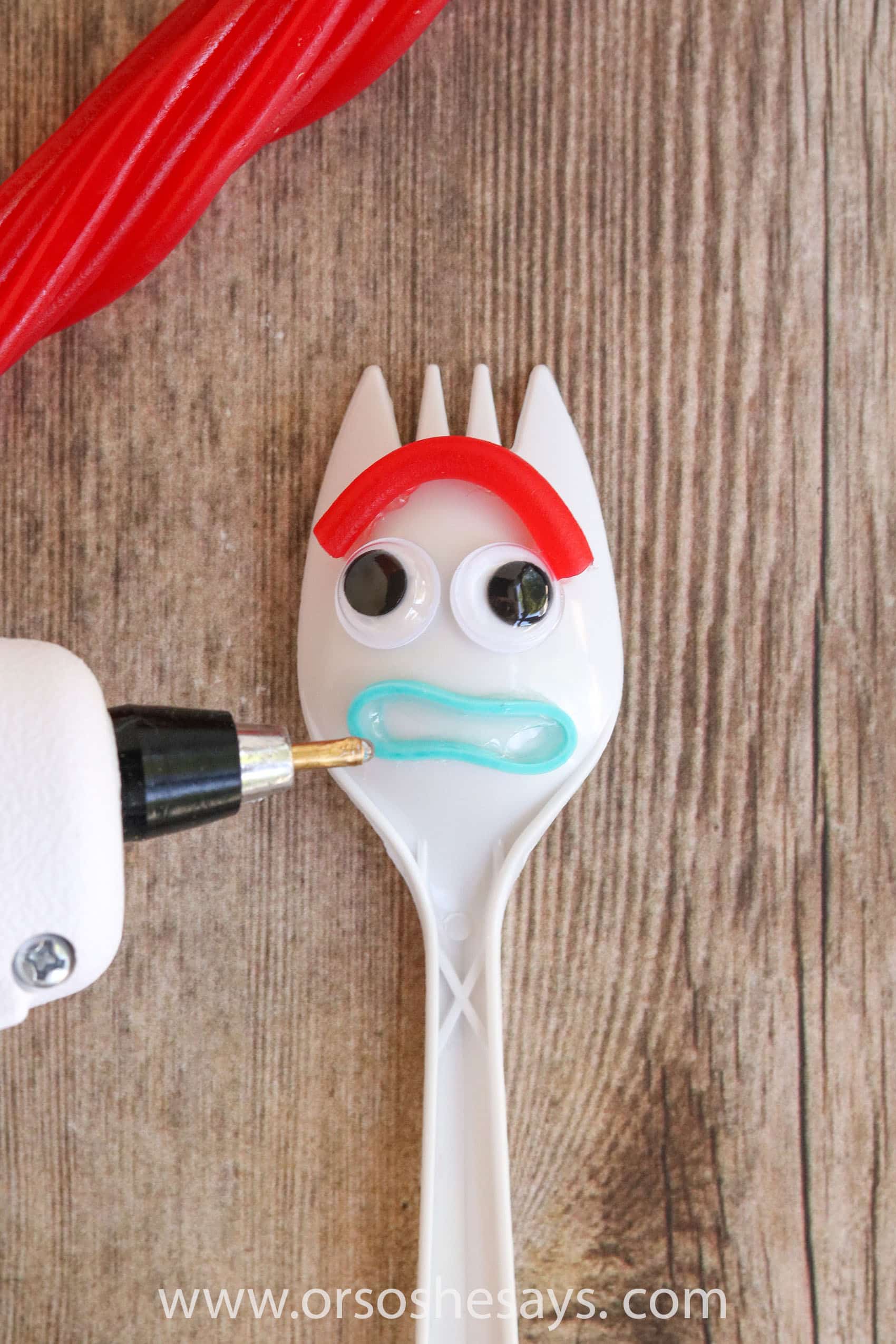 Time for Forky's arms! Place the spork directly in the center of the red pipe cleaner, then twist each side around the bottom of the spork two times to secure. Bend the tips of the pipecleaners three times, to make Forky's hands.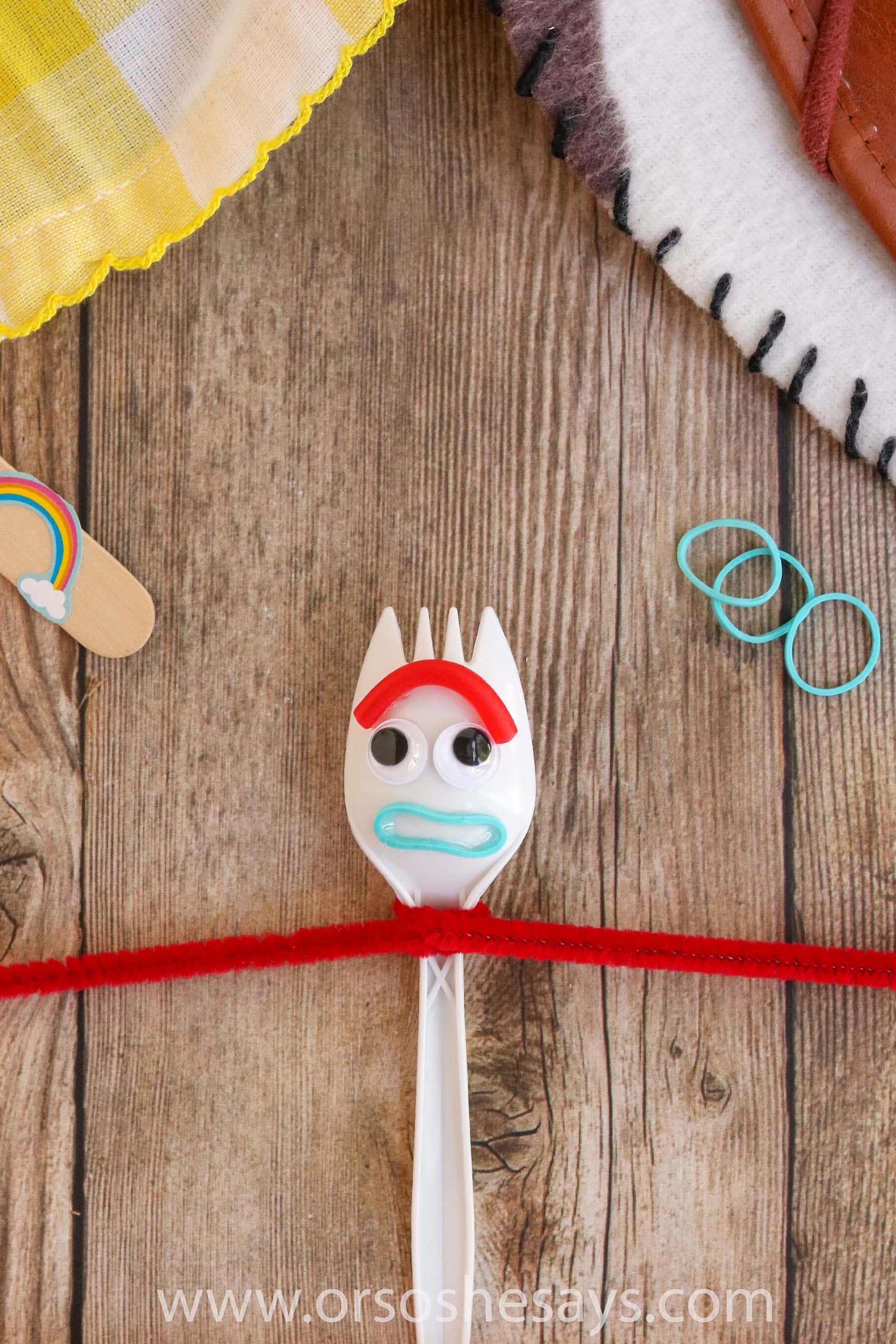 Break the craft stick in half and apply the rainbow sticker to one half.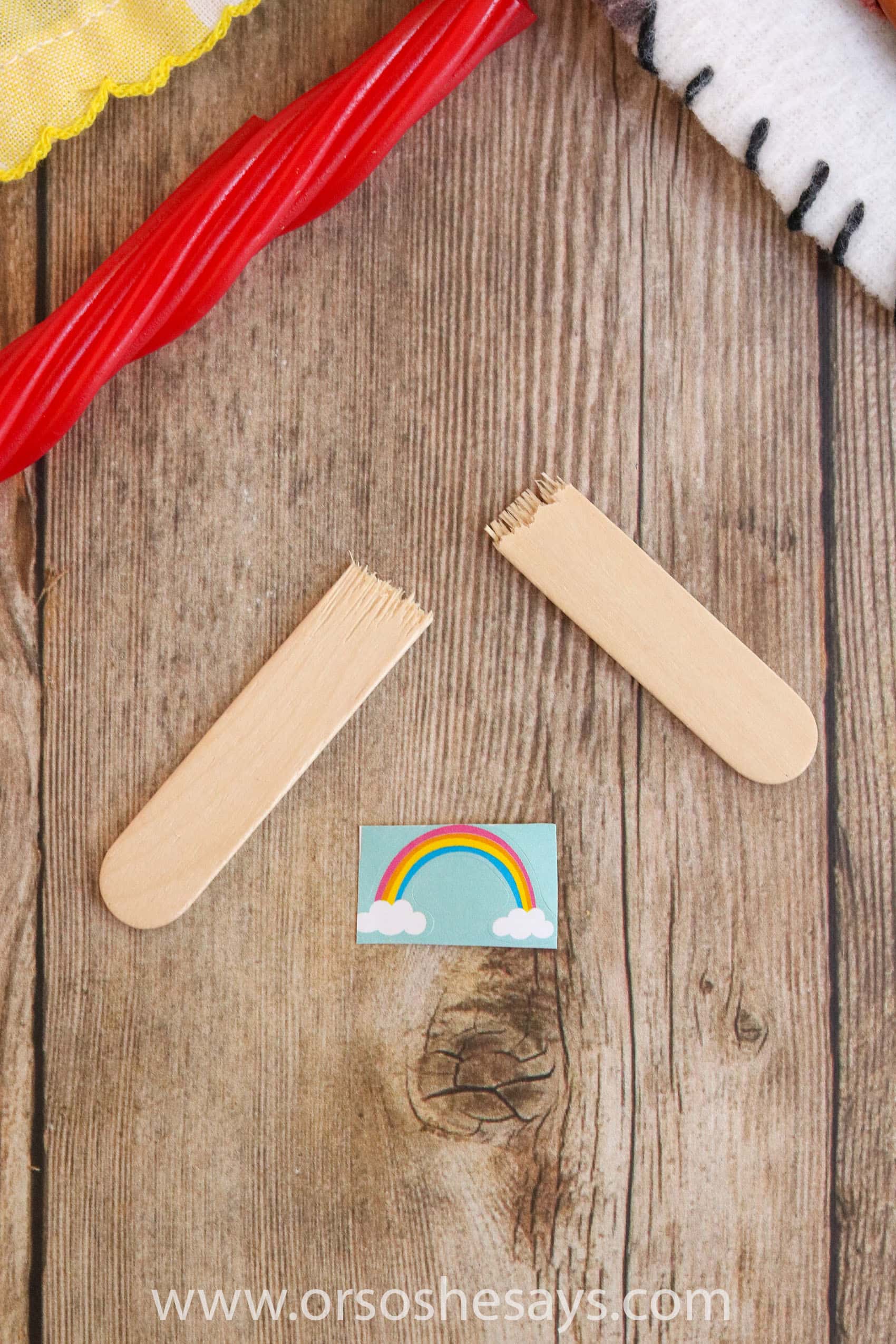 Roll a small 2 inch round ball out of white playdough. In the movie, Forky is made using playdough but you can use any kind of molding clay you have on-hand OR make your own at home.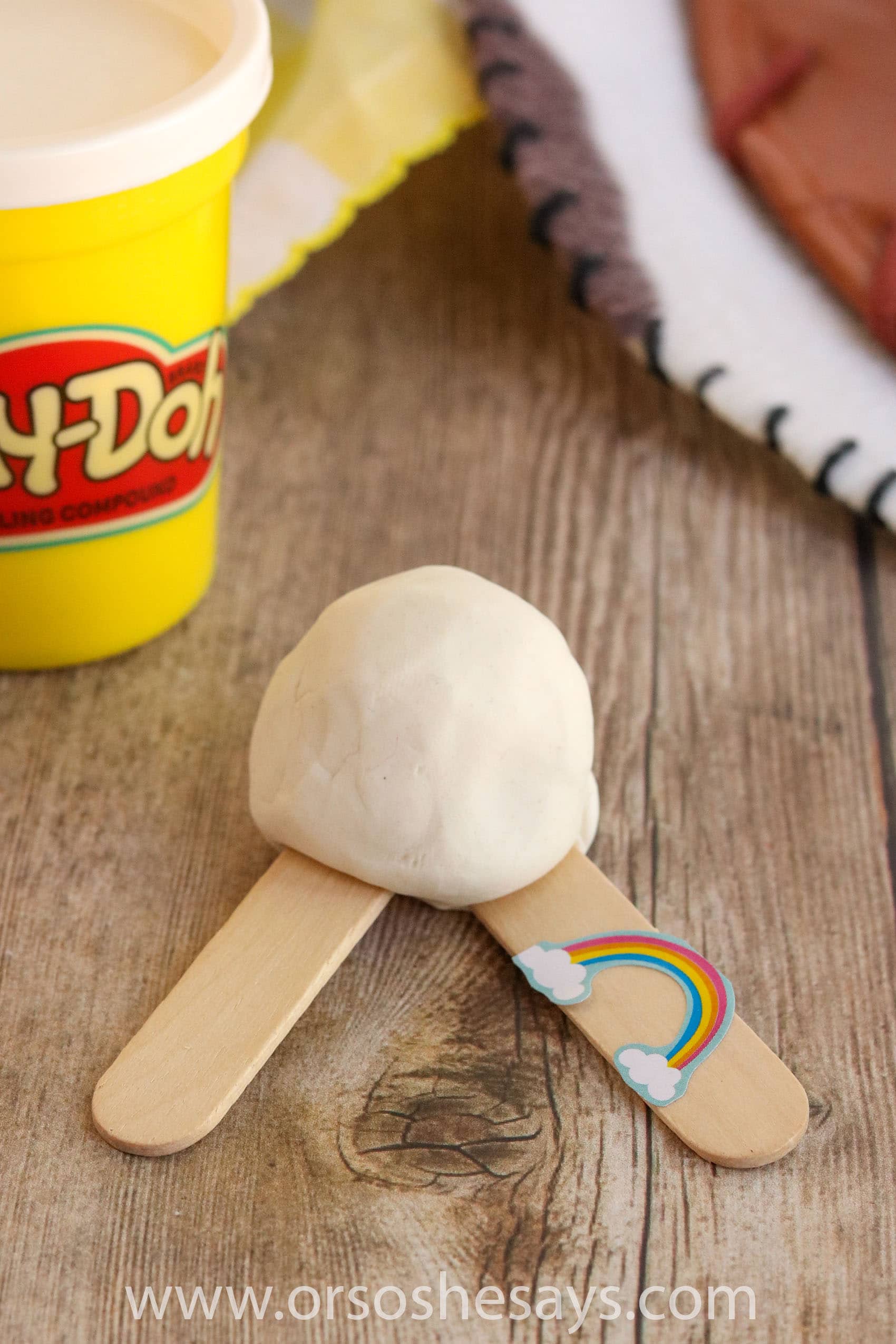 Place the spork into the top of the playdough ball, and insert the craft sticks into the bottom as feet.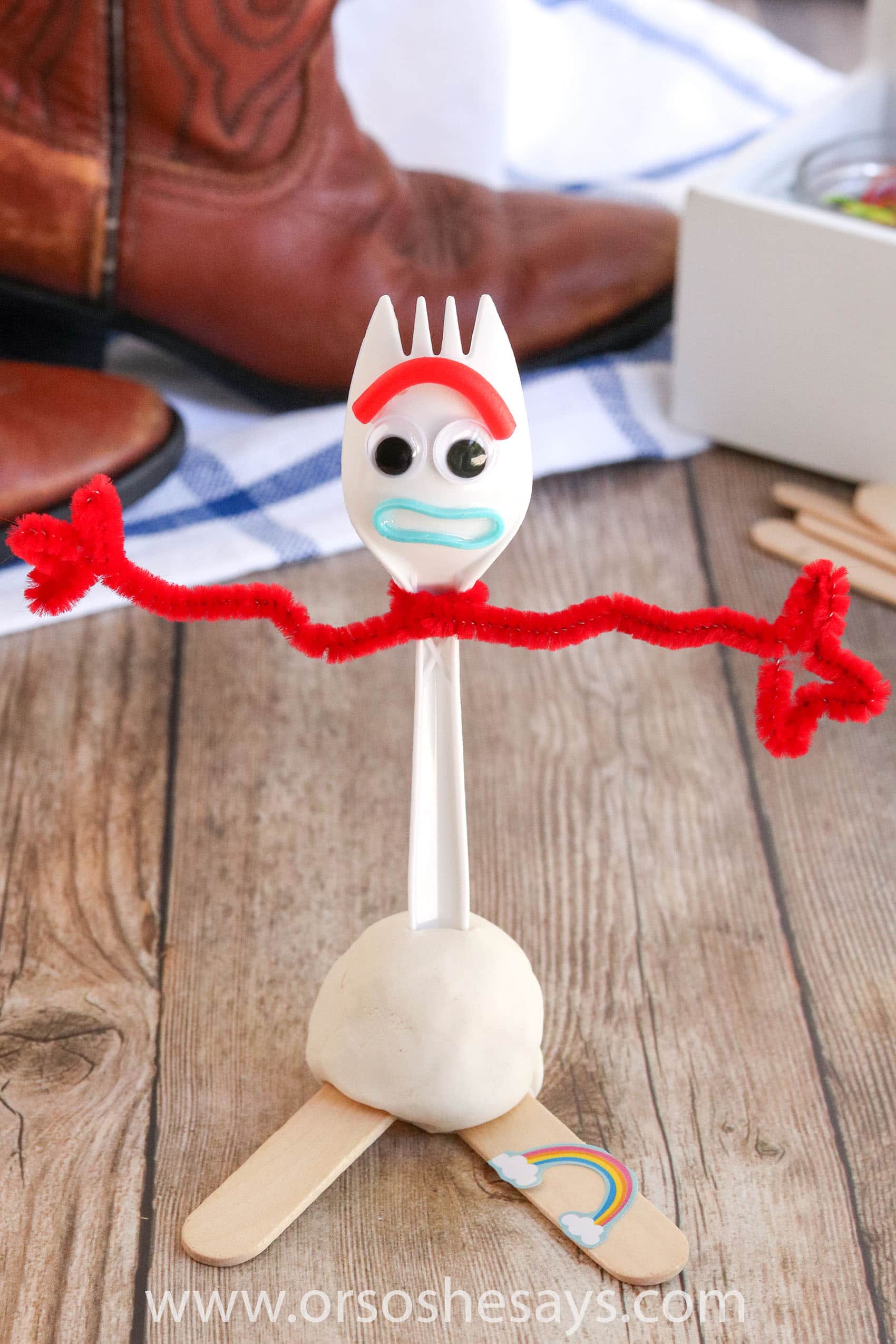 And, you're done! Who knew a spork could be so adorable?!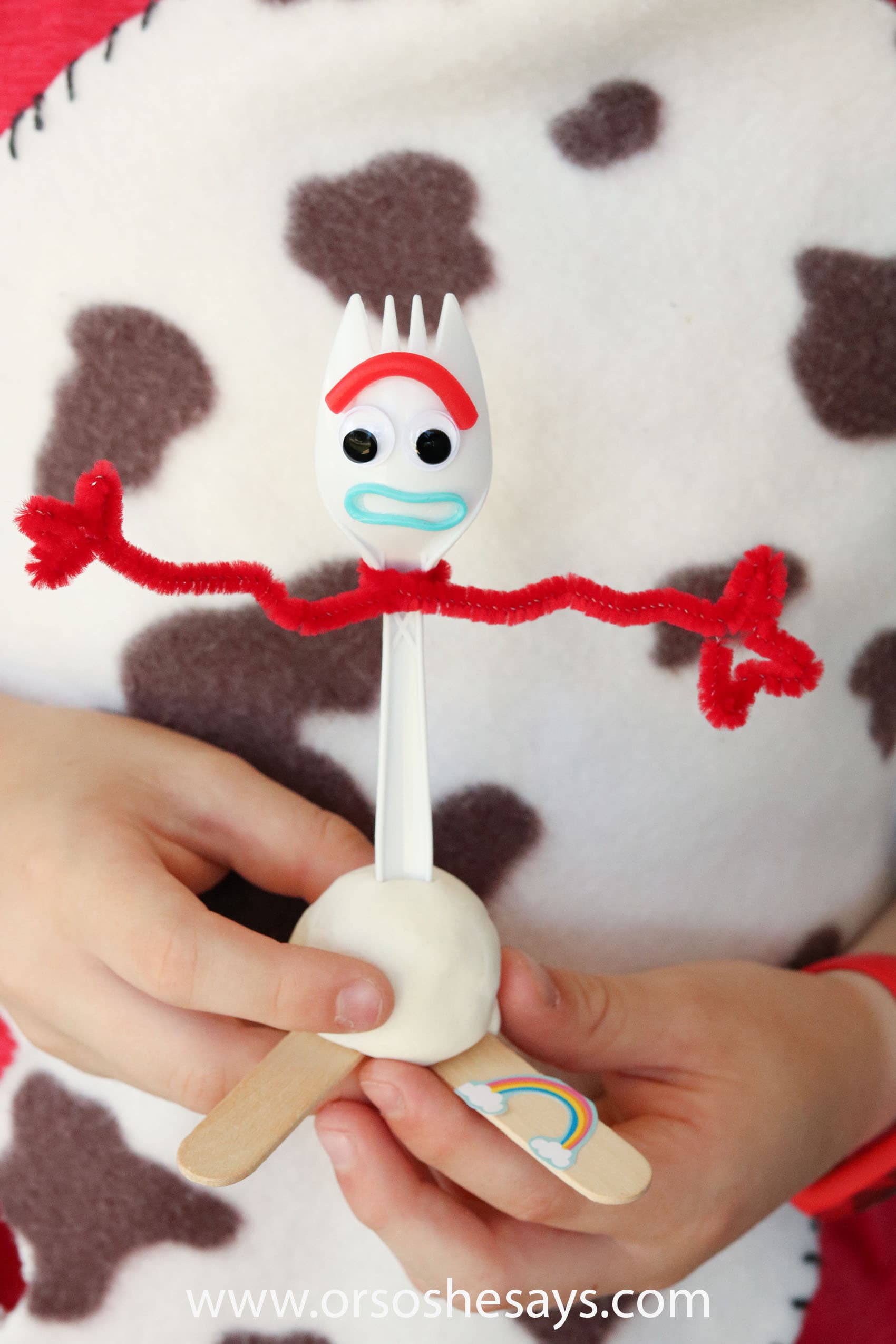 How about a fun Toy Story fact… when you're watching Toy Story 4, look closely at the older characters, like Woody and Buzz Lightyear, you'll notice how they've aged. Woody now has pilling on his shirt and Buzz has some stickers that are bubbling up. So true to life and no detail was overlooked!
Another cool thing… when you're watching the antique store scenes, pay special attention to the items on the shelves. You'll notice several treasures from past Disney movies, like Coco's guitar, the bow on Brave, and tons more. You can read about some of them online if you want a few more ideas of what to look for.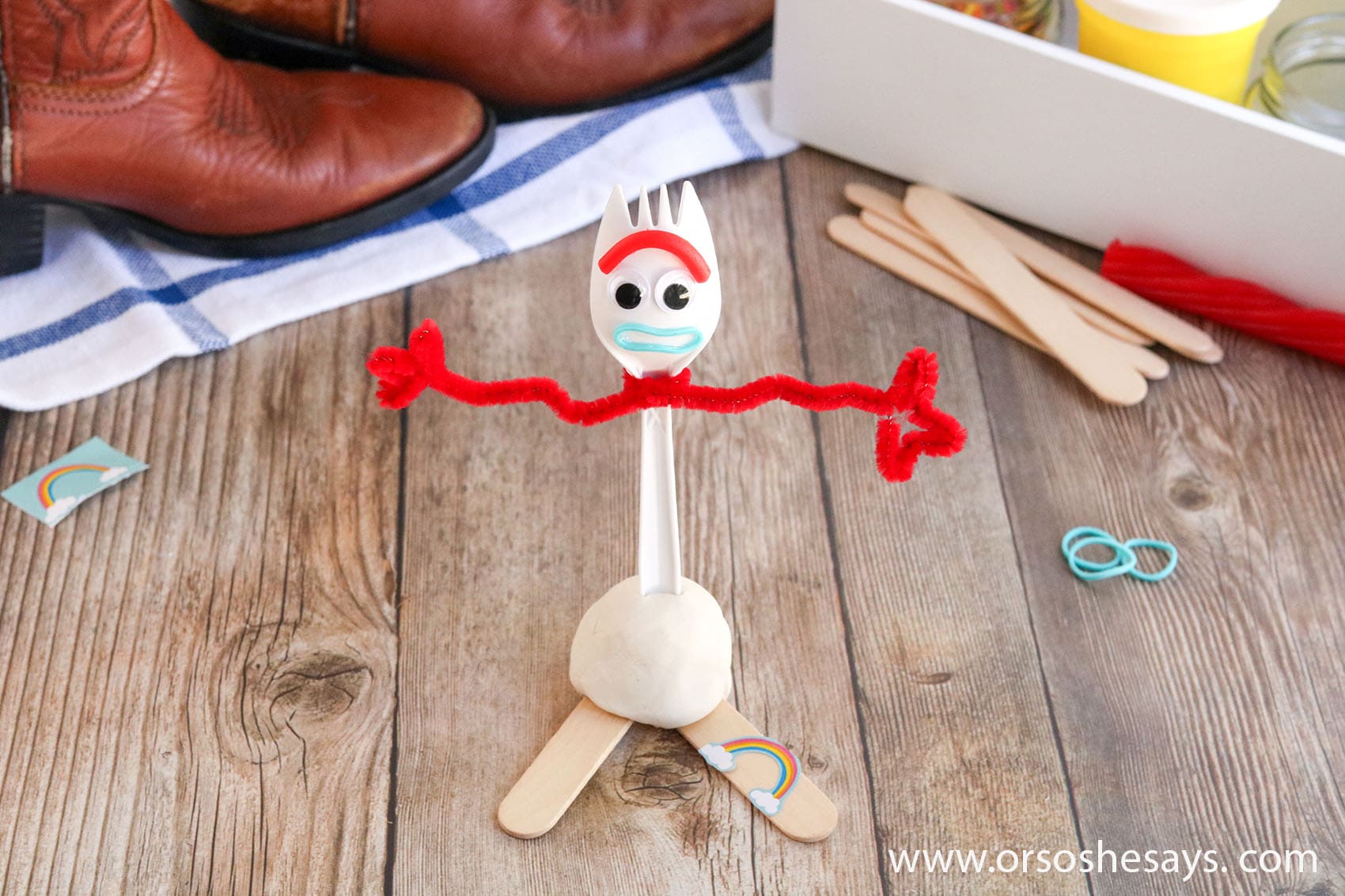 BOOK YOUR 'Toy Story' DISNEYLAND VACATION
If you haven't planned your Disneyland vacation to see Buzz Lightyear and Woody up close, make sure you contact Get Away Today. With discount Disney tickets, hotel specials and a flexible Layaway Plan, planning a trip to The Happiest Place on Earth is easier than ever before. Book online at getawaytoday.com or call 855-GET-AWAY to speak to a travel expert directly. Let them know that Or So She Says sent you!
If you love Toy Story, like I'm guessing you do, check out these past Toy Story ideas too!
PIXAR THEMED 'WOULD YOU RATHER' QUESTIONS