Our Downloadable Primary Talks for Kids are written based on the December Topics for Come Follow Me. Feel free to use them for home based lessons, speaking in church meetings, or for personal gospel study.
This has been a year to remember! 2020 will go down in history for so many reasons. I have had to really look for things to treasure about the past 12 months. The first thing on my list of blessings is being able to have home based church with my family. I was forced to take a close look at the gospel teaching in my house and found it sadly lacking!
With the pressure of being the sole source of education for my family, my husband and I changed our wicked ways and started using Come Follow Me more faithfully! It was a huge blessing in our home. My family used these downloadable primary talks for kids each week in our sacrament meetings. Now that we are back to having sacrament meeting at our ward house, we use them in our Come Follow Me family home evening lessons.
Downloadable Primary Talk for Kids ~ December
Whether or not you are attending church meetings in person, or holding your own mini meetings in the walls of your own home, there is benefit to incorporating our downloadable primary talks for kids into your curriculum! Kids love being involved in the teaching part of lessons. These talks make it so easy for them to feel like they are an important part of the activity!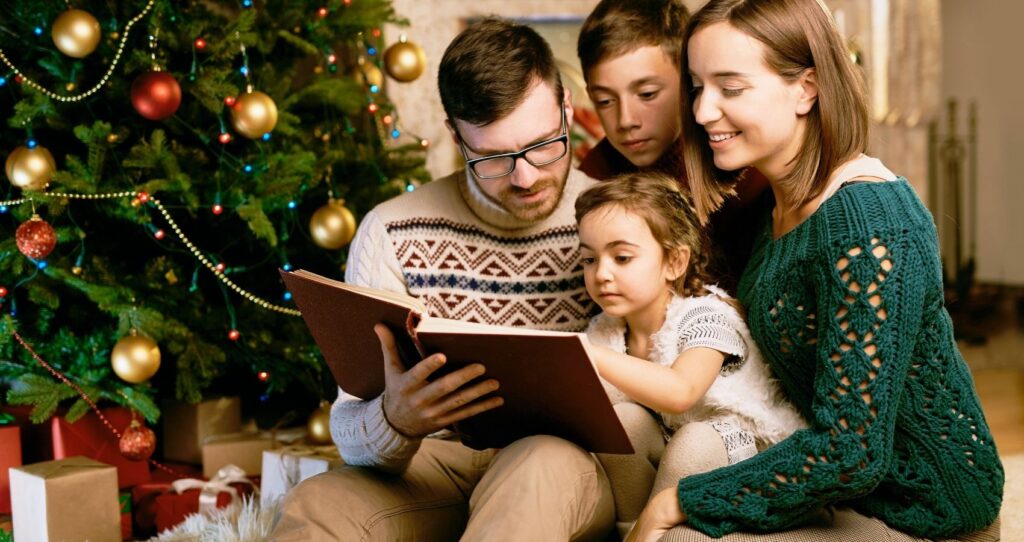 Sunday December 6th: Why I Go To Church
Have you ever wondered why we go to church?
Going to church is different for a lot of people. Some people meet in a church building. Others meet outside, at a member's house, or in a rented office building or school. Right now, a lot of people go to church inside their very own home!
In the Book of Mormon, Moroni teaches why it is important to go to church. He said, "that they might be remembered and nourished by the good word of God, to keep them in the right way."
What is your favorite part about going to church? Do you like to answer questions in Primary class or sing songs about Jesus together? Do you feel good inside when you take the sacrament or when you pray? Is your favorite part seeing friends that you love and making new friends?
All of these things are examples of what Moroni called being nourished by the good word of God. They fill you up with the Spirit and help keep you on the path back to Heavenly Father. Even when "going to church" is different, it is still very important.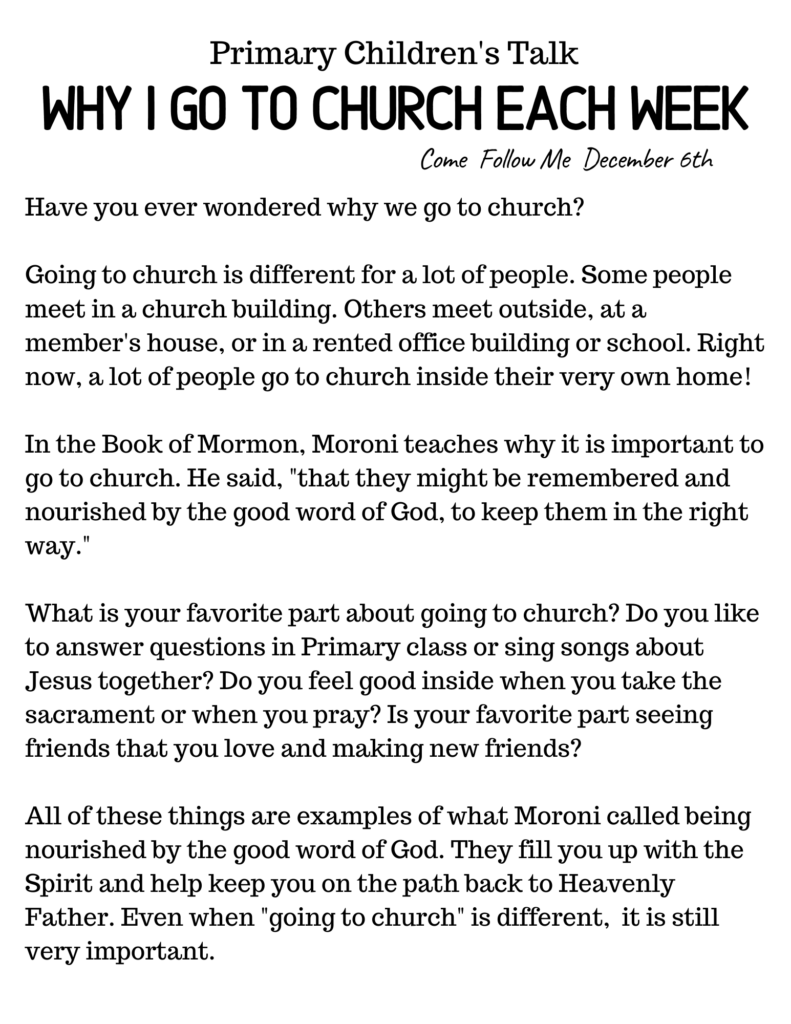 December 13th: Jesus Gives Me Hope
Sometimes the world can be a scary place that feels yucky and dark. I am so glad that I have Jesus and Heavenly Father to help me find Hope and light my way.
Hope is spelled H-O-P-E.
The "H" stands for Healing. Jesus can heal our hurt feelings. He can heal us from sin and make us whole again.
The "O" stands for One. Jesus is the one and only Redeemer. He died for us so we can live again.
The "P" stands for Prayer. When we need to feel peace, we can pray to Heavenly Father and he will comfort us.
The "E" stands for Eternal. There is no end to the love that Jesus and Heavenly Father have for us. It goes on forever no matter what!
I know that by having faith in Jesus and Heavenly Father, we can have HOPE and happiness each day.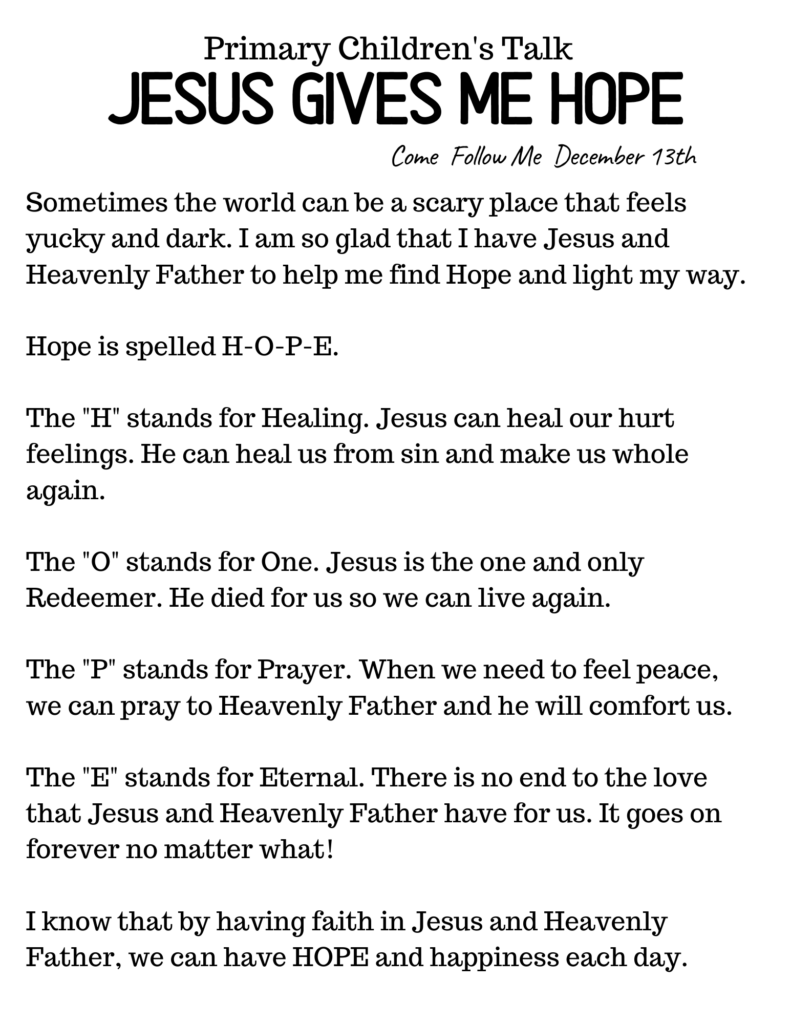 December 20th: The Book Of Mormon Is True
Did you know that you can find promises from God in the scriptures? It is true! The words in the scriptures promise peace, and joy, and even eternal life. Most of the time, promises come hand in hand with an action from you!
For example, the Lord promises that if we repent, we will become clean from sin. If we are baptized we can have the gift of the Holy Ghost. If we keep the commandments the Lord will always be with us.
Did you hear the word if? The blessing requires a little bit of effort.
There is one promise in the Book of Mormon that is very famous! Moroni says that if you will ask Heavenly Father with a sincere heart if the scriptures are true, then the Holy Ghost will teach you they are true.
I can know and you can also know that the Book of Mormon is the word of God. All we have to do is ask in prayer. It might take some time to understand the answer from God, but it will come.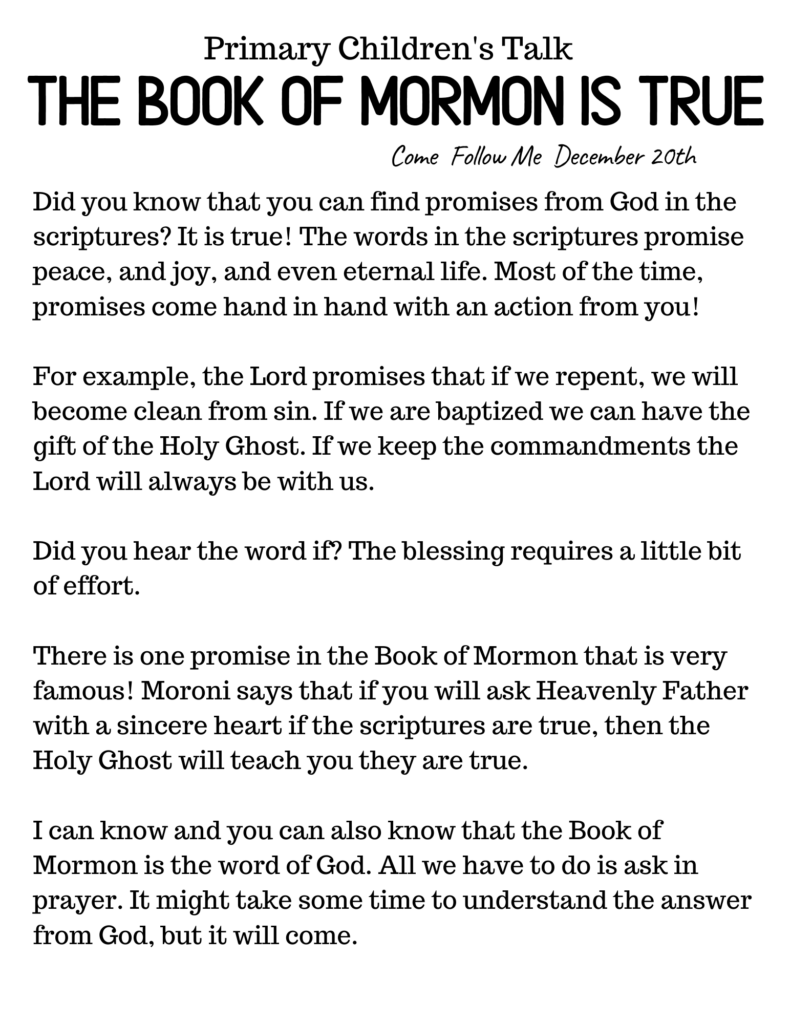 December 27th: How Can I Know Jesus?
Jesus lived on the Earth many years ago. He served his mission and died for all of us so we can live again.
How can you or I get to know Jesus if he is not here with us today? We can't get together and have lunch or go to the park to play. I can't call him on the phone or send a quick text message to say hello.
We can learn about Jesus in the scriptures. When we read the Bible we learn about Jesus' life on Earth. The Bible teaches us the things that Jesus said and did.
Another way to get to know Jesus is to pray. When we pray, we can feel the Sprit. The Spirit teaches our hearts and helps us feel close to Jesus and God.
We get to know Jesus by living the commandments. Walking in His footsteps and doing the things He taught, helps us to grow closer to Him!
We may not have been a shepherd at his birth or a friend listening to his sermons, but we can know Jesus if we do these things!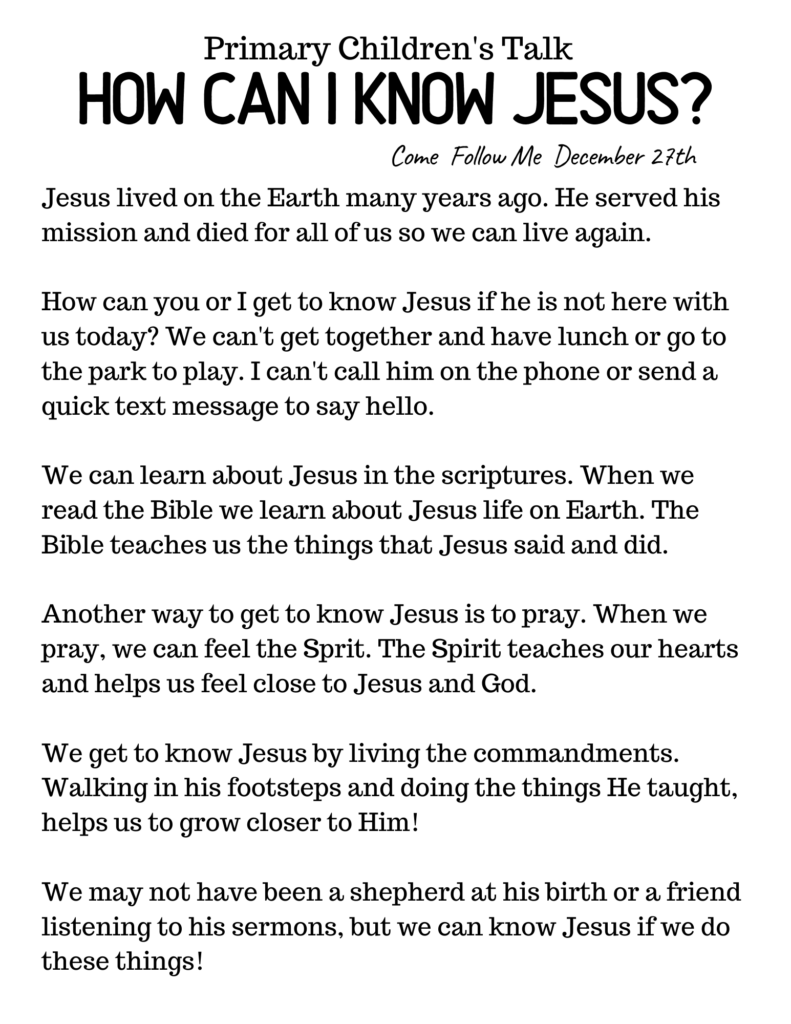 Like These Primary Talks? Check Out:
JOIN 180,000+ OTHERS & FOLLOW OSSS!
NEWSLETTER (free most-requested family recipes download included!)
PINTEREST (lots of awesome family related ideas!)