These simple Primary Talks for Come Follow Me January Topics are written with primary age children in mind. The Talks are based on the weekly Come Follow Me lessons, so they coordinate with home and church study.

Are you as excited as I am that 2020 is over?! Ringing in a new year has never felt so good. Looking back over the past year reminded me that trials are hard, but they do provide opportunity for growth.

My family and I were forced to take our gospel study and progression into our own hands. We became solely accountable for learning the Come Follow Me lessons each week and for preparing and taking the sacrament. It was a big jump! But, once we committed to it, we saw huge growth in our faith and connection as a family unit. I am so grateful we were forced to gather at home and discover what mattered most to our family.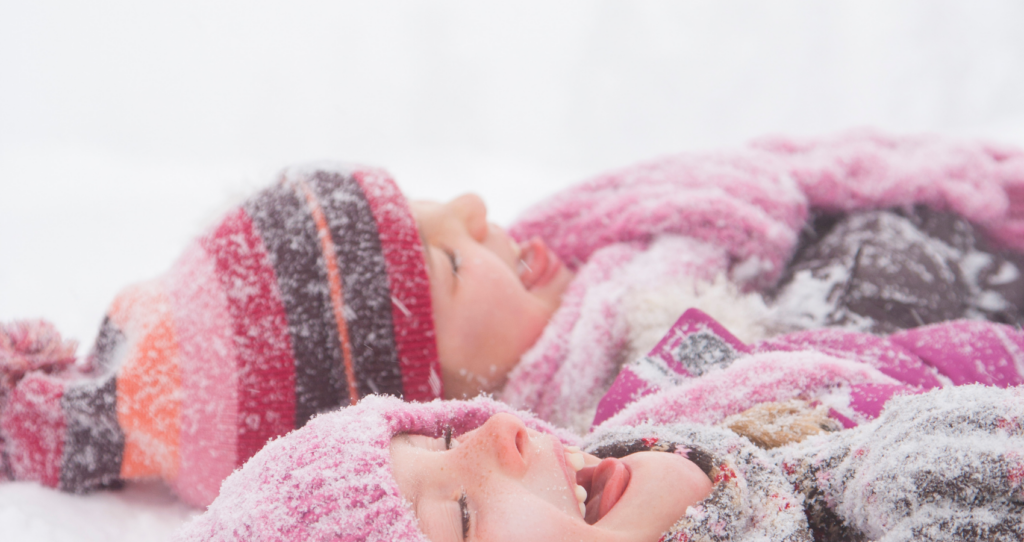 Now, we have a new year! Hopefully, at some point we will be able to head back to church for Primary. It is so fun to meet with ward friends and gather together for singing time and class lessons.

I hope that we don't lose the desire to continue home-based study. If I can learn to do both, I know that my family will be blessed. Do you have plans to make this new year one of increased faith and commitment to Jesus? I would love to hear your goals and desires.
The topics for these simple Primary Talks came from the brand new Come Follow Me lesson book based on the Doctrine and Covenants.
Primary Talks for Come Follow Me January Topics
It will be a fun new year learning about the restored Church of Jesus Christ of Latter day Saints and learning the history of the early saints. I hope these talks bring simplicity to your home or church assignments.
You can download and print the PDF version of each talk by clicking the link at the bottom of each section. Or, you can read the talk directly from the post on our website.
Primary Talk For January 3rd: Warnings From God
Road signs tell us what to do when we are driving. Traffic lights turn red when it is time to stop. They turn green when it is time to go. What would happen if you didn't pay attention to the color warnings? It would be very dangerous.
God gives us warnings through the prophets. The prophet can be like a traffic light! He can direct our lives with warnings and instruction from the Lord.
The scriptures teach, "And the voice of warning shall be unto all people."
Just a few months ago the prophet told us to be grateful and to express thanks for everything we have. He was giving us a green light to gratitude.
When we study the scriptures we can learn from the past prophets. They direct our lives too! The teachings in the scriptures keep us safe and protect us from harm.
If we will listen to the living prophet and read the scriptures, we can hear warnings from the Lord. We can be protected.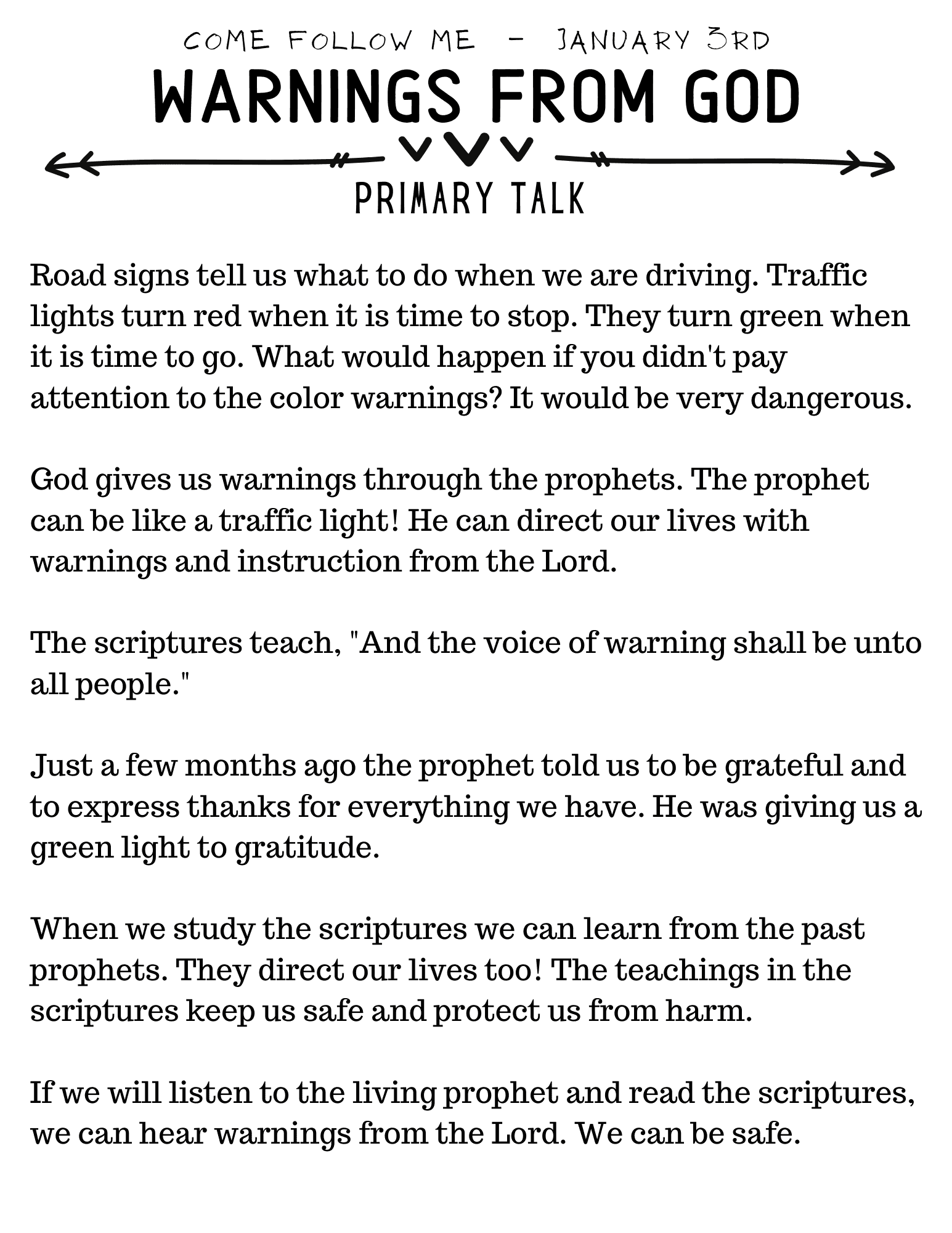 Simple Primary Talk for Come Follow Me January 10th: The First Vision
The First Vision is one of the most important events in the history of The Church of Jesus Christ of Latter-day Saints. The story is full of faith and miracles.
When Joseph Smith was 14 years old, he read in the Bible that if he had questions, he could ask God for answers. The verse promised that God would answer the prayer.
Joseph believed the words and went into the woods to pray. He wanted to know what church he should join.
He knelt down in the sacred grove and prayed. At first, he felt dark and alone. But then a bright light broke through and he saw Jesus and Heavenly Father.
God knew Joseph's name. God introduced Jesus as His son. Then, Jesus told Joseph not to join any of the churches. He told Joseph many other things and then the vision ended.
The First Vision started Joseph Smith on the path to bringing God's church back to the Earth. It was a miracle!
Primary Talk for Children January 17th Topic: Families Can Be Together Forever
One of my favorite Primary Songs is "Families Can Be Together Forever." I like the song because I love my family very much. It makes me feel good inside to know that we can be with each other for all eternity.
When Joseph Smith was on the earth, he met an angel. The angel was named Elijah. Elijah gave him the power to connect families for eternity. It is a special blessing we have because of the priesthood.
Think of something you love about your own family. Do you like how your mom gives good hugs or how your dad knows how to wrestle? Do you like playing games with your brothers and sisters? There are so many good things about being part of a family!
How do you feel when you think about your family being together forever? It is a very special thought. I am grateful that we have temples and the priesthood that make it possible.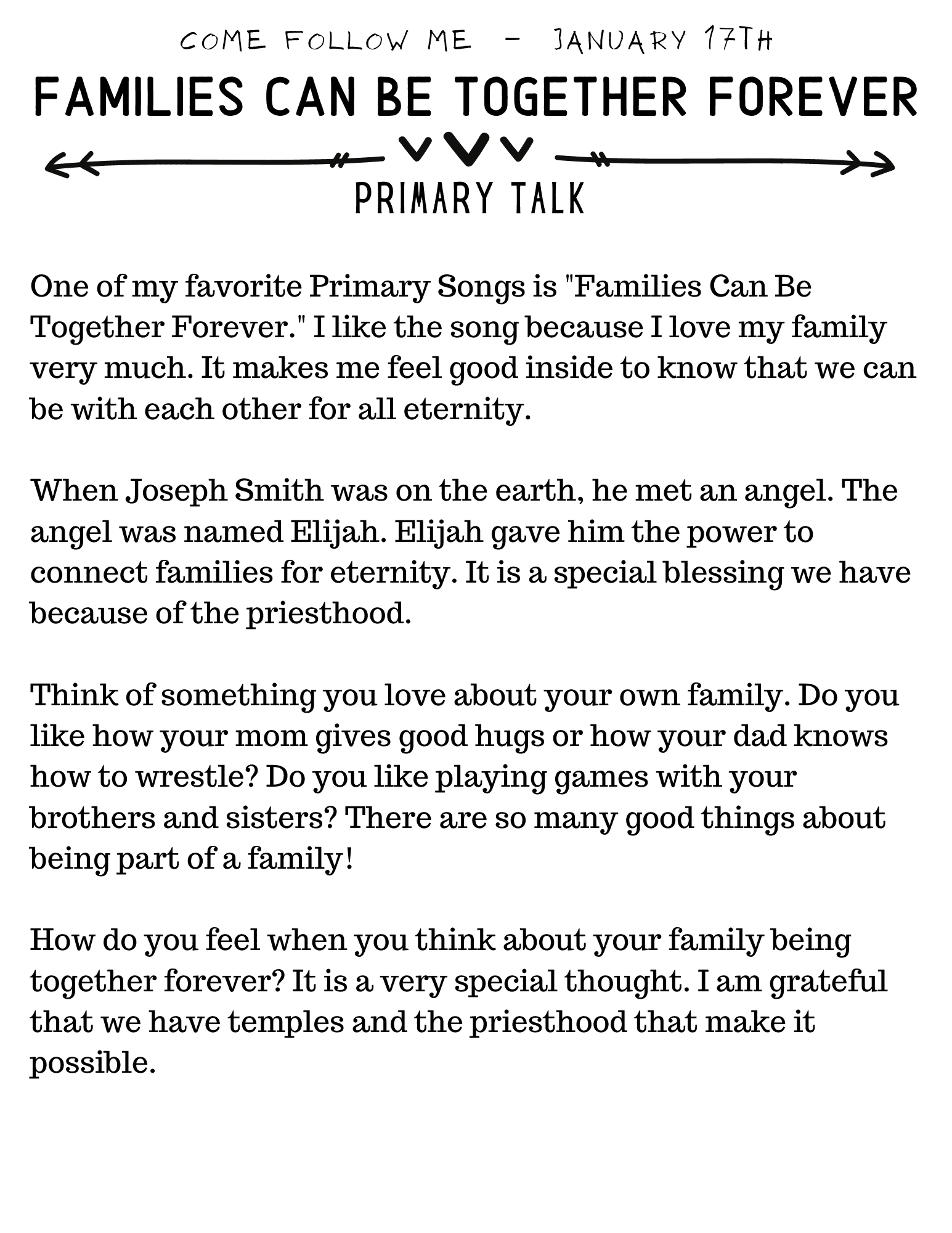 January 24th Come Follow Me Primary Talks Template: Embark In The Service Of God
Doctrine and Covenants 4:2 tells us to "embark in the service of God."
One meaning of the word embark is to make a start! Even though we are young, it is not too early for us to start serving God.
There are so many ways to serve God. You can stand up for what is right by being kind and helping people in need. Other ways to serve are inviting a friend to church, singing a primary song to a lonely grandparent, or paying tithing.
God asks us to serve with our heart, might, mind, and strength. I think this means that we should try really hard and give it everything we've got!
When we serve, we become more like Jesus! Service to God is important because it brings joy and happiness into life. I hope we can all embark in service. It is never too early to start.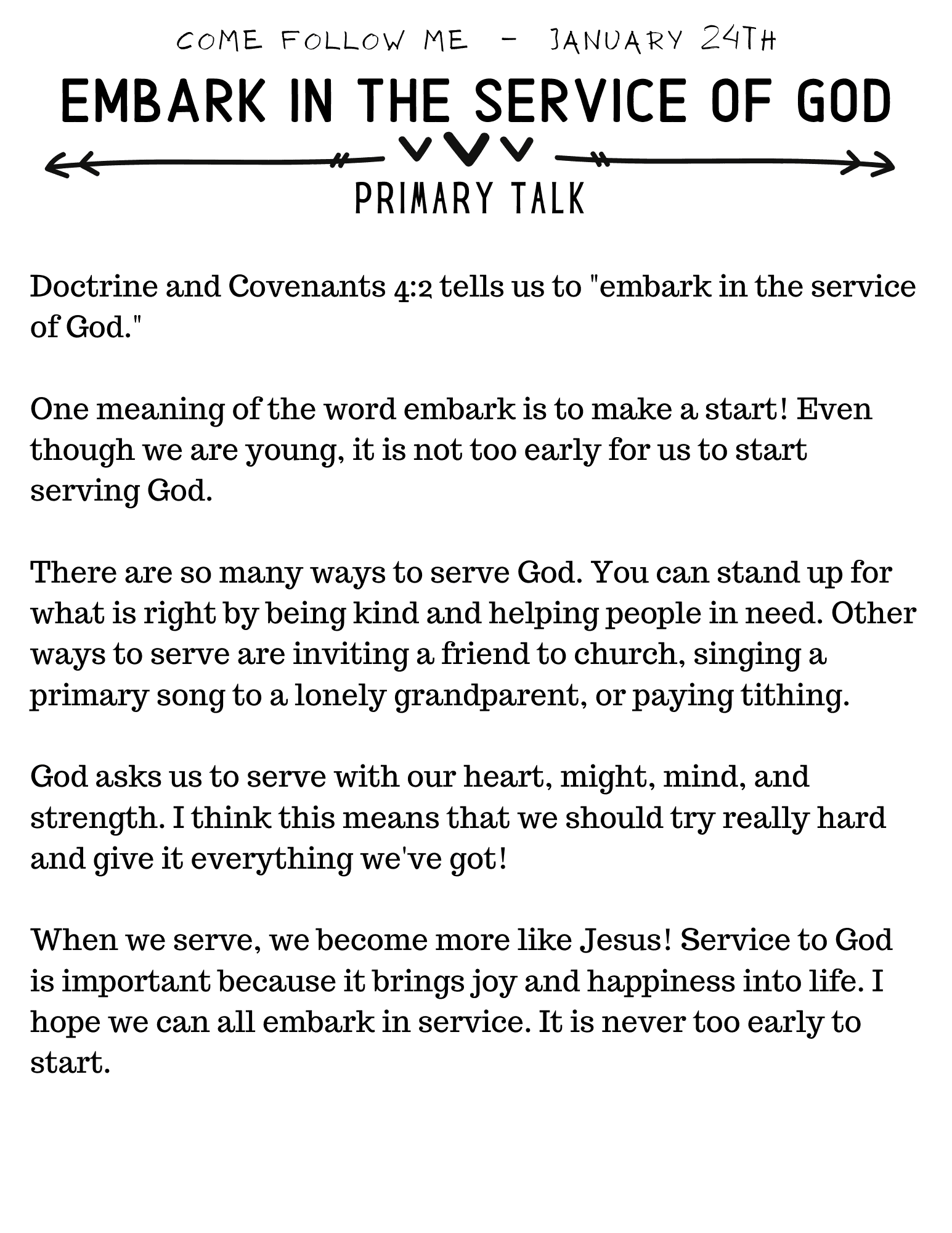 Simple Primary Talks for Kids January 31st: Fear Not, Little Flock
Have you ever seen a family of wooly sheep grazing in a field? A gathering of sheep is called a flock. Flocks stay together in groups to stay safe from predators and to help each other find food to stay alive.
Some flocks have extra protection. They have a shepherd that watches over them! The shepherd loves the flock and takes good care of them.
In the Doctrine and Covenants the Savior said, "Fear not, little flock." Jesus is like a shepherd. He takes care of us like a shepherd watches over his sheep. He loves us so much. He wants us to be happy and safe from harm.
If you ever feel afraid, you can reach out to Jesus for comfort. He is always there. If you feel scared of the dark, say a prayer for peace. If you are nervous about a test, you can pray for help to remember what you studied.
Prayer connects us to our shepherd. We don't ever need to fear, because Jesus is always there for us. No matter what.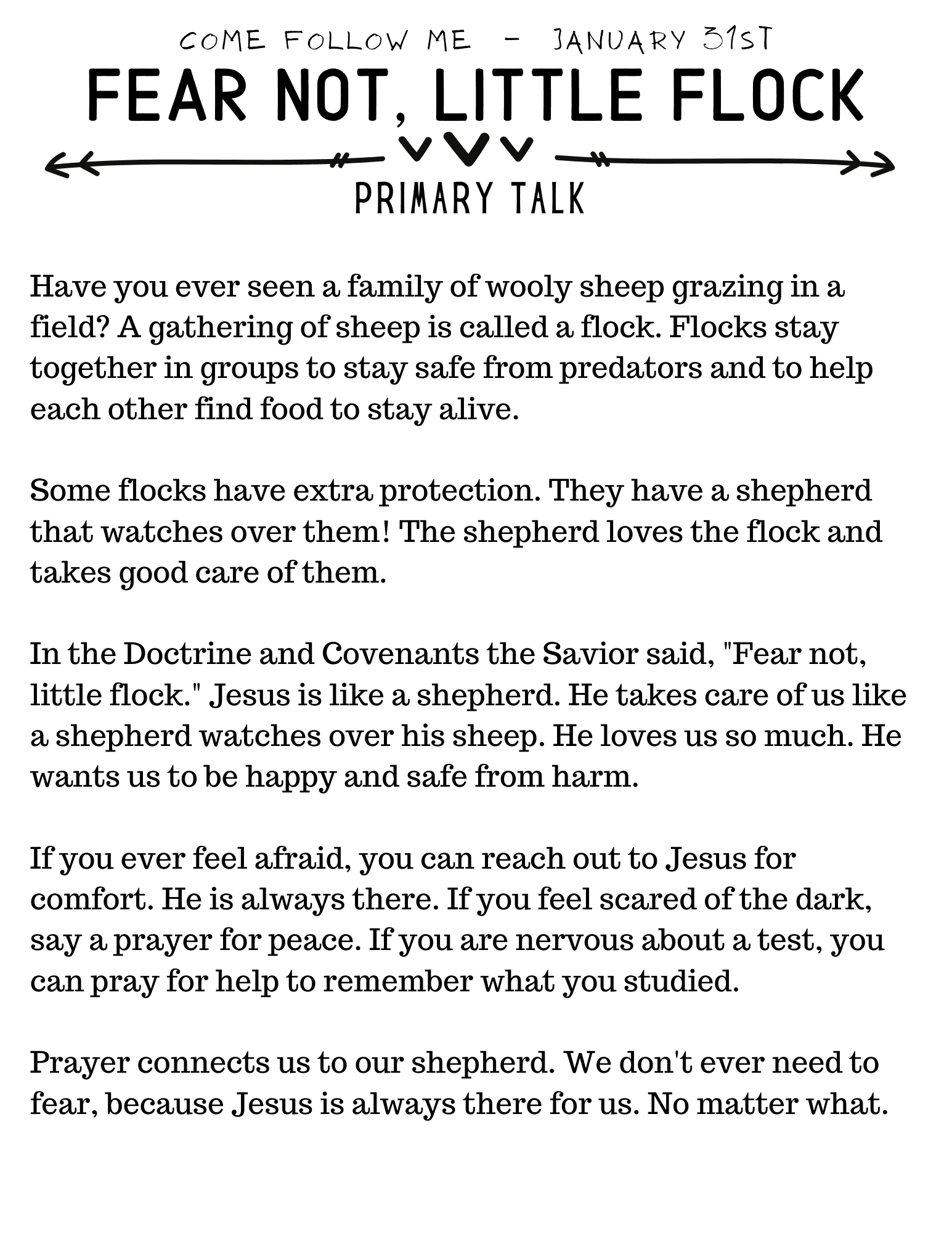 Be sure to check back each month for new Primary Talks! There is always fresh content based on the current Come Follow Me topics. Thanks. Happy New Year!
LIKE THESE PRIMARY TALKS? CHECK OUT:
JOIN 180,000+ OTHERS & FOLLOW OSSS!
NEWSLETTER (free most-requested family recipes download included!)
PINTEREST (lots of awesome family related ideas!)