Hi Everybody! This is Maria from Shopgirl, and I'm excited to be here again to share a fun Easter place setting idea with you! Can you believe that Easter is just around the corner?! With as long as winter has lasted this year, it's hard to believe that spring is finally here! I love this time of year; I love that after months of cold, dark and dreary weather (especially this year!) the world all of a sudden becomes beautifully colorful as trees turn green and flowers begin to bloom! You may already be planning your Easter menu and decor (and if not, you still have time!) and I have a fun place setting idea to share with you today! All you need are a couple of craft supplies and you have these cute little Easter egg place settings for your holiday table! Here's what you'll need and how you can make these…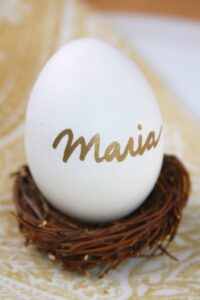 YOU WILL NEED:
Eggs (real or plastic)
Small "nests" (you can find these at a craft store, mine came in a package of three)
Hot glue gun
Permanent marker (or some acrylic paint & paintbrush) and a pencil
DIRECTIONS:
First, make sure that the surface of the eggs is clean and smooth. Next, using a pencil, write the names of your guests on each egg (don't press too hard with the pencil). Using a permanent marker (I used a gold sharpie but use whatever colors you like to fit your table colors) go over the writing and let it dry completely. Once it has dried, take your little nest, place a small amount of hot glue in the center, arrange your egg inside and gently press down. Make sure that it's centered so it doesn't keep falling! And that's it… so simple, pretty and customizable!
For other fun spring and Easter ideas, check out my Spring Daisy Sugar Cookies HERE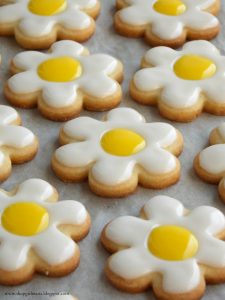 Or my Mossy Easter Eggs HERE
I hope you all have a wonderful month of April and that you all have a great Easter! I look forward to catching up with you again next month!