* Family Night is a designated night, once a week, where you sit down with your family…have a lesson, an activity, and a treat. It's a great way to spend time together as a family and teach your children about the important things they don't learn in school. *
I put together this lesson on forgiveness because there are so many angry people in the world! I want my children to realize it is a choice they are making to be resentful and it's also a choice to forgive. You are hurting yourself far worse, by not forgiving others. Being an understanding, loving, forgiving person = a happier person. It's pretty simple.
Preparation & Treat:
Go outside and gather 10-20 slightly heavy rocks. You can wash them if you need to. Lay them in a pile in the middle of the family room. You will also need a piece of paper and pencil for each person attending Family Night. Print off the story,
A Pocket Full of Rocks
. Make a treat for afterwards….how about these
super yummy lemon bars
that will make you so happy?
Super Yummy Lemon Bars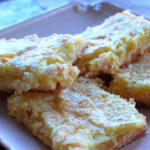 Super Yummy Lemon Bars!
Ingredients
2

cups

sifted flour

1/2

cup

powdered sugar

1

cup

butter

4

large beaten eggs

2

cups

white sugar

1/2

cup

lemon juice

1/4

cup

flour

1/2

tsp.

baking powder

1

TBS.

grated lemon zest
Instructions
For the crust, mix the softened butter into the flour and powdered sugar with your hands (or a pastry blender) until it clings together. Press the mixture into a 13x9" greased pan.

Bake at 350 degrees for 20 - 25 minutes or until lightly golden.

For the filling, beat the eggs with a hand mixer for about 5 minutes until frothy. Add the sugar, lemon zest and lemon juice.

In another bowl, sift together flour and baking powder. Stir into egg mixture. Pour over the baked, warm crust.

Bake at 350 degrees for 25 minutes.

Cool and sprinkle with powdered sugar. Done!
Lesson/Activity: Go around the room and have everybody name off the things that really bug them (pet peeves). For example, some of mine: People that ask you a question and then make it obvious they're not listening, people that lie, people that don't stand up for themselves, people that talk in that fake-happy voice and never stop, etc. After everyone names off some things they should be feeling slightly grouchy…perfect for the next part!
Pass around a paper and pencil to everyone and have them write down the names of anyone that annoys them, makes them mad, or they just dislike. Obviously, these papers need to be private…so they can write a code word if they don't want anyone to know the name. After everyone is done, have them go pick up a rock (hopefully, they are slightly heavy) for every single name and hold it on their lap for the rest of the lesson.
Read the story "
Pockets of Rocks
" while everyone has the rocks on their lap. When you are finished, tell them how the rocks represent the grudges they are currently holding against people. Ask them if they are feeling the weight of their rocks. Ask, "What's wrong with holding a grudge?" Discuss. Explain how we are trying to get revenge and hurt them back by not forgiving…but, "Who does that REALLY hurt??" Talk about ways to eliminate anger and resentment (doing service for the person, learning more about that person, etc.) Ask, "How do we know when we really have forgiven someone?" Discuss.
Tell everyone that they must keep their rocks, somewhere that they will constantly see them. Ask them to work on forgiving the people on their list. When they have loving feelings towards that person and have forgiven them, they can throw their rock out.
Eat your treats!!