UPDATED JANUARY 2019 Hmmm… the BEST family vacations… if I had to narrow it down to 5, what would I pick? I've been thinking long and hard. We've been on a lot of fun trips! I had to think about which vacations were the most kid friendly, low stress for mom & dad, and which ones we are still talking about as a family. I think I have my answers! You ready? Just click on the link to any of the individual vacations to read all about our trip (how we booked, things we loved, tips/tricks, etc.)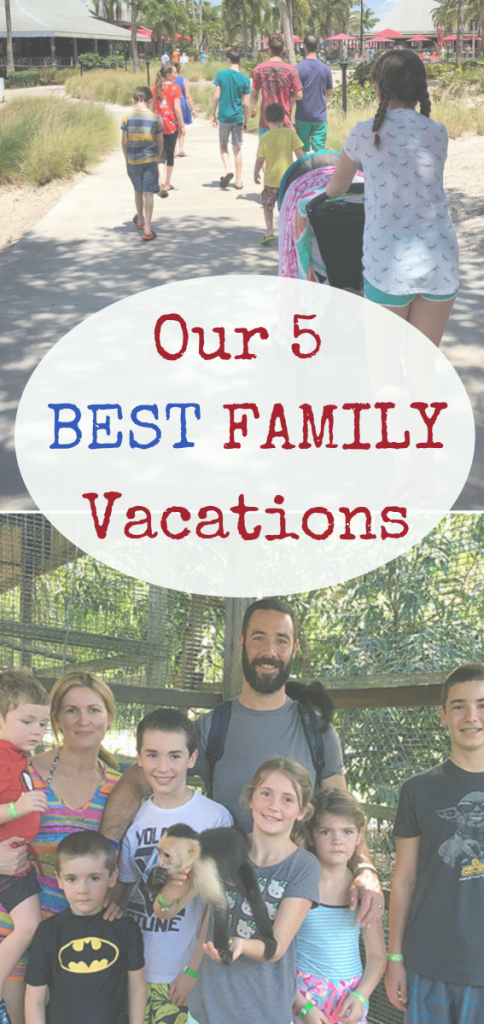 Our 5 Best Family Vacations
This was actually our second time doing this very same cruise. The first time, we went as a couple with several of my brother and sister in laws. It was so much fun that we had to do it again, but with our kids the next time. We surprised them with this vacation at Christmas time! The ports and excursions were a blast and the ship had so much to going on. This was definitely one of the best family vacations! Be sure to check out the three-part review where I share everything we did and some tips for doing the vacation yourself. 🙂
I get that this vacation won't appeal to everyone, as not everyone is Mormon. But, this was by far one of the best family vacations that we've done. Nauvoo is rich with Mormon history and is such a special place to visit. We rented a house right on the Mississippi River for the whole week, about a mile from historic Nauvoo. It was the most perfect, beautiful location and we loved being able to immerse ourselves in the history, but then have some relaxation time, as well.
This was our most recent family vacation and we are already dying to go back. It was awesome! My family likes to be active, and this resort is packed with fun activities, like kayaking, sailing, trapeze, basketball, pools, golf, tennis, and a ton more. Being an all-inclusive made life a lot simpler for my husband and I… not having to plan meals and things to do, all day long. We loved it!
This cruise wasn't necessarily about the ports we went to, unlike the Royal Caribbean cruise. This one, most of the fun was ON the ship. Disney just seems to have a way of making everything magical and so kid friendly. It's definitely more of a splurge, but the on-ship experience was one that we've never seen anywhere else… and we've done a lot of cruises!
*UPDATED JANUARY 2019 *The Southern California CityPASS has been discontinued. Find information about the equivalent HERE.
What's a list of best family vacations if Disneyland isn't on there? And, not just Disneyland… how about Legoland, and Sea World all in the same trip?? Yep. That's what getting the Southern California CityPASS will do for ya… and, you save a ton of money! You'll definitely want to check out the details in this post (where we get the tickets, how we spent our time, tips/tricks, etc.) if you think this is something your family would love. We thought it was one of the best family vacations ever!
When you have 7 children, I think it's easy to just want to stay home and make life easier, but we have found so much value in our family vacations. They're definitely worth the effort! To see the family have fun, grow closer together, and create memories is priceless. I'm a big believer in family vacations… big or small, long or short, somewhere grand or camping in the mountains. I hope you found some inspiration here with our best family vacations!