Hey Everyone, it's Kimberly with Get Away Today. Get Away Today is best known for our discount Disneyland packages, but we also help families get the lowest Disneyland ticket prices. If you're staying with family or have a time share, you won't need a package, which includes both theme park tickets and a hotel near Disneyland. But, you can still use Get Away Today to get cheap Disneyland tickets… Well, as cheap as Disneyland tickets get.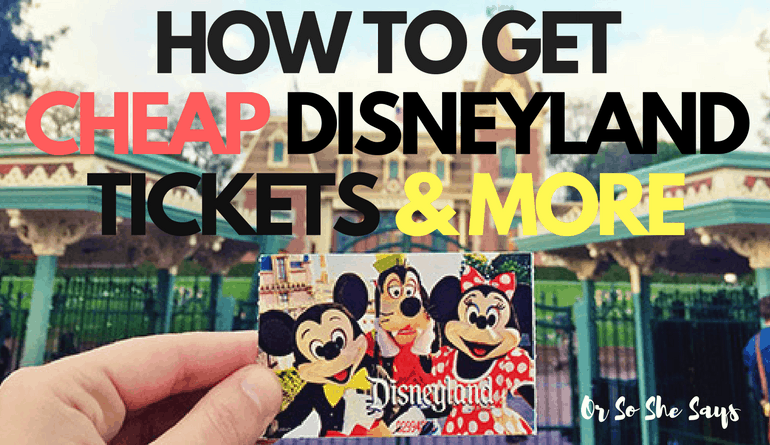 How to get Cheap Disneyland tickets
Chances are, unless you personally work for Disney or have a really close friend or family member who does, you're going to have to buy Disneyland tickets. Although a trip to Disneyland is in no way cheap, there are some good deals out there. But, you have to know where to find them and how to recognize them. That's where we come in. I'll break down how to find to best deal for your tickets. There are several options available, depending on your needs and situation.
Before I get into all the details, it's helpful to know that the discount Disneyland tickets you purchase from Get Away Today are e-tickets. This means the tickets are electronically sent to you five days before you travel, and you can redeem the e-tickets directly at the turnstile entrance to Disneyland. This version of discount Disneyland tickets not only saves you money, but time as well! You won't waste any time waiting in line at Disneyland to pick up your physical tickets, followed by waiting in line to actually enter the parks once you get them.
Option #1 – One Park per Day Disneyland Tickets
When I say "park," I'm talking about the two parks that comprise the Disney Resort in California, Disneyland Park and Disney California Adventure. These two parks are right next to each other, so it's super simple to walk to one or the other.
As far as cheap Disneyland tickets go, 1-Park per Day tickets are Disney's value option. These tickets cost quite a bit less than the Park Hopper tickets and allow you to visit either Disneyland or Disney California Adventure Park each day. You don't have the same flexibility as the Park Hopper, but if that doesn't matter to you, your family could save as much as $55 per person. That's an average saving of $220 – $275 per family! If you are only spending 1 day at Disneyland, 1-Park or a Park Hopper, the only way to get your Disneyland passes is directly through Disney. We suggest purchasing them through the official Disneyland app, so your ticket is already loaded into the app and ready for an exciting day at the park!
One thing that I love about the 1-Park per Day ticket is that it truly is a great value. In fact, if you're visiting during a peak travel time it's only around $20 more to do a 2-day 1-Park per Day ticket than it is to do a 1-day Park Hopper ticket, and Get Away Today can definitely help you with that! I would much rather spend two days of fun exploring each park than trying to cram everything into one day! Not to mention, you can get a 5-day 1-Park per Day Disneyland ticket for about the same price as a 3-Day Park Hopper ticket. That really spreads out your value. Plus, Get Away Today often offers Extra Day Free ticket savings so you can purchase 5-Day Disneyland tickets for the price of just 4-Day tickets!
* Note that Disneyland Tickets have a use-date on them, meaning you need to use them on the date you purchased them for.
Option #2 – Disneyland Park Hopper Tickets
The Park Hopper is by far the most popular Disneyland ticket option and with good reason. It lets you go back and forth between Disneyland and Disney California Adventure Park as many times as you'd like in one day. That is really helpful if you're doing the nighttime shows. Most families choose to go with a 3-day Park Hopper. They'll generally do one full day at each park and then split the third day between the two. Just know that multi-day tickets must be used within 13 days of the first use.
Just because you're getting Disneyland's most popular and premium ticket, doesn't mean you have to pay gate prices. You can always get a discount by booking with Get Away Today, but we regularly run specials that make them an even better deal. My favorite ticket special is our Extra Day Free ticket, which I mentioned above. This cheap Disneyland ticket deal also extends to Park Hopper tickets. This is actually my favorite way to experience Disneyland because it is the most flexible. I love being able to go into the parks for a little vacation preview the night before our first full day at Disneyland. I love not feeling like I have to be in Disneyland all day every day to get my money's worth. And finally, I love that the longer you go, the less you pay per day. It's not necessarily the cheapest Disneyland ticket, but it's the best value!
Did you know that Disneyland, though smaller than Disney World, has more rides?? It's true! They're just packed in closer, while at Disney World, they're more spread out. You can definitely get a feel for Disneyland in one day, but I'm not sure if it's possible to try all of the rides they have. So more than one day is definitely the most FUN option, so you don't feel so rushed and can enjoy every ride. And it's not just the rides that you'll get more of, there are several awesome evening shows that would be impossible to see in one night. During the non-peak times, the fireworks only happen on the weekends, and believe me, they're awesome! More days mean more chances for the best weather, more opportunities to try all the fun food in the parks, and a lot less stress. I love being able to do a handful of rides, then take my baby back to the hotel for a nap, then come back later for more fun.
Another perk to purchasing tickets for three days (or longer) is that you get to take advantage of Magic Morning at Disneyland, during one day of your park visit. Right now, Magic Mornings happen on Tuesday, Thursday, and Saturday and let you in the park early, for one full hour, before the park is open to the general public.
Option #3 – California Multi-Park Vacation Package Deals
If you're planning on visiting any of Southern California's other theme parks, you can save a lot of money by getting combo tickets. We created a number of combo tickets where you save on Disneyland tickets and any other Southern California attraction tickets you add to it. If you're thinking of adding Universal Studios Hollywood, Knott's Berry Farm, LEGOLAND California or SeaWorld San Diego to your vacation itinerary, make sure you buy a combo ticket.
Our most popular combo ticket is our Disneyland/Universal Studios Hollywood Combo Ticket. While both our Disneyland and Universal Studios tickets are already discounted, you get a little extra discount by combining them. In addition to that, you also have some flexibility with these tickets to save even more. You can get the Disneyland tickets in either 2 or 3-day options and as either the Park Hopper or the 1-Park per Day. All of the combo tickets come with 1-day at Universal Studios Hollywood. Or as I like to call it, HARRY POTTER WORLD!!! The cheapest option for the combo ticket is the 2-day 1-Park per Day Disneyland Ticket. That way you can spend one full day in each of the three parks: Disneyland, Disney California Adventure Park and Universal Studios Hollywood.
Option #4 – Bundle Your Disneyland Tickets With Your Hotel Stay
The option to bundle your tickets and your hotel together is an awesome way to save money. The tickets may be our regular (and awesome) discounted price, but when you book it with one of our hotel partners, you can get a great deal that makes your vacation cheaper overall.
For example, we can often include things like free night stays at hotels (huge savings!), free breakfast (one less meal to feed the kids!), free shuttle to the park (save money on parking!), and other fun discounts. You can take a look at all of our newest Disneyland Vacation package deals on our site. If you end up booking, online or on the phone, be sure to use promo code OSSS10 to get an additional $10 off your vacation package. Let them know that 'Or So She Says' blog sent you.
Other Disneyland Discount Ticket Deals
Now, all of the above tickets can be purchased directly with Get Away Today and we guarantee the very lowest price. The only exception to this rule are the military tickets, which really are the rare cheap Disneyland tickets.
Military Disneyland Tickets Discount
To qualify for these tickets, you must be active or retired military with a current military ID. You must purchase these tickets directly through Disney. Here is the link for the 2020 Disneyland Military Deal. You also must have your current military ID present when you use your military tickets, so don't make the mistake of thinking your military friend can buy your ticket at a discount. Disneyland changes their military tickets from time to time, but it ends up being a really good value. We love that Disneyland honors our military.
Convention & Event Discount Tickets for Disneyland
Other ways to get cheap Disneyland tickets include purchasing with a convention. However, you're limited to visiting Disneyland during specific dates and registering for these events may negate the savings you get on the Disneyland tickets.
Children's Hospital of Orange County Walk in the Park
This event is a large 'walk in the park' that has raised millions of dollars to help children in Southern California. Registration typically costs between $85 to $95 per person, for ages 3 and up. Plus, there is the cost of the discounted Disneyland ticket, which is around $67 or $93 per person, depending on if you choose a one park ticket for one day, or the park hopper ticket for one day. Discounts are also available for the shops in Downtown Disney. You can view their site and registration information here.
Dapper Day Event at Disneyland
Dapper Day is a fun event where people get all "dapper"… dress up in high fashion styles of yesterday and today, and attend the Disneyland Park. They try to acquire a group Disneyland ticket and offer them "when possible." The best way to find out when their Dapper Day event is and if they're able to offer a discount is by signing up for their newsletter on their website.
Disneyland Deals for California Residents
If you live in Southern California, zip codes 90000-93599 or Northern Baja California zip codes 21000-22999, keep your eye out for discounted Disneyland Tickets in your area. The offers aren't offered year-round, they come and go. So, check your local travel blogs, Costco, Safeway, Albertson's, Ralph's and the Disneyland website for any new options for cheap Disneyland tickets. I've heard that Costco is actually only offering packages, rather than tickets, but it may be worth calling them. However, check out my important "But…" paragraph below. Price matching available!!
If you're a student, sometimes the local universities and schools will offer specials. Or, if you work for a large corporation in Southern California, you may be in luck, if they decide to offer discounted tickets.
Photo ID and proof of residency is required at the time of purchase of California resident tickets.
BUT… while it is possible to find cheap Disneyland tickets via an employee discount, AAA membership or even by being a student at select Southern California universities, Get Away Today will always price-match. If you find a better deal on a ticket we offer, our Best Price, Best Service Guarantee ensures you can get the same savings from us, plus you get all of the other benefits from using a travel agency.
Another option is to get a Disneyland annual pass. As a Southern California resident, you can save at least a couple hundred dollars on the pass. Read more on that, below. One thing to note, as far as the Southern California Select pass goes, is that although it is an awesome deal, this pass has the most restrictions (black-out dates, park restrictions, etc.) But, if you can be flexible with when you go and have weekdays open, it's definitely still worth looking at.
Disneyland Annual Pass
If you're going to visit Disneyland several times in the year, you may want to look at getting an annual pass. Did you know that you can put the cost of your Get Away Today discount Disneyland tickets toward a Disneyland Annual Pass? The price you pay when you purchase from Get Away Today is always less than gate prices, but the full value of a ticket will be applied to an Annual Pass when you upgrade. Our tip is to purchase our cheaper Disneyland tickets, and then upgrade to the Annual Pass on the last day of your trip. An annual pass can cost anywhere from $599 to $1399, depending on what level of pass you choose. The access dates, discounts in the park, and other perks vary.
Discount Disneyland MaxPass ~ Ticket Add-on
One of the newer features of Disneyland tickets is the MaxPass option. It currently costs $15 per person per day. It allows you to make FastPass reservations from your phone and includes free digital downloads of any Disneyland PhotoPass pictures. You can save a lot of money if you choose to use the regular FastPass system and just get your FastPass return times from the machines outside each FastPass attraction.
However, if you want to splurge and use the MaxPass system, there is a way to save. If you pre-purchase MaxPass with Get Away Today, you have to purchase it for each day of your ticket. So that means if you're doing a 5-day ticket, it's an extra $75 per person. But, you can save a lot of money and still use MaxPass by adding it to just a day or two of your tickets once you're already in the park. MaxPass doesn't sell out and you can't make FastPass reservations until you're inside one of the parks, so you can add it first thing in the morning any day.
I recommend using MaxPass on just one or two days of your vacation when you plan on riding as many attractions as possible. If there's a day that you're planning on shows or parades, I would save the money and just use the regular FastPass system for a few attractions. It's a great way to get the perks of MaxPass and save some money at the same time.
Where NOT to Buy Disneyland Tickets
Sadly, there are lots of people out there, looking for a great deal on Disneyland Tickets, that get duped into buying tickets that are fake or not valid. Disneyland Tickets aren't cheap, so you want to make sure you buy them from a legitimate source, the first time.
Also, you will want to make sure you check the final price. Sometimes a price looks fantastic online, probably a little unbelievable, so it's tempting to start the booking process. Before you know it, astronomical taxes, fees, and shipping prices are tacked on, bringing the price equal to or even more than the cost of a ticket purchased at the park. And, if that's the deceptive nature of the site, will your ticket actually be valid? It's a gamble. It's pretty safe to say that significant discounts on Disneyland tickets just don't happen, especially on 1 day tickets.
Not only is the final price important, but make sure you know when the ticket expires, any refund or transfer policies, and how the ticket will be delivered to you.
Classified Sites, Facebook, Ebay
Please, pretty please, don't buy your tickets on these sites. There have been so many horrible stories of people getting ripped off, thinking they were saving money on their tickets. Only buy from authorized Disney ticket sellers to protect your money.
Ticket Sharing/Transferring
Disneyland has security measures in place for preventing people from sharing their multi-day tickets. Upon entering the gate the first time, you will have your picture taken. If you purchase tickets from someone who has already used them for one day, you will not be able to use them, as you won't look like them. That would be a costly experience!
Not Activated Disneyland Gift Card Tickets
You know how when you buy a gift card at the grocery store, it needs to be activated? There are scammers out there stealing unactivated Disneyland gift cards and selling them. People think they are getting a gift card, ready to put towards their Disneyland tickets, when it has actually never been activated. Basically, we recommend NEVER buying tickets from an individual, unless it's your mom, maybe.
Non-Disney Websites with "Disney" in the URL
A lot of people don't know this, but Disney does not allow any site to sell their tickets that have the word "Disney" in their website address, such as "cheapdisneytickets.com or disneyticketsforfree.com." So if you're on a site offering Cheap Disneyland Tickets and you're noticing the word "Disney" in the URL, run for the hills.
Some Final Thoughts on Looking for Cheap Disneyland Tickets
If you hear of any other cheap Disneyland tickets, buyer beware. As mentioned above, you want to be sure that you purchase your Disneyland tickets through a reputable source. Fraudulent ticket sales have gotten better over the last few years, but you may want to read this article in the meantime just to be sure. Just know that our tickets are 100% legit. Our system ties in directly to Disney's system, so all tickets are tracked and protected.
Remember that Get Away Today will price match. So, if you find a Disneyland ticket deal, be sure to contact us. Not only can we price match legitimate Disney ticket deals, but we will organize your trip and be your own personal Disney experts (answer your questions and share our Disneyland tips and tricks with you), all for free!
Get Away Today is here to help you, from planning to booking your Disneyland vacation. Our services are FREE and you never pay booking fees. Make sure to visit our website getawaytoday.com or call 855-GET-AWAY to speak to a travel expert directly. Not only do we guarantee the best price, but we guarantee the best service as well. When you do book, don't forget to use promo code OSSS10 to get an additional $10 off your vacation package. Let them know that Or So She Says sent you!
If this post was helpful to you, you may like:
When to Visit Disneyland in 2020 – This post is all about the schedule of events at the Disneyland Resort for 2020. Find out what's going on when you're there, or plan your trip around the event that interests you the most!
The Most Frequently Asked Questions About Disneyland – As a travel agency that specializes in Disneyland, you better believe we get a LOT of questions about Disneyland. This post addresses all of the FAQ's about Disneyland that we get asked the most often. If you're planning a Disneyland vacation, I'm sure you can find some answers to your vacation questions here!
Vacationing at Disneyland in the Rain – Being at Disneyland when it's raining is actually one of my favorite things! The park crowds go way down and it's not scorching hot, both HUGE bonuses, in my book. This post gives lots of ideas for staying dry and navigating the park during a downpour.
Pin this image to save the post: