Grilled Italian Sausage Sandwiches loaded with sliced red peppers, basil pesto, pine nuts, and fresh shaved Parmesan cheese.
Happy Thursday to all my friends at Or So She Says! And not just any Thursday….but the Thursday before Memorial Day weekend….the unofficial kick-off to summer. Do you have any big plans for the weekend? Whether you are having a big party, getting together with family and friends, or just staying home, I have a delicious last minute meal for you: Grilled Italian Sausage Sandwiches!
I grew up on Italian Sausage Sandwiches….my mom used to make them in the crock pot with green peppers and marinara sauce….and what I love about them is that they are jam packed with flavor! Whereas burgers and hot dogs (the usual grill suspects) rely on the condiments to do all the work, Italian Sausages hardly need condiments at all! (Of course, the condiments definitely don't hurt….!)
I also love that they're a little something different. It's so easy to get stuck in a rut, even when it comes to holiday grilling…..but everyone likes to mix it up from time to time! These sandwiches can be customized to different tastes by adding onions, leaving out the peppers, or using a different type of sauce (sun dried tomato pesto, perhaps!?) Best of all, they're easy to make, quick to assemble, and perfect for feeding a crowd!
I hope you have a wonderful Memorial Day weekend with beautiful weather, plenty of relaxation, and, of course, GOOD FOOD!! (The main dish is already taken care of!) Thanks so much to Mariel for having me here today….and I hope you will come visit me over at my Lemon Tree Dwelling!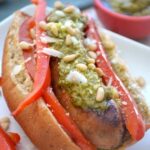 Grilled Italian Sausage Sandwiches
Ingredients
1

package

4-5 count Italian Sausages

1

package sandwich rolls

2

red peppers

sliced and grilled

1/2

c.

basil pesto

1/4

c.

pine nuts

shaved Parmesan cheese
Instructions
Prepare Italian Sausages and peppers on the grill.

Fill each sandwich roll with approx. 2 Tbsp. pesto, 1 Italian Sausage, red pepper slices, pine nuts, and fresh shaved Parmesan cheese.
Looking for some delicious sides to go with your sandwiches?