Hello! I'm Mariel… owner of this blog, 'Or so she says…', finish carpenter's wife, and a mother of 7. I'm also a whole slew of other things, but we'll stop there, for now. These are my most favorite people…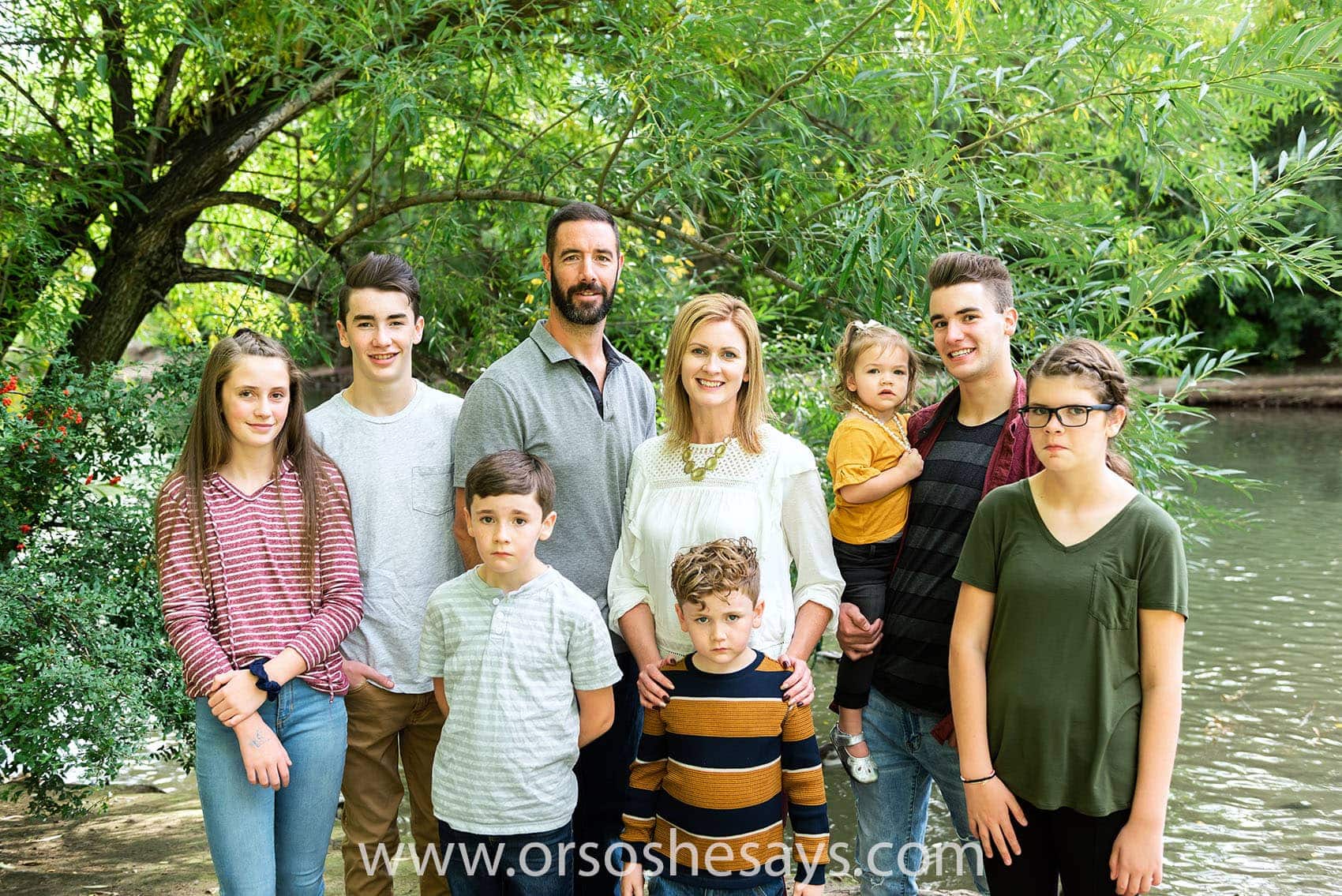 Despite this pic being a little old, you can see that I have several teenagers in the bunch. There doesn't seem to be a lot written about teenagers online. I mean, in comparison to toddlers. Am I right? Is it because teenagers are easy to raise and nobody needs any advice? Is it because moms are overwhelmed with all the driving to activities they're bombarded with in teenage years, that they don't have the time (or sanity!?) to seek out some handy tips? I don't know. Maybe by the time our kids become teenagers we realize that just because something sounds good and logical in writing, doesn't mean it will work… especially on a teen. Or basically, it's easier said than done.
How to Connect With Your Teenager
Well, I still don't have it all figured out and probably never will, but over the years I've been keeping a little note on my phone any time I come across a little knowledge gem that helps me in my parenting efforts. I've found myself referring to these parenting ideas regularly and have noticed a real difference in tiger relationship I have with my children, especially my teenagers. I wanted to share 8 of them with you today. They're really simple ideas and I don't elaborate much, on purpose… because I feel like with each one, when you read and ponder them, your mind will go where it needs to go, for your own child.
Bonus, Included With Your Download!
For signing up to receive 'What I Wish I Knew With Teenager #1,' you'll also receive 6 of my teenagers' most requested family recipes. These are the ones they ask me to make regularly… the ones they crave! If you have any teenagers around, I have a hunch they might like them too. Plus, feeding teens can also be considered a tip on how to connect with your teenager. I know it works for mine!
Again, both documents of teenage-raising tips and ideas… totally free, right here —> SUBSCRIBE & DOWNLOAD

With teenagers on the mind, you may also like these posts:
16 Teenage Birthday Party Ideas ~ Coming up with a birthday party idea for your teen can be pretty tricky. They want to do something, but it can't be anything childish. And, teenagers can be tough critics, so good luck. This post has lots of great ideas that aren't corny at all, plus they can be adjusted to your teen's liking.
30 Gift Ideas for Teenagers – Once you have a party in place, or maybe before you have the party in place, you're likely thinking about what to give a teenager for a present. Believe me, I know… it's hard. That's why I had to not only ask my teenage kids, but also ask all of their friends for gifts for teenagers… something they would love to get. I think I came up with a pretty good list in the end!
13 Rules for My Teenager – This is an awesome post, written by the only male blog contributor I've ever had, Dan Jacobs. I always loved his insights and ideas and this post is no exception.