Times are a very tricky, I know. I would like to think this post is just to give people ideas for extra spending money, but the truth is, there are millions and millions of people who need money to stay alive, right now. It's unfortunate, and I'll bite my tongue, beyond that. But, to all of you who are struggling financially right now, this post is for you: 7 Work at Home Jobs Available Now in 2021. I know these aren't necessarily career jobs, but they're a handful of ideas that might bring in a little money. I hope. They're definitely worth looking into.
When you're done reading this post, I'll share a couple links with you, at the bottom, on feeling peace in troubled times. Ideas that I can definitely vouch for.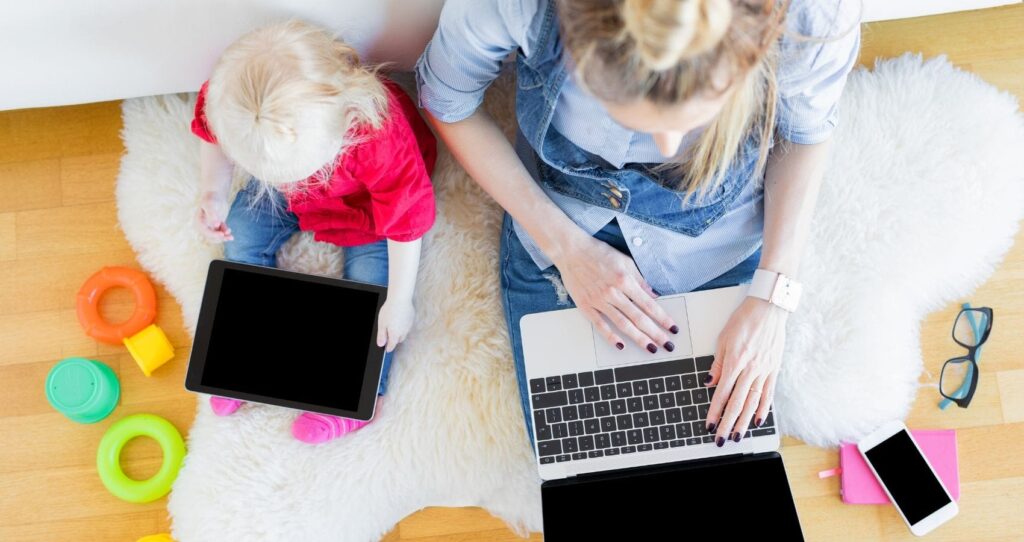 Works at Home Jobs Available Now in 2021
All of the information is current for 2020. Be sure to check the websites for any changes in pay rates and requirements.
UserTesting – Get Paid to Browse Websites
UserTesting hires online testers to provide companies with feedback on their websites. Companies are looking to find out how user-friendly their site is and what they can do to improve it. Each 20 minute test pays $10, and you can earn up to $60 for a live conversation with the company that's seeking feedback. During a test, you may be asked to find the hours and location of the company, the price of a specific item, a nutritional guide for a menu item, or similar tasks.
To become a website tester, you first need to apply and take a practice test. Upon approval, you will be given assignments. Some weeks you may receive multiple tests to take, other times, there won't be anything available. It likely won't be steady work, but it's a bit of extra money, for simple work. It may be a good idea to sign up for additional testing websites, to supplement UserTesting, such as UserTesting.club. They aren't very up front about how their testing program works, but you can fill out the application form, and they will give you the info you need.
Etsy – Sell Handmade Products Online
Etsy is such a fun site! If you're ever in need of a unique gift idea, original piece of home decor, printable, delicious treat, etc., you can definitely find it on Etsy. It's a site that allows anyone to set up shop and start selling handmade goods. Granted, if your product isn't that great, people won't buy it or you will get bad reviews. So, it needs to be quality goods, with really nice photographs to advertise them (practice, makes perfect!)
If you don't already have an idea of what to sell, you can look at what it already selling, and see if you know a way to make a product even better. If you do a search on Etsy, for any given product, the results will show you items from shops that have made a recent sale. So, you know people are buying from what that shop has! The further down in the search results that you go, the longer it's been since that shop made a sale. You can also search Etsy Bestsellers to get some inspiration that way.
Of course, Etsy isn't allowing you to use their platform and take advantage of their advertising for nothing. For each item you sell, they will get a commission, which is okay. They deserve a portion, right? There are lots of shops that make lots and lots of money on Etsy, despite the commissions they pay, because they have great products that people want. However, if you want to retain more of your money, you may want to consider setting up a Shopify site. The biggest issue with that though, is you won't have regular Etsy traffic… you will need to get people to your shop (marketing!) But either way, marketing is smart. If you really want to see your Etsy shop grow, get an account for it on Instagram and start sharing and collaborating! The more you direct people there, on top of Etsy's help, the better.
VIPKid – Teach English Online
VIPKid is a website that will hire you to teach English to kids in China, with no teaching experience or Chinese-speaking abilities needed. There's no lesson planning and you can set your own hours. Teachers can earn between $15 and $22 dollars per hour and a 6 month commitment to the program is required.
To become accepted as a teacher, you will first receive some material to review and then apply by doing a demo lesson. Upon approval, you will go through a mock lesson with an existing teacher, at which you will sign your contract and get teaching! If you aren't getting as many jobs as you want, consider working odd hours (middle of the night), to increase your odds of snagging teaching opportunities.​ If your student doesn't show up for the class, stay the whole 25 minutes, and you will still get paid.
Teach Lessons Online or In Person
What do you know how to do well? Is there something that people regularly ask you questions about? You may want to consider putting together some lessons. If you aren't allowed to be together in person, due to social distancing regulations, you can always teach classes via a Zoom meeting or Google Hangout. In my neighborhood, there is a lady teaching bread making classes via Zoom. She's having wonderful turnouts and people anxious for more classes. For one class, she focused on sourdough bread. Another class, she taught wheat bread. You get the point. But, classes are a great idea… definitely a real work from home job.
If you are in a situation that you can be around people, even better. The past two summers, my son, who is 16 years old, taught basketball lessons at the elementary school playground to a group of 8 to 10 kids, once a week. Filling up his class was super easy, and he could have easily run more than one class, to make even more money. The years before that, he was teaching cooking classes for kids in our home, with my help.
A little tip: Have people pre-pay for their lessons. If they don't show up, they don't get their money back, and you aren't out the money for supplies or wasting your time. It also lets you avoid having to hound people for payment, which can be a big headache.
If you want to get even more formal, in the online world, you can look into setting up video classes on sites like Udemy. I helped produce a Yoga for Busy Moms video course and it's been a great experience. Simply visiting the site will help give you ideas of possible classes you can teach, provided you know a thing or two about the topic. 😉
Rev – Transcribe & Caption Audio/Video Files
Rev.com is the top paying company that will hire you to transcribe or caption audio and video files. Yes, computers can do the job, but humans tend to make fewer errors. Transcribers can earn up to $1400 a month, depending on how quickly and accurately you type, and how many jobs you accept. The problem with Rev is that their positions fill up quickly, so if they aren't currently accepting new freelancers, check back regularly, until they are. Once you are able to apply, you will be tested on English and grammar, then with a sample transcribing test.
If Rev isn't currently accepting freelancers, you may want to sign up with GoTranscript. They can usually hire newbies and get them started right away. However, their pay is notably less than Rev.
TextBroker – Write Articles for Money
TextBroker will pay you to write articles based on assignments they receive. The payment amount will depend on your reviews and skills, from .7 to 5 cents per word. That adds up to $7 to $50 dollars per 1,000 word article.
After you register, you will submit a writing sample, receive your rating, complete your profile, and start writing. You can choose your assignment and write on your own time and as often as you want. TextBroker has a team of editors that will review your work and provide you with feedback, to help you improve and increase your pay.
Writer Access is another one site that will hire you to write articles. It's available for those outside the U.S. (as well as in the U.S.) and is said to pay better than TextBroker. Might be worth looking into, as well.
Provide Services Based on Your Skills
There are two great sites for offering your talents to people who may need them: Upwork and Fiverr. Upwork tends to keep all things professional. If you are a writer, digital artist, have computer skills, a background in marketing/sales, etc. then you can offer your services on their platform. For example, say I needed to hire someone to take some professional looking pictures of dogs playing for a project I was working on. I could go on Upwork, do a search for photographers, then scroll through to find one that had a good reputation, a reasonable price, and suited my taste.
Fiverr offers all sorts of professional services, as well, but includes a lot more quirky things on their site. For example, if it was my husband's birthday, and we had always wanted to go to Paris, I could do a search and find someone in Paris who would write 'Happy Birthday' and his name on a piece of paper and get a picture of them holding it up in front of the Eiffel Tower. I could even hire someone to tell my fortune, pray for me, place a curse on someone (yikes!), or give me advice. There is a whole myriad of services that you can offer to people. I haven't ever used Fiverr for any of the crazier things, but I have used it to have a logo drawn up, some coloring pages created, and some blog posts written. Just browsing both of these sites may give you ideas on a service that you can offer. And the better your service is that you provide, the better your reviews will be, which will lead to more sales.
If you liked these work at home jobs available now, here are the links on peace, that I promised:
To save these work at home jobs hiring now, pin this image:
Click the Pinterest button at the top of this post to see additional image choices.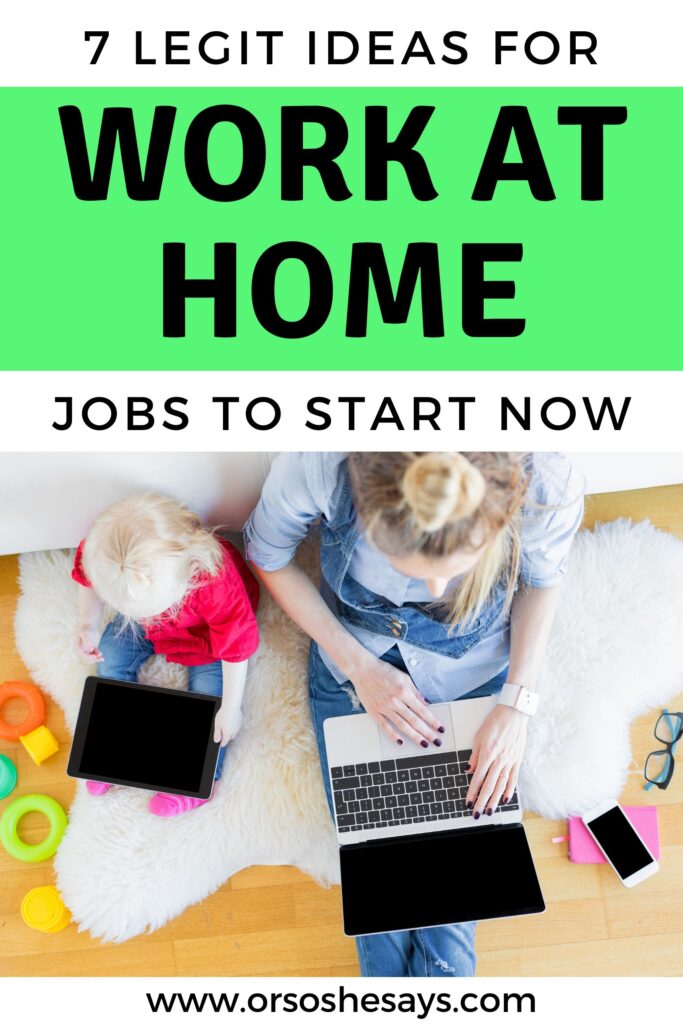 Join 180,000+ others & follow OSSS for lots of family ideas!
NEWSLETTER (free most-requested family recipes download included!)
PINTEREST (lots of awesome family related ideas!)