Hey everyone, I'm Cori and I'm pleased as punch to be joining you as Mariel's new fashion contributor. I love talking about style, and getting dressed because I truly believe that what we put on our bodies can have a powerful affect on what goes on in our mind and the way we live. I always feel better when I get up, put on something flattering, fix my hair and spray a little perfume. After all, Chanel said: "Dress shabbily and they remember the dress; dress impeccably and they remember the woman."
If there's one undeniable trend this spring, it's color. Everywhere you look this season you find bold patterns and bright hues. But, if you are anything like I used to be, incorporating color into your daily wardrobe can be a tad intimidating. Before I embraced my overwhelming love of vibrant hues, my closet consisted of an impressive array of blues, blacks, and browns. I know, so adventurous. Once I started slowly infusing color into my daily wardrobe, however, I realized how much fun dressing from the rainbow can be. You might not be ready to throw on those kelly green skinny jeans, or a tangerine blouse, but there are a few easy, inexpensive ways to incorporate this season's hottest color trends without sending you into color-shock.
Bright-colored accessories.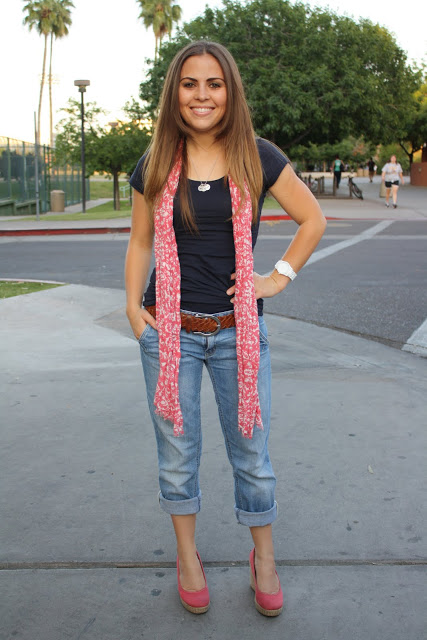 Boyfriend jeans: Gap. Tee: Marshalls. Scarf: Loft. Shoes: Old Navy. Belt: Ross.
Between Pantone naming "Tangerine Tango" the color of the year, and a number of vibrant jewel-toned skinny jeans lining the racks in every store, it's clear that this season, bright colors are where it's at. If you're not ready to leave the house feeling like an exclamation mark, however, consider adding a few bold accessories in a bright hue, to your toned down go-to's. A bright scarf, a statement necklace, or even some cheerful wedges can infuse life into an otherwise drab ensemble, and help ease you onto the color train.
Pair Neon with Neutrals.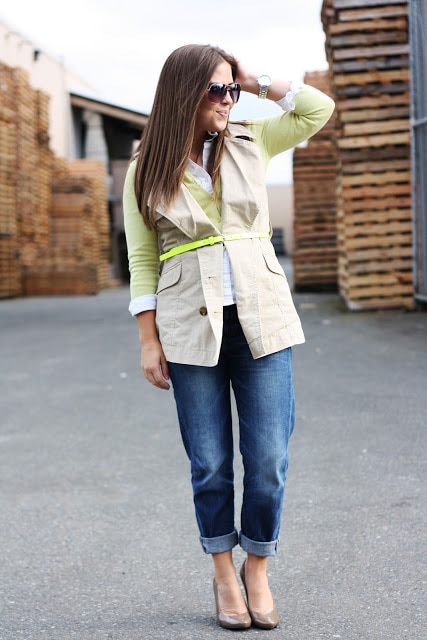 Boyfriend jeans: Gap. Cardi, Button-up, Sunnies:Loft. Trench Vest: Old Navy. Shoes:Jessica Simpson. Belt: Thrifted. Watch: NY&Co.
N.e.o.n. I know, I know. I did a silent little shudder to myself when I saw this trend being resurrected this season. Having graced both the 80's and 90's I couldn't help but tip my head to the side and say "what?" when I saw this hue reemerge a few months ago. Doesn't this belong on traffic cones and construction flaggers? I mean, the last time I wore neon slap bracelets were in and all I wanted for Christmas was a pair of LA Lights. Ug. However, like the pastel denim trend which we are also seeing reappear from the closets of yester-years, modern pieces offer a much more sophisticated spin on what I once considered dead styles. If, however, you are like me and still quiver a bit at the thought of throwing on a neon blazer, consider instead a simple splash of it, with a belt or a handbag. Mute the color further by pairing it with your neutrals, and you'll end up feeling surprisingly understated considering you may glow in the dark.
Branch out with pastels.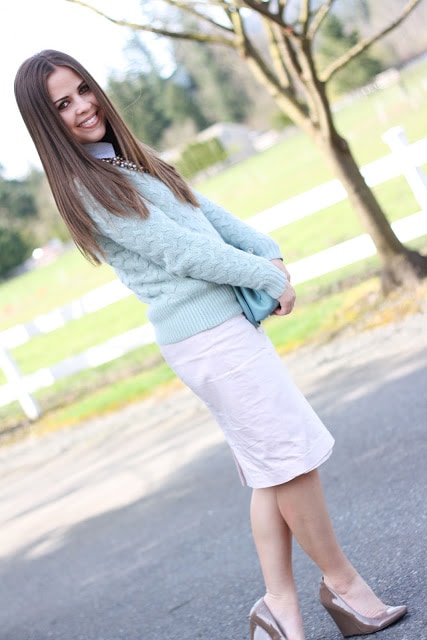 Skirt: H&M. Sweater: JCrew. Button-up/Necklace: Loft. Shoes: Jessica Simpson. Clutch: Vintage.
Pastels are a great way to go a little crazy when you're experimenting with color. Delicate hued pieces are huge this season, and are soft enough that you can leave the house wearing several different coordinating colors without feeling like an Easter egg. Pastels are always heavenly and casually understated. Wearing them can ease you into a more multidimensional daily color regimen, without completely kissing your color comfort zone goodbye.
Now keep calm, and color on ladies.