Hi! I'm Jo-Anna, and I am a stay-at-home mom to 2 sons and a daughter, and wife to an amazing and supportive husband. We live in the suburbs of Canada, and we strive to live life simply and lovely!
I love skewers of any kind!
BBQ, fruit, grilled veggies, you name it!
And now I heart Antipasto Skewers!
They are a combo of some of my most favourite foods, so how can you go wrong?!
The fun thing about them is that you can try so many different things!
They look fancy, but are so easy, and so delish!
They went over really well!
I took inspiration from the Hungry Housewife, but changed a few things to suit our palate!
Here is what I used, but the possibilities are endless. You can get as creative as you wish!
And the amounts of each ingredient depends on how many people you are planning to serve.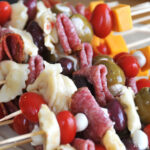 Antipasto Skewers
Ingredients
Olives - I used Kalamata Olives and Feta Stuffed Green Olives

Gypsy Salami

Artichoke Hearts

Pickled

Cherry Tomatoes

Cheese - I used chunks of Cheddar

and Bocconcini

Three Cheese Tortellini

Italian Salad Dressing
Instructions
First, cook tortellini according to package directions.

Then pour on your Italian Salad Dressing and marinate for a few hours or overnight.

When the tortellini has been marinated for the appropriate time, it's time to skewer!

Skewer on!
A super easy and fancy looking treat for guests!
Enjoy!