Happy August! I hope you had a great July. It was a super busy month for us. Every year, when school gets out, I'm determined to get ALL of my projects done before we start up homeschool again. But, without fail, almost nothing gets done. BUT, I guess that's okay, since my excuse is lots and lots of family activities. Hopefully, the food storage– will get updated, the closets organized, and my e-book will get written, one of these days.
How about some favorite things, friends?!? Here's my top 5 picks for August: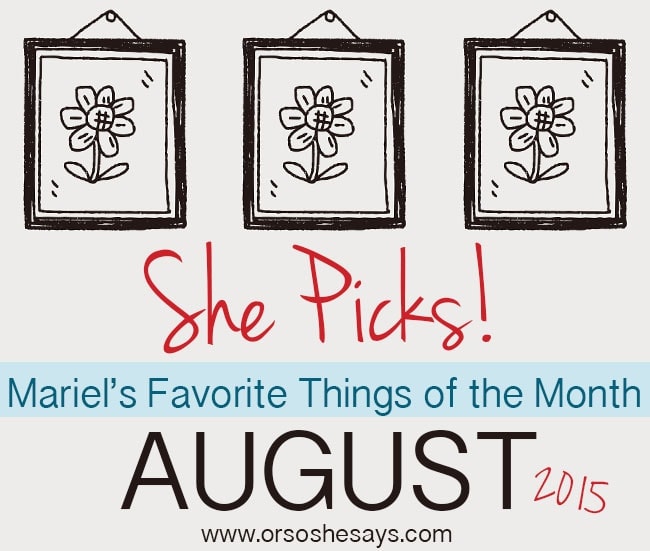 Pick #1
4 to 5 days a week, I meet my friends every morning at the local gym. We have so much fun together and it's an awesome way to start my day! Over the years, I've gradually built a work-out clothing collection and have definitely formed some opinions on the different brands! Of course, lululemon makes AWESOME workout pieces, but their prices are RIDICULOUS. So, I'm so glad to have stumbled across Fabletics, the brand by the actress Kate Hudson. The clothing line is full of cute, comfy, and functional items and they're about half the price or more than half the price of lululemon. If you sign up as a member, you get even better deals, including your first OUTFIT for $25, plus free shipping. They also have a rewards program, where you earn points for every item you buy, that can be redeemed for free items. These are the items that came to my house last month…
Pick #2
Okay, I have a small addiction to Buttermints… speaking of working out. But, they have to be good ones! The ones in the bags at the grocery store = not good. Chick-fil-A buttermints are nummy. I'm always asking for a few extra every times I hit the drive through. So, but just recently I picked up a little tub of Naylor Buttermints at Cracker Barrel, after experiencing the worst service ever. Yes, Layton, Utah Cracker Barrel, that's you. The buttermints totally saved the day! Have you tried them? Mmmm… they're so melt-in-your-mouthy… I always save a handful of calories every day to devote to my precious Naylor Buttermints. And, they're not expensive at all, which is slightly dangerous for me. You can get a 3lb tub of them for only $8 if you buy straight from Naylor, which I'm going to start doing. I just placed an order for Heide's Gourmet Buttermints, to compare them. But, for now Naylor is doing the trick.
Oh, hey… if you love buttermints to, try this recipe for Buttermint Oreo Ice Cream Bars, two of the best things put together.
Pick #3
So, I was cleaning out my church bags today… you know, the bag I bring to church with everything I need to keep my kids happy and smelling fresh through the meetings, as well as all my teaching supplies. Confession. I have like 5 church bags that I use depending on my mood, and it's kind of a problem. All 5 of them were filled with candy wrappers, colored pages from my kid's classes, sacrament programs, loose raisins, colored pencils, diapers, Chapstick, hair elastics, wads of paper, and tights with runs in them. I stumbled upon and organizing mood and dumped all my bags out on the kitchen counter… then sorted, trashed, and organized my bags all pretty-like. This long story, just to tell you that during my organizing-fest, I found my Clinique Black Honey Almost Lipstick (not quite a gloss, not quite a lipstick.) I thought I had lost it forever! But, no… it was just buried in a pile of Cheerios in one of my bag pockets. Yay!! This stuff is so great. When I first got it, I was nervous because the stick looks so dark. But, it's not dark at all once you put it on. The thousands of five-star reviews were spot-on, this color is AWESOME and is just the right amount of hue. Plus, I love the non-gloss, non-lipstick part. It's just good stuff, I tell ya. I'll be wearing it every day, until I lose it again.
Pick #4
Anyone that knows me well could vouch for the fact that I rarely wear jeans. Like, it has to be a special occasion to throw them on. I much prefer my jammies, and if I have to… a comfy skirt, leggings, or dress. Jeans are just sooo… aghhh! I can't do it. They look super cute, but I feel too restricted. However, I'll usually put them on once a week, for my date with Dan. Anyway….. to the point, Soma makes the yummiest, soft jammies. I've mentioned them on the blog before, but I'm loving them all over again, as I just picked out a couple sets for summer and they arrived today! Okay, and before you yell at me, I'm not saying these things are cheap. In fact, they're kinda pricey. But, I like to keep an eye on their sale link, where I have found lots of great deals! Here's one of my new arrivals (except I got the solid blue top with those bottoms…)
Pick #5
Okay, I may be living in a hole, maybe you have all heard of Us, The Duo. I don't have the radio on all that often, but the other day I was coming home from the gym with my lil sis and she starts playing this beautiful song in the car. I downloaded the album the minute I walked in the door… or, close to it. Us, The Duo. Their music is so lovely, fun, and I'm a huge fan of duets. So, this! If you haven't listened to them yet, check 'em out, for sure. I've had them playing on my laptop all day.
Leave a comment and tell me some of your favorite things that you think I should check out. I'm always looking for new favorites!