I'm a little snobbish, when it comes to Potato Salad. I don't do sweet pickles, sweet anything, or onions. I'm all about lots of dill pickles, hard boiled eggs, and red potatoes. Mmmm, baby. And, my mama makes it right. All the good stuff, PLUS her secret ingredient, Salad Supreme Seasoning. Lots of it. I'm talking the whole dang bottle, hence the orangey-yellow color. Don't let it scare you. It's the best. I could make a full meal out of this potato salad, forget the whole 'side dish' thing. But, I don't. I hold myself back.
This recipe makes a big batch, big enough to bring to any family gathering. Should serve about 20 people.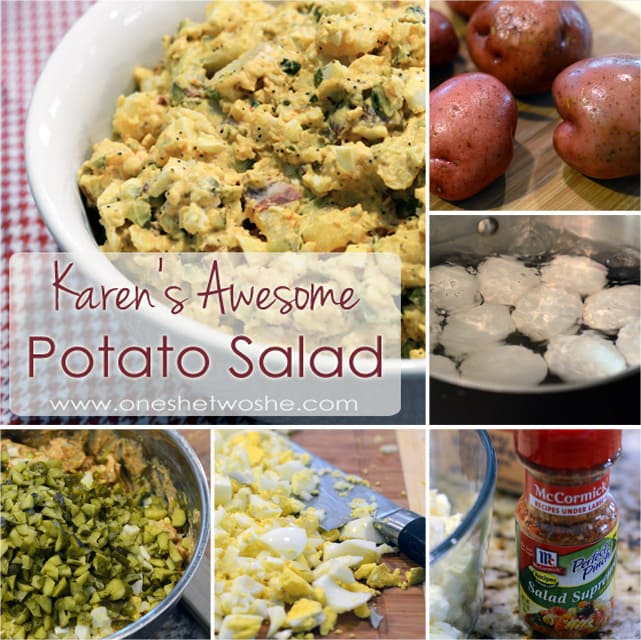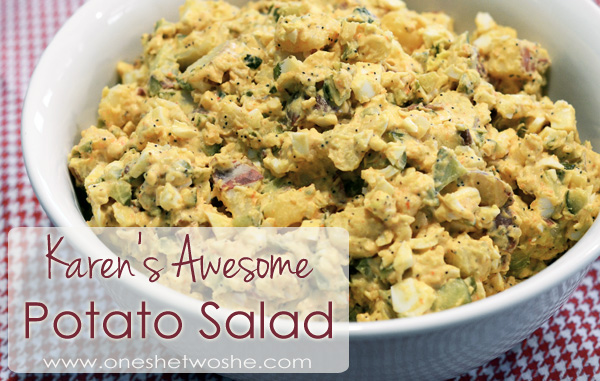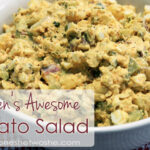 Mom's Awesome Potato Salad
Ingredients
16

medium red potatoes

30

oz.

mayonnaise

1

container Perfect Pinch Salad Supreme Seasoning

Large jar of dill pickles

16

hard boiled eggs

milk
Instructions
Wash the potatoes and chop them into bite sized pieces.

Place them in pot of boiling water and cook until fork tender.

In a large bowl, stir together the jar of mayonnaise and container of Salad Supreme.

Add a little milk to the bowl to thin to a pudding consistency.

Chop up lots of pickles. Your preference, but more is better!

Chop up boiled eggs.

After potatoes are done, drain water and dump into bowl with mayo mixture. Stir well.

Add pickles and chopped eggs. Stir.

Add more pickles, if you're me.

Eat.

Eat some more.