These caramel brulée latte cupcakes are moist, buttery rich and a bold blend of caramel, brown sugar and espresso!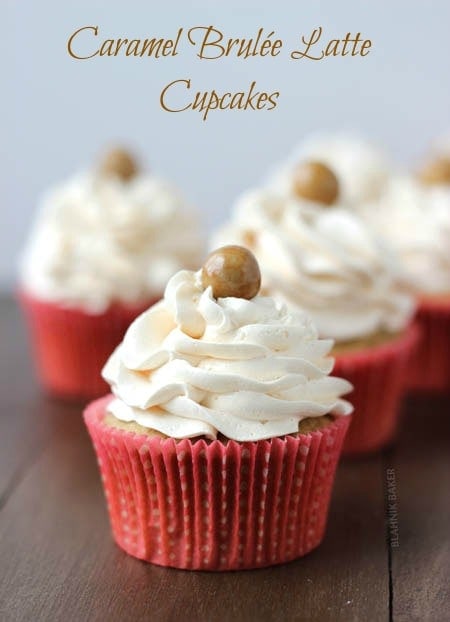 Hi everyone!! This is Zainab from Blahnik Baker again. I'm very excited to be back here sharing another recipe with you. Happy Spring!! Is it Spring where you are yet? I am in Upstate NY, meaning it's going to be a few more weeks before we get there. But that is not stopping me from enjoying everything lemon already.
I love making cupcakes and experimenting with new flavors. Today, I brought with me my new favorite cupcakes; caramel brulée latte cupcakes!! I'm sure most of you are familiar with the Starbucks holiday favorite Caramel Brulée Latte. Like many people, I really look forward to its arrival and it is one of my favorite holiday drinks (the peppermint mocha holds first place!). However, these lattes are only here for a few short weeks. It's been my mission to recreate them into cupcakes so I can enjoy them year round. I shared my peppermint mocha cupcakes a few months ago and today I've created a cupcake with all the delicious flavors that make the caramel brulee latte everyone's favorite.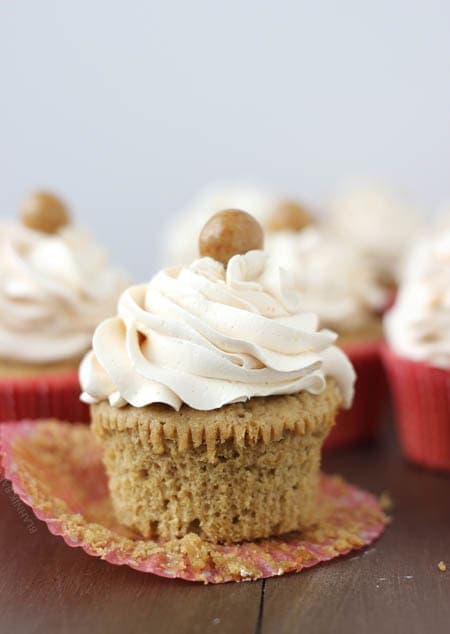 Just in case you don't know what I am talking about, the caramel brulée latte from Starbucks is a buttery-rich mix of espresso, steamed milk and caramel brulée sauce that is paired with whipped cream and a crunch caramelized sugar topping. It's as delicious as it sounds…trust me!!
To recreate the caramel brulée latte, I started with a moist and buttery brown sugar caramel cupcake with a rich espresso flavor and topped it with a creamy caramel swiss meringue buttercream. I was going to drizzle some more caramel on top of the cupcakes but totally ran out (BIG SHAME) so I topped them with these caramel brulée chocolate bites I had from Starbucks. Feel free to go crazy with the caramel drizzle.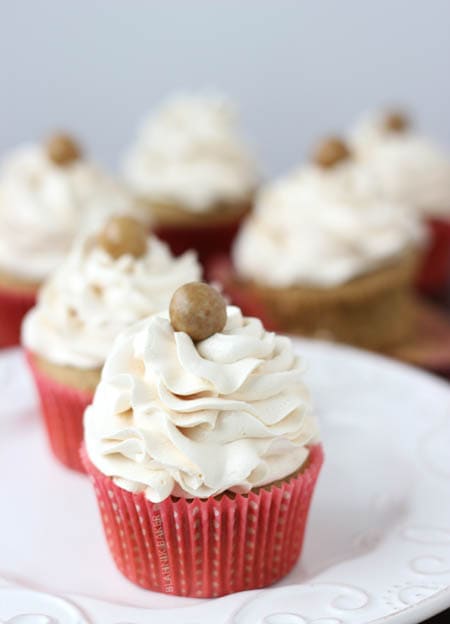 How do these cupcakes stack up to the drink? Pretty well!! All the rich flavors of  brown sugar, caramel and espresso are wonderfully blended in these caramel brulée latte cupcakes. They are perfect placeholders until the beloved drink returns in the winter! I hope you enjoy them 🙂
[amd-zlrecipe-recipe:295]
Here are a few more cupcakes and Spring recipes on the blog right now. See you next month!
Vanilla Cupcakes with Whipped Vanilla Bean Frosting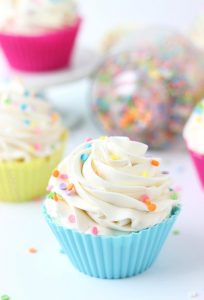 Start the spring with these luscious Lemon Macarons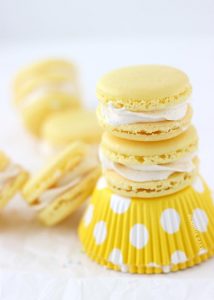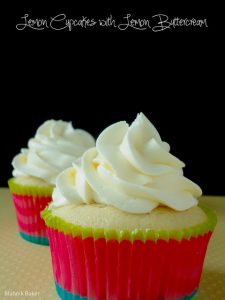 Recipes, please!! (& great family ideas too.)
Subscribe to get our latest content by email.