These caramel brulée latte cupcakes are moist, buttery rich and a bold blend of caramel, brown sugar and espresso!
Hi everyone!! This is Zainab from Blahnik Baker again. I'm very excited to be back here sharing another recipe with you. Happy Spring!! Is it Spring where you are yet? I am in Upstate NY, meaning it's going to be a few more weeks before we get there. But that is not stopping me from enjoying everything lemon already.
I love making cupcakes and experimenting with new flavors. Today, I brought with me my new favorite cupcakes; caramel brulée latte cupcakes!! I'm sure most of you are familiar with the Starbucks holiday favorite Caramel Brulée Latte. Like many people, I really look forward to its arrival and it is one of my favorite holiday drinks (the peppermint mocha holds first place!). However, these lattes are only here for a few short weeks. It's been my mission to recreate them into cupcakes so I can enjoy them year round. I shared my peppermint mocha cupcakes a few months ago and today I've created a cupcake with all the delicious flavors that make the caramel brulee latte everyone's favorite.
Just in case you don't know what I am talking about, the caramel brulée latte from Starbucks is a buttery-rich mix of espresso, steamed milk and caramel brulée sauce that is paired with whipped cream and a crunch caramelized sugar topping. It's as delicious as it sounds…trust me!!
To recreate the caramel brulée latte, I started with a moist and buttery brown sugar caramel cupcake with a rich espresso flavor and topped it with a creamy caramel swiss meringue buttercream. I was going to drizzle some more caramel on top of the cupcakes but totally ran out (BIG SHAME) so I topped them with these caramel brulée chocolate bites I had from Starbucks. Feel free to go crazy with the caramel drizzle.
How do these cupcakes stack up to the drink? Pretty well!! All the rich flavors of brown sugar, caramel and espresso are wonderfully blended in these caramel brulée latte cupcakes. They are perfect placeholders until the beloved drink returns in the winter! I hope you enjoy them 🙂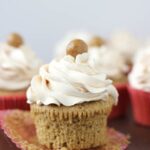 Caramel Brulee Lattee Cupcakes
Ingredients
Brown Sugar Caramel Coffee Cupcakes
- 2 cups all purpose flour

- 1 teaspoon baking powder

- 1/4 teaspoon baking soda

- 1/4 teaspoon salt

- 1/2 cup hot coffee

-1 teaspoon instant coffee

I used Starbucks Via Caramel coffee

- 1/4 cup whole milk

- 1/2 cup butter

softened to room temperature

- 1/2 cup granulated sugar

- 1/2 cup brown sugar

- 2 large eggs

room temperature

1

teaspoon

pure vanilla extract
Caramel Swiss Meringue Buttercream
5

egg whites

room temperature

1 1/4

cup

sugar

1 ½

cup

3 sticks unsalted butter, room temperature

½

cup

homemade caramel sauce

2

teaspoon

vanilla extract
Instructions
Preheat oven to 350 degrees F. Line two muffin pans with cupcake liners.

In a medium bowl sift together flour, baking powder, baking soda and salt. In a measuring cup, dissolve the instant coffee in the hot coffee and let cool slightly. Add the milk to the coffee.

In the bowl of an electric mixer, cream butter and sugars until pale and fluffy, about 5 minutes on medium speed. Add eggs one at a time, beating until combined after each addition. Beat in vanilla extract.

Reduce mixer speed to low and slowly add about half of the flour mixture. Add half of the milk, then the rest of the flour and the rest of the milk. Beat until just combined. Scrap down the side of the bowl as needed.

Pour batter into prepared pans. Fill liners about 2/3 full. Bake cupcakes until lightly golden or a toothpick inserted into the center comes out clean, about 12-14 minutes.

Cool in pan 1-2 minutes, then remove cupcakes from pan and finish cooling on a wire rack.
For Caramel Swiss Meringue Buttercream:
Whisk together sugar and egg whites in a heatproof mixing bowl set over (not in) a pan of simmering water. Whisk until warm and sugar is dissolved (mixture should feel completely smooth when rubbed between your fingers), 2 to 3 minutes. Remove from heat.

With an electric mixer on medium speed, whisk egg white mixture 5 minutes (using the whisk attachment). Increase speed to medium-high, and whisk until stiff, glossy peaks form and meringue has cooled (test by feeling bottom of bowl), about 6 minutes.

Reduce speed to medium and switch to the paddle attachment. Add butter, one piece at a time, beating well after each addition. Beat in vanilla. Mix the caramel sauce into the buttercream.

Use immediately or store in an airtight container in fridge for up to a week.
Here are a few more cupcakes and Spring recipes on the blog right now. See you next month!
Vanilla Cupcakes with Whipped Vanilla Bean Frosting
Start the spring with these luscious Lemon Macarons