Put together a Disneyland Journal using free templates from today's post. Help the kids highlight their favorite parts of the trip!
Hi everyone, it's Adelle from
Packed with Fun
, the official blog of
Get Away Today
! We all know Disneyland is a magical place. The memories you make on your vacation to the Happiest Place on Earth need to be kept forever. The first time riding Splash Mountain, getting a high score on Toy Story Mania, the moment when your child meets the famous Mickey Mouse or beautiful Queen Elsa, and all the other small special moments spent together at Disneyland! I can still remember the look on my daughters face when the nighttime fireworks lit up the sky above Sleeping Beauty's castle. I couldn't decide between watching the show, or just staring at her beautiful excited mystified face. Her face won. That Disneyland memory is an absolute treasure. This exact moment inspired me to create a new way to keep these memories with us forever!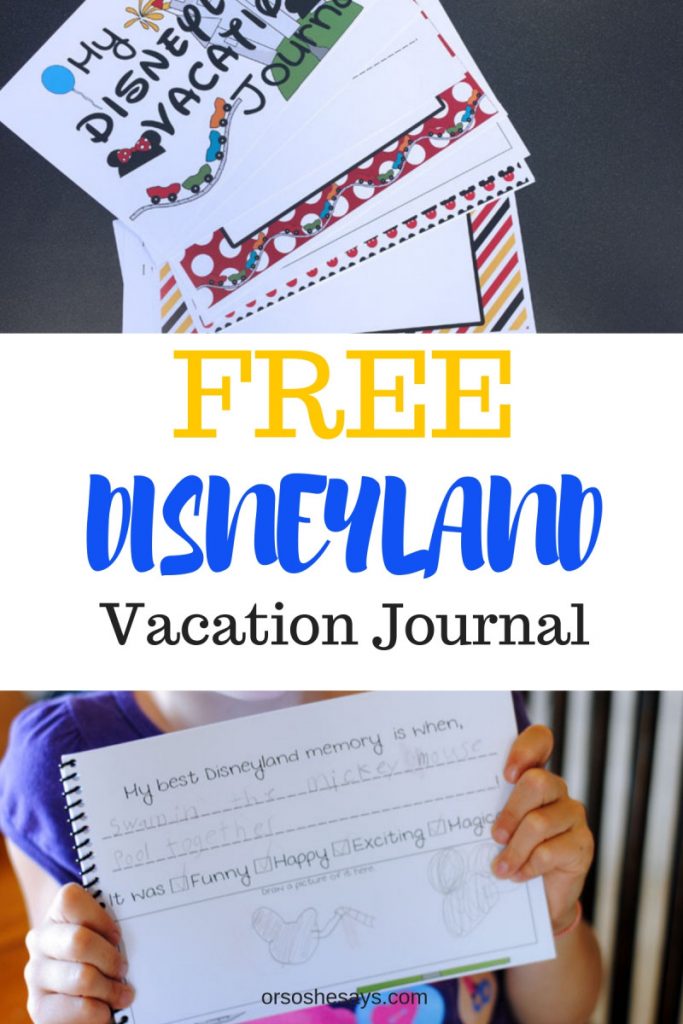 I thought it would be fun to create a Disneyland Vacation Journal to help capture experiences from a vacation in a child's perspective. I designed a bunch of fun kid-friendly templates with themed writing prompts to help give kids a jumping off place for recording their experience. There are also several blank photo pages so they can glue in photographs, ticket stubs, maps, receipts, etc. These books are easy to make and simple to use! I hope you enjoy them and they keep a magical record of your children's Disneyland Vacation forever!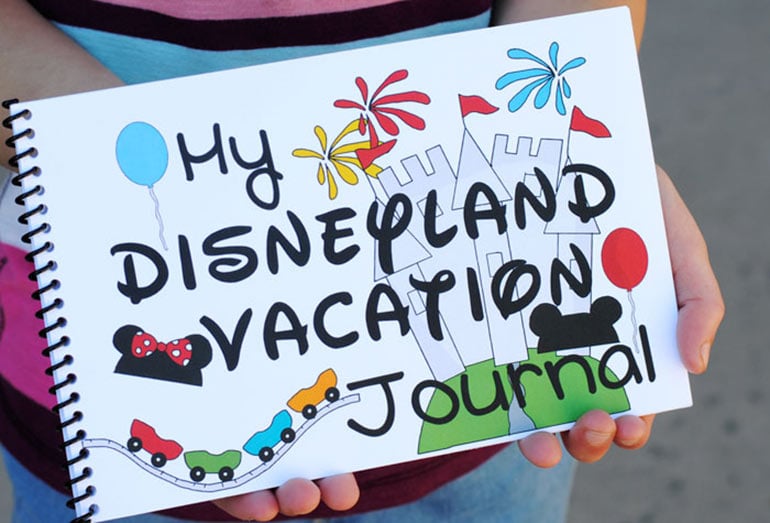 To begin making your Disneyland Vacation Journal, print off one copy of each journal page. You can find all of the pdfs here:
Journal Pages:
I used a matte finished
cardstock
, so that the paper is easier to write on while still being durable. There are 4 pages of journal text prompts, 2 pages with photo spots, and a cover sheet. (When you print the
photo
pages, do
NOT
scale to fit the content.)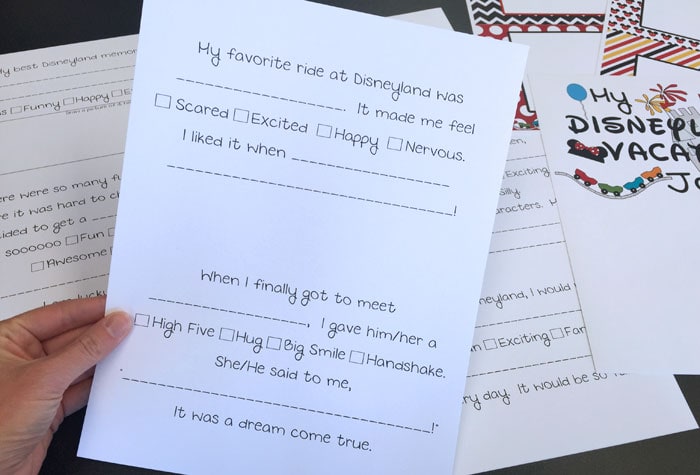 Cut each of the sheets in half. To make it easier, our local print shop has a cutting board that is free to use. While cutting, the exact center of a regular sheet of paper is at 5.5 inches. That is the only tip you will need for this project! Also be sure to save the blank piece of paper under your cover sheet to make into the back of your book.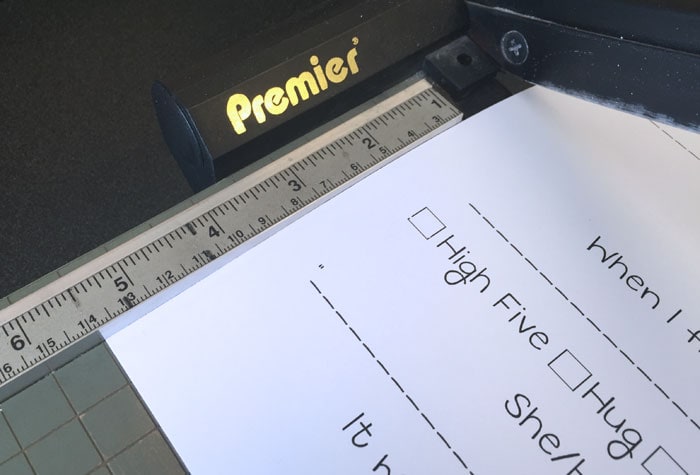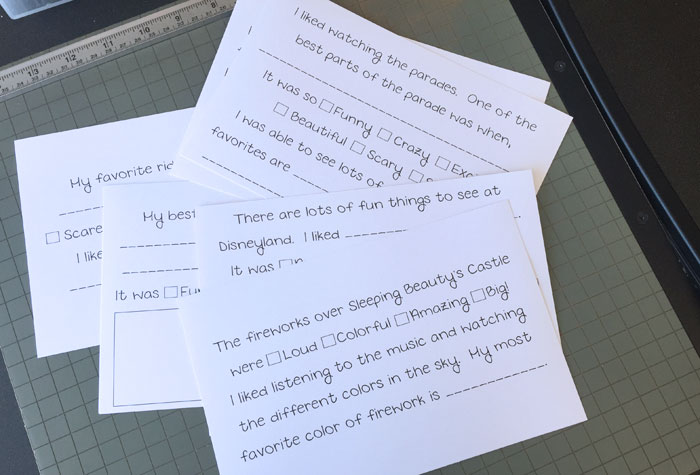 Put the sheets in the order you would like them to be presented. Of course, the book cover goes on top, but then you can arrange your book however you want. I alternated the pages in a pattern of two journal pages then one photo page and continued until the pages were all inserted into the book. Finish the book with the blank page from the second half of the book cover sheet of paper. Make sure all of your pages are lined up in the same direction. You don't want any upside down or backwards! Or if you do, that is fun too!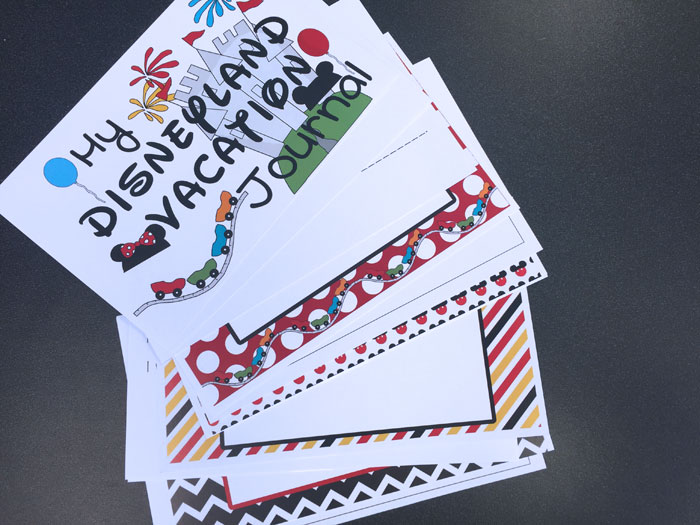 The best way I have found to finish the book is to have it bound. Our UPS Store printed and bound my books for only $3.00 each! It was so easy to do and saved a whole bunch of time. I know most print shops and office supply stores can bind books for the public as well.
If you don't want to bind the books, another option is using a hole punch and metal rings from the craft store. Whatever look you prefer.
HERE'S SOME IDEAS FOR GETTING STARTED ON THIS DISNEYLAND JOURNAL, AND YOUR NEXT DISNEY VACATION:
Printworks White Cardstock, 67 lb, 96 Bright, SFI Certified, Perfect for School and Craft Projects, 8.5 x 11 Inch, 70 Sheets (00550)
Swingline Paper Trimmer/Cutter, Guillotine, 12
Firbon A4 Paper Cutter 12 Inch Titanium Paper Trimmer Scrapbooking Tool with Automatic Security Safeguard and Side Ruler for Craft Paper, Coupon, Label and Cardstock (Black)
Disney Parks – 2018 Mickey & Friends Ink Pen Set – 6 Pack
Disney Princess Gel Pens
Disney Princess 6 Pen Set, Snow White, Cinderella, Belle, Ariel, Rapunzel, Aurora
Disney Mickey Mouse 6 Pack Jazz Pen
Fujifilm Instax Mini 9 Instant Camera ICE BLUE w/ Film and Accessories – Polaroid Camera Kit
FujiFilm Instax Mini 9 Camera and Accessories Bundle – Instant Camera, Carrying Case, Color Filters, Photo Album, Stickers, Selfie Lens + More (Flamingo Pink)
ZAWAPEMIA Womens Letter Printed Pullover Casual Tees T-Shirt Medium
Disney Junior T-shirt Minnie Mouse Peeking out of Pocket Print Tee (Small)
Disney Men's Full Size Mickey Mouse Distressed Look T-Shirt, Royal Heather, Large
Disney Boys' Toddler Mickey, Goofy, Donald 3-Pack T-Shirts, red/Kelly/Royal, 4T
Disney Girls' Little Girls' Minnie Mouse 3-Pack Short Sleeve T-Shirts, Red/Turquoise/White, 6X
Disney family matching custom t-shirts, Family vacation disney shirts,Mickey Minnie mouse Personalized shirt, Personalized Disney Shirts for Family
Disney Mickey Mouse Costume Ears Headband for Women elope
Elope Disney Minnie Mouse Costume Ears Headband with Bow
Let your kids fill in the journal pages with their own words and emotions. I helped my youngest son read the bigger words, but then had him write his own thoughts. Misspelled words and simple grammatical errors are ok. It would be a fun project to do in the car on the way home from the vacation or even in the hotel at night.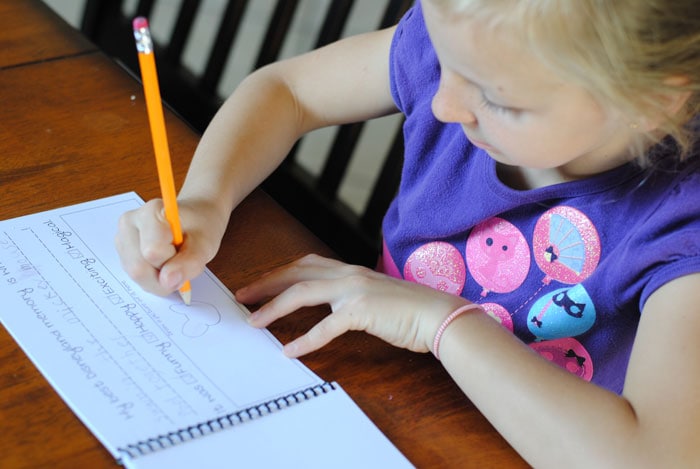 It was so fun for me to see what my kids wrote in their books. I had no idea my daughter's favorite ride was Space Mountain! (She is so much braver than me.) Her favorite memory was swimming in the Disneyland Hotel Mickey Mouse Swimming Pool. I think that was a lot of people's favorite thing! It's pretty awesome. I hope these little journals are a treasure for you and your family!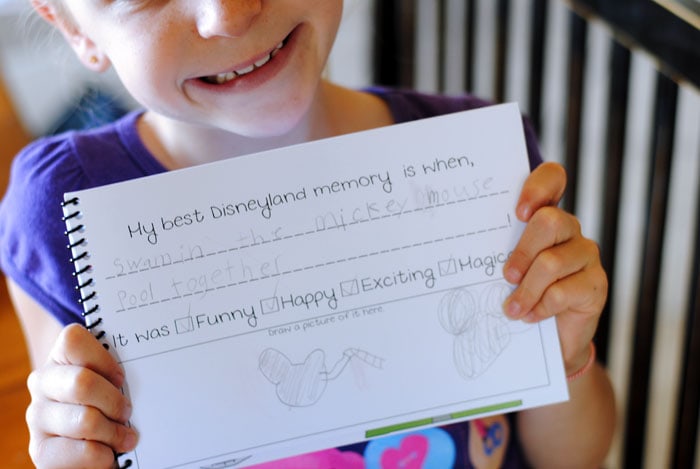 Now you just need to get to Disneyland to make the memories to capture and treasure forever. Let Get Away Today help! Book your Disneyland vacation at
www.getawaytoday.com
or call 855-GET-AWAY. We always guarantee the lowest price, but mention Or So She Says and use promo code: OSSS10 to save an extra $10 on your vacation package!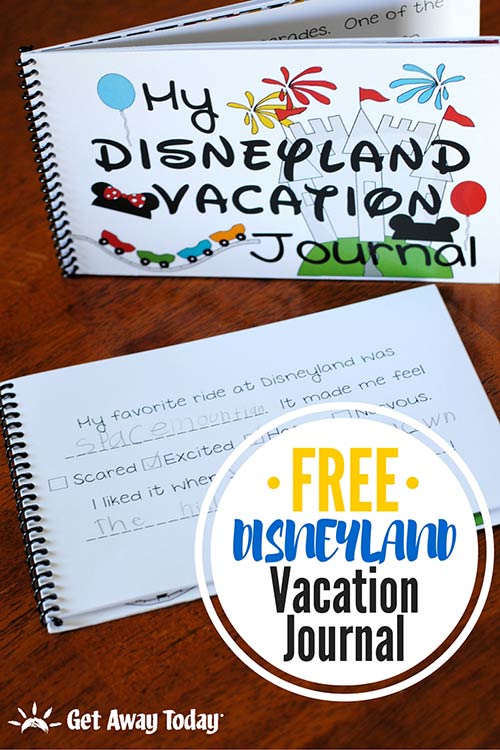 See more Disney posts below: