Diet. The story of my life! I've never really been happy with my weight except when I was in college. Then I got married and started having babies & my body has never been the same. I know I'm not the only mom that feels this way, but then I see these wonderful Mom's who bounce back to their former skinny self within weeks of having their babies (my tiny little sister, for one!) and I take a look at myself (my "baby" just turned 6 this week) and wonder why not me! I'm guessing
THIS
and
THIS
and
THIS
(along with
MANY
more) has had a little something to do with it!!:)
Anywho…I've tried about every diet out there with varied success. If I could just stick with one I'd probably be okay, but I'm a drifter!:)
BUT
, I'm really excited about this newest diet that I'm on.
The Dukan Diet
. My husband and I started it back on Feb. 25th, so it's been about 6 weeks and I've lost a total of 21 pounds!! It's been pretty easy to follow and the food lover in me likes that I can eat as much as I want (which has gradually gotten less and less). It's basically a protein diet…that means NO CARBS!! I know, I know…I love my carbs too, but I feel so much better that I'm okay with not having them for now. The other thing I love is that it has a 4 phase plan. The last phase is one you will be on for the rest of your life and it is totally doable!! And that's coming from a dessert and bread freak like me!:)
My favorite meal of the day throughout this diet has been breakfast. I love me some eggs! This is a little something that I threw together one morning that was DIVINE!! Even if you're not dieting you'll love this!
Egg Scramble Supreme
Egg Scramble Supreme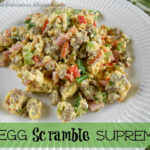 Egg Scramble Supreme & My Favorite Diet
Ingredients
1

teaspoon

olive oil

1/4

cup

diced green peppers

1/4

cup

asparagus tips

1

large roma tomato

diced

1/4

cup

turkey sausage crumbles

already cooked (found by breakfast sausages)

1/4

cup

diced fully cooked lean ham

6

eggs

beaten

1/2

cup

cottage cheese
Instructions
Heat oil in a large skillet over medium heat.

Add peppers, asparagus and ham and cook until vegetables are tender, about 5 minutes.

Add the tomatoes and sausage and cook until hot.

Pour in the beaten eggs and cottage cheese.

Continue to cook while stirring until eggs are done.
Can be served with salsa if desired.
This post sponsored by:
It's 1962 in the small town of Granite Flats, CO where everything is normal. Almost.