Alright, ladies. Here is my new favorite treat… Fried Apple Ice Cream Topping. I'm not lying when I say it takes 5 minutes to make. You can make it just for you, or the whole fam-damily. Even better, I bet you already have all the ingredients on hand. No bundling everyone up for a trip to the store. Sweet!
Five Minute Fried Apple Ice Cream Topping
Please forgive the melted ice cream/unattractive picture. The whole family gobbled this up so quickly. I had just two bites left before I remembered I needed a picture! There was just no way to make it pretty after that.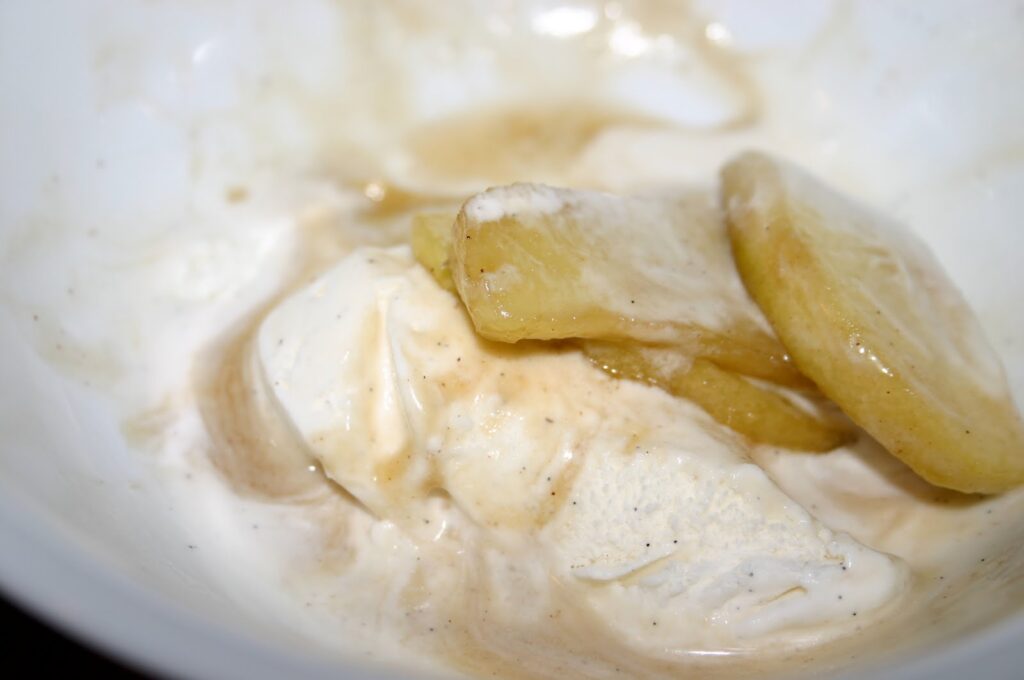 Ingredients Needed for Fried Apple Ice Cream Topping
2 Apples
2 TBS Butter
1/2 cup Brown Sugar
1/2 tsp Cinnamon
1/2 tsp Nutmeg
1/4 tsp Salt
Printable Fried Apple Ice Cream Recipe
Fried Apple Topping
Ingredients
2

apples

2

Tablespoons

butter

1/2

cup

brown sugar

packed

1/2

tsp.

cinnamon

1/2

tsp.

nutmeg

1/4

tsp.

salt
Instructions
Peel and core your apples.

Melt butter in the pan. (Over medium heat) After the butter has melted, sprinkle the brown sugar over the butter and add the apples. Stir the apples and coat them in the butter and brown sugar. Continue stirring and when the mixture forms a syrup, add the cinnamon, nutmeg and salt. Stir.

Reduce heat, and continue to cook until the apples are fork tender and the syrup has thickened slightly.

Remove skillet from heat and let cool for a minute. Then serve over vanilla ice cream, or eat plain.
4 Apple Recipes That Rival Carnival Treats
Pin this image to save this easy apple treat: