Are you looking forward to the release of Frozen 2 in theaters? We're just days away from being able to enjoy the continuing story from two of our favorite heroes! To honor these Arendelle ladies coming back to the big screen, I'm sharing an easy DIY Frozen Elsa Snowflake Wand tutorial from Get Away Today.
Easy DIY Frozen Elsa Snowflake Wand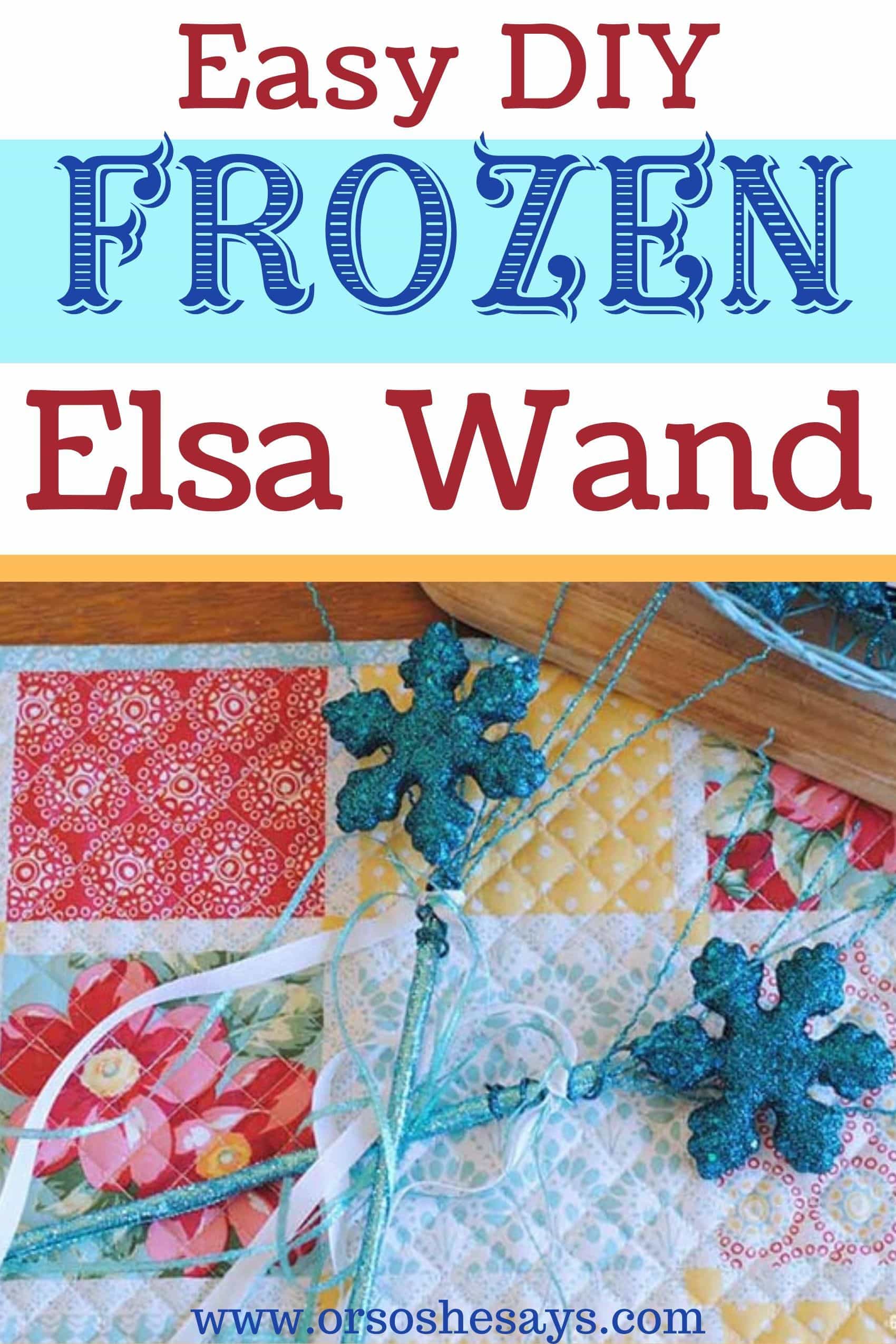 Frozen 2 has inspired a whole new line of Frozen merchandise. The store shelves are stocked with stuffed Olaf dolls, Elsa and Anna costumes, plastic Sven reindeer, Frozen board games, Arendelle snow globes, and more! I even saw a light up snowflake Elsa wand. The wand got me thinking about creating a DIY Elsa wand tutorial. Some things are just better when you get to make it yourself. This craft is perfect for a Frozen 2 movie bash, a birthday party, or even just to create some Disney magic at home.
So, I'll ask the question, "Do you want to build an Elsa Wand?"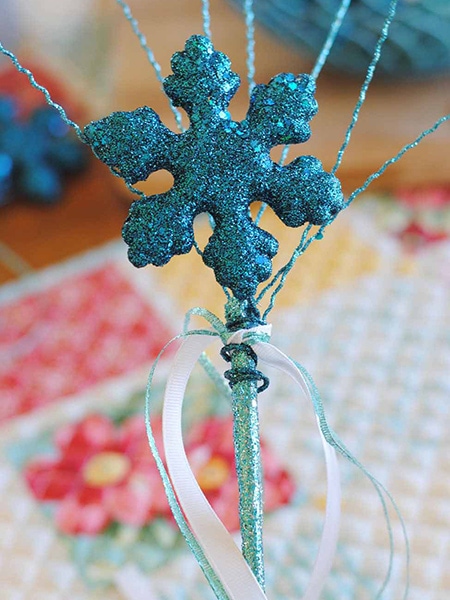 Frozen Elsa Wand DIY Supplies:
We all know Elsa doesn't need a wand to work her icy magic, but you and I do! We weren't born with frozen powers, so we need a little help from this Elsa-inspired wand.
Frozen Elsa Wand Craft
Gather up your supplies from a craft store, Walmart or the Amazon links above. Start by cutting the glitter wire fringe so that you have lots of little pieces. The fringe makes the snowflake at the top of the Elsa wand look like it is shooting out magic!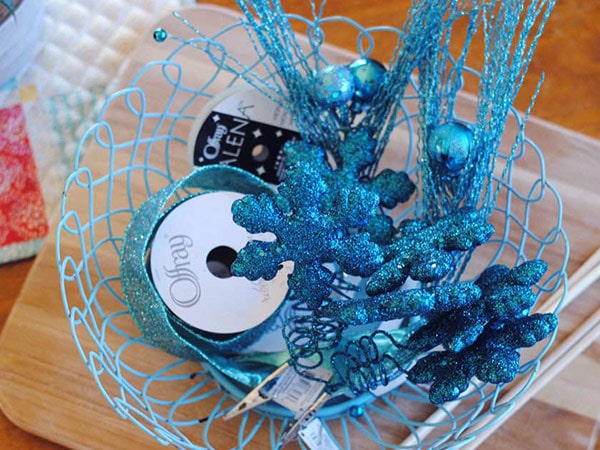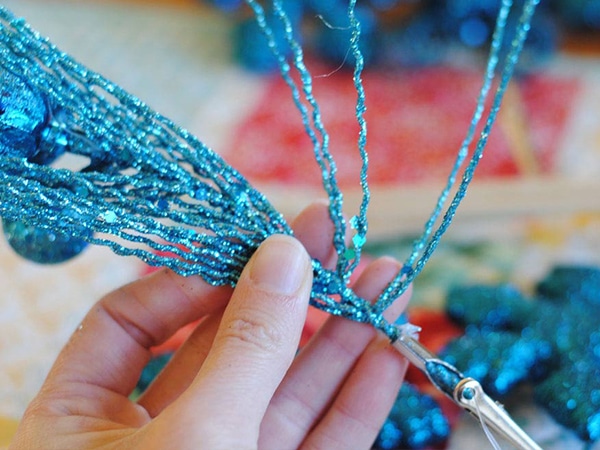 Frozen Elsa Wand DIY – Assembly
I picked up some long bamboo skewer sticks from the craft section. At 32 inches, they were pretty long. Using the wire cutters I trimmed them each to about 12 inches in length. The Amazon bamboo skewers linked above are seven inches long so you shouldn't have to do any cutting.
Use a hot glue gun to attach the fringe pieces to the top of the bamboo wand.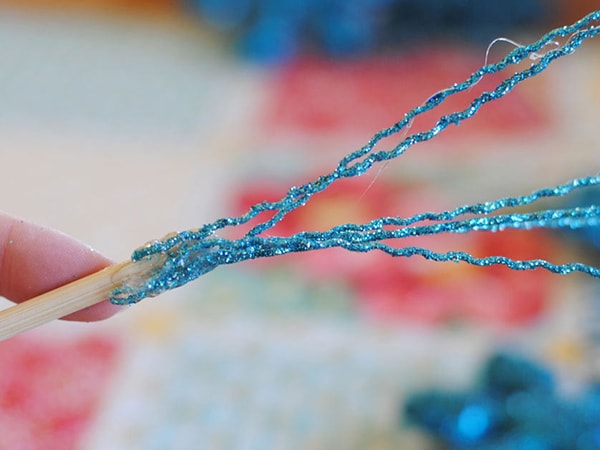 Roll out the 1 inch ribbon and cut a section of it to match the length of your stick. Remember, my skewers measured 12 inches, so that's the length I needed. After you cut your ribbon to length, fold the cut edges under so that they are tucked inside at the ends.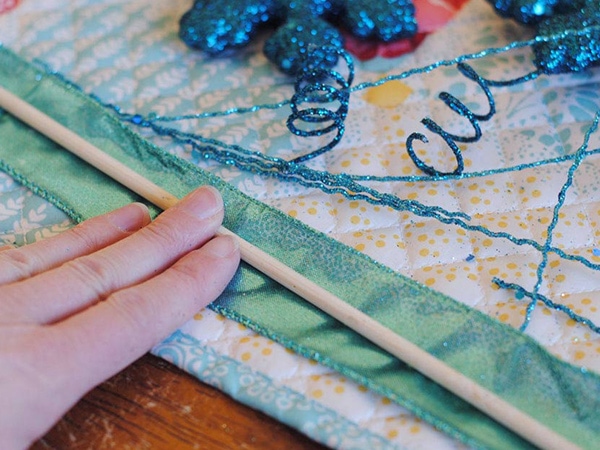 Squeeze a row of hot glue along one long side of the ribbon. Place the wooden skewer on the glue and then roll it tight so the ribbon wraps around the stick. When you get to the end, add another row of hot glue to finish it off and hold the ribbon in place. You want the whole bamboo skewer covered.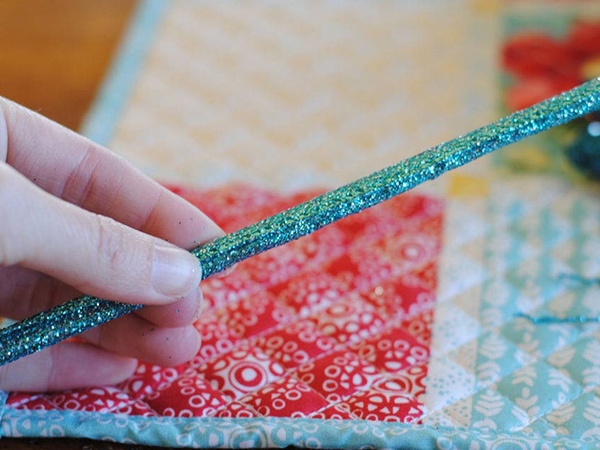 Then, snip the snowflakes off of the ornament so that they are all individual pieces.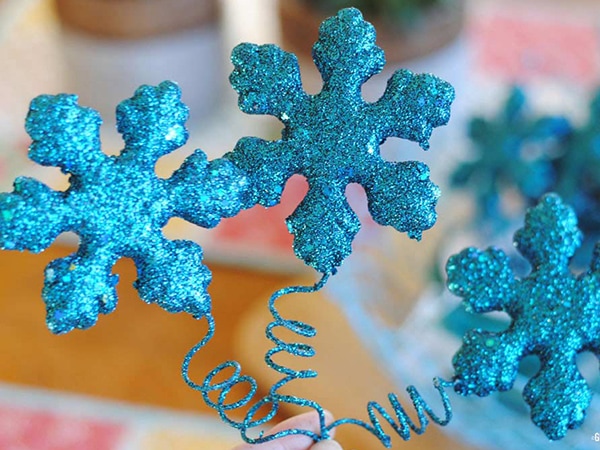 The snowflakes I found were super easy to work with because they already had wire attached to them. I just ran the wire in a loop around the top of the wand. Then I squeezed the wire so it was wound nice and tight. The snowflake stayed in place perfectly without having to add any glue. Your wand should be starting to look fancy!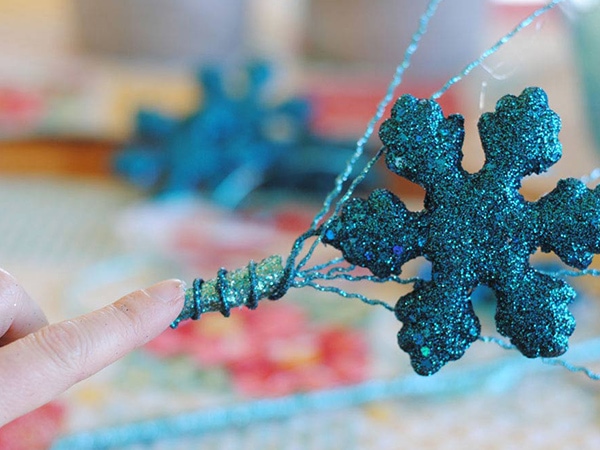 Easy DIY Frozen Elsa Snowflake Wand – Embellishments
The final step is to add the ribbon that hangs from the wand. I used a 1/4 inch white ribbon and then a super thin 1/8 inch glitter turquoise ribbon. Cut them to be about 24 inches long. Since the turquoise ribbon was small, I decided to include two pieces of it and just one of the white.
Tie the ribbon around the top part of the wand. Just do a nice little knot. It makes the wand fun to use because the ribbon flows like a nice snow flurry!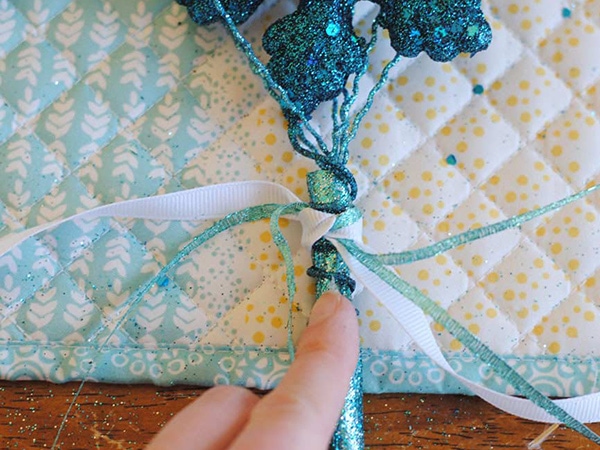 This Frozen Elsa wand is super lightweight and extra sparkly! I swished it around the house for a minute and it handled quite nicely. I am sure your little princess if going to love making her own. Maybe you can even take it to the theaters to see Frozen 2!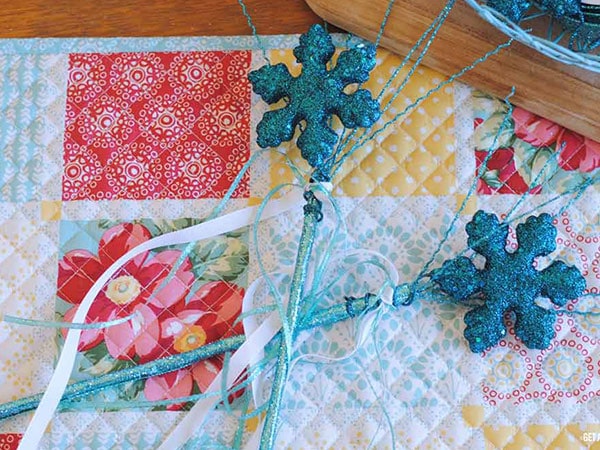 Frozen at Disneyland Resort
Have you seen the Broadway show Frozen – Live at the Hyperion in Disneyland? It's an amazing, hour-long performance the whole family will love. You can experience the story of the first Frozen film in a whole new way to beautiful songs, larger-than-life puppets and many of your favorite characters.
See Frozen Live During Your Discount Disneyland Vacation
Book a discount Disneyland vacation with Get Away Today and make sure Frozen – Live at the Hyperion is part of your visit! See all vacations at www.getawaytoday.com or call a travel specialist at 855-GET-AWAY. When you book, mention 'Or so she says…' sent you and use promo code OSSS10 for an additional $10 in savings on your Southern California vacation package.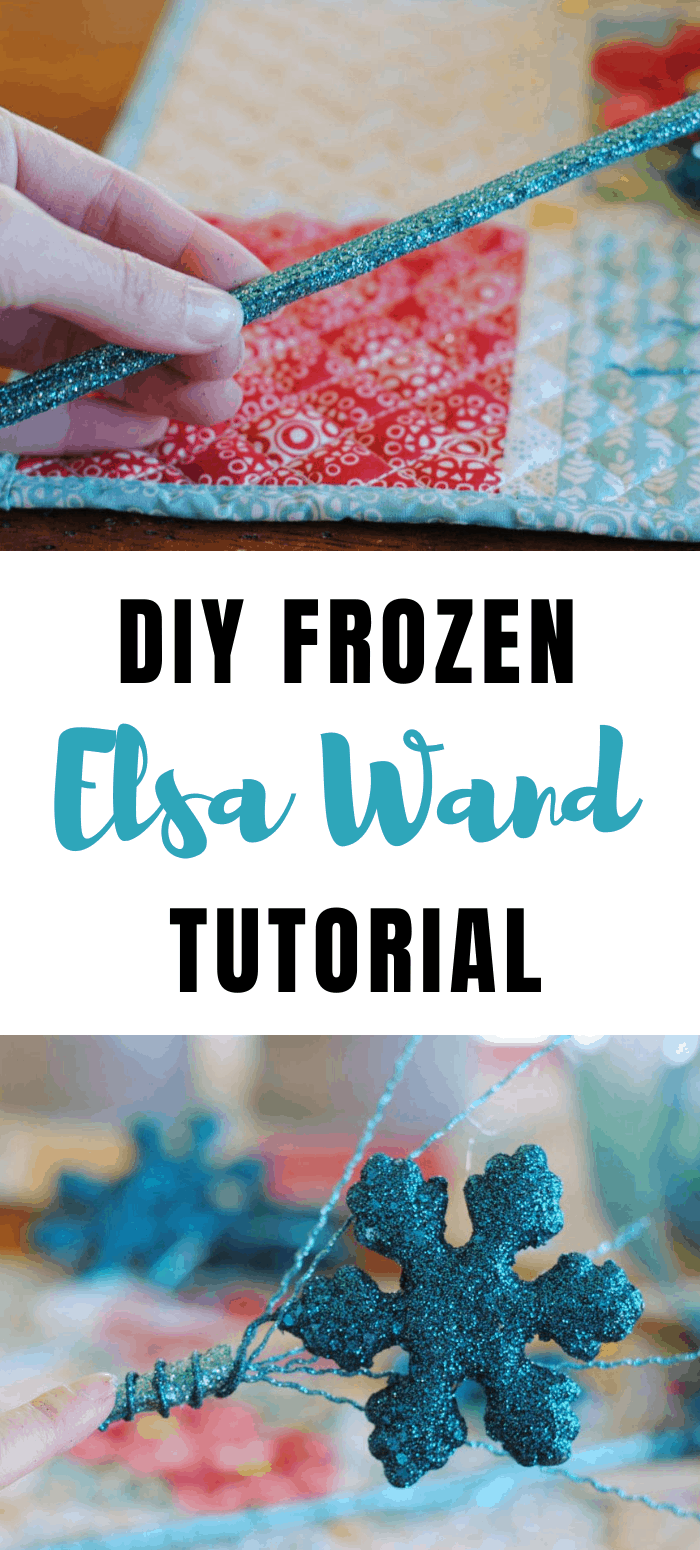 If you loved this Frozen craft idea post, check out: