It's that time of year… the time to recommit to letting the light of Christ shine through us and to turn the brightness up. Let's light the world with charity, love, humility, forgiveness, faith, patience, hope… everything that Christ is and wants us to be! This Light the World activity is a great way to get kids involved and thinking about ways they can reach out to others, one by one, as Christ did. All of the pages in this free, printable service coloring book can give children ideas for serving an individual. Each page also features a beautiful scripture that teaches of love and kindness.
Light the World Activity ~ #LightTheWorld Campaign
The Light the World campaign, hosted by The Church of Jesus Christ of Latter-day Saints, grows and reaches further every single year. You may have noticed the #lighttheworld hashtags that flood Pinterest, Facebook, Twitter, and Instagram each year, where people highlight ways they have found to "light the world." This year, as the LIGHT THE WORLD campaign is focusing on serving "one by one," a service idea calendar, for the month of December, has been made available to download. You can also get daily service idea prompts sent directly to your phone. I love that! To see all of the goodness that the campaign offers, be sure to stop by Come Unto Christ. November 24th is a big day… it's the release of the new The Christ Child video. I got a chance to see it at a private premiere, and it was AMAZING… incredible effort was put into making this recreation of Christ's birth the most historically accurate video available.
How to Use ~ Light the World Coloring Book Activity
These Light the World printable coloring pages can be used for Come F0llow Me lessons at home. The kids could color one picture a day, talk about the scripture printed on the page, and then make a plan with mom and dad about a way they can serve somebody, as part of the Light the World challenge.
If you serve in the Primary for The Church of Jesus Christ of Latter-day Saints, or work with young children in any church, this coloring book can be printed and given to each of the children in your class. Together, you could brainstorm service ideas and talk about how Christ served people, one by one.
A Sneak Peek of the Free Coloring Pages
Check out the free, printable coloring pages you will receive in your download. It includes a cover page and 10 images of service related ideas. Scroll down, enter your email, and the coloring book file will be sent to your email.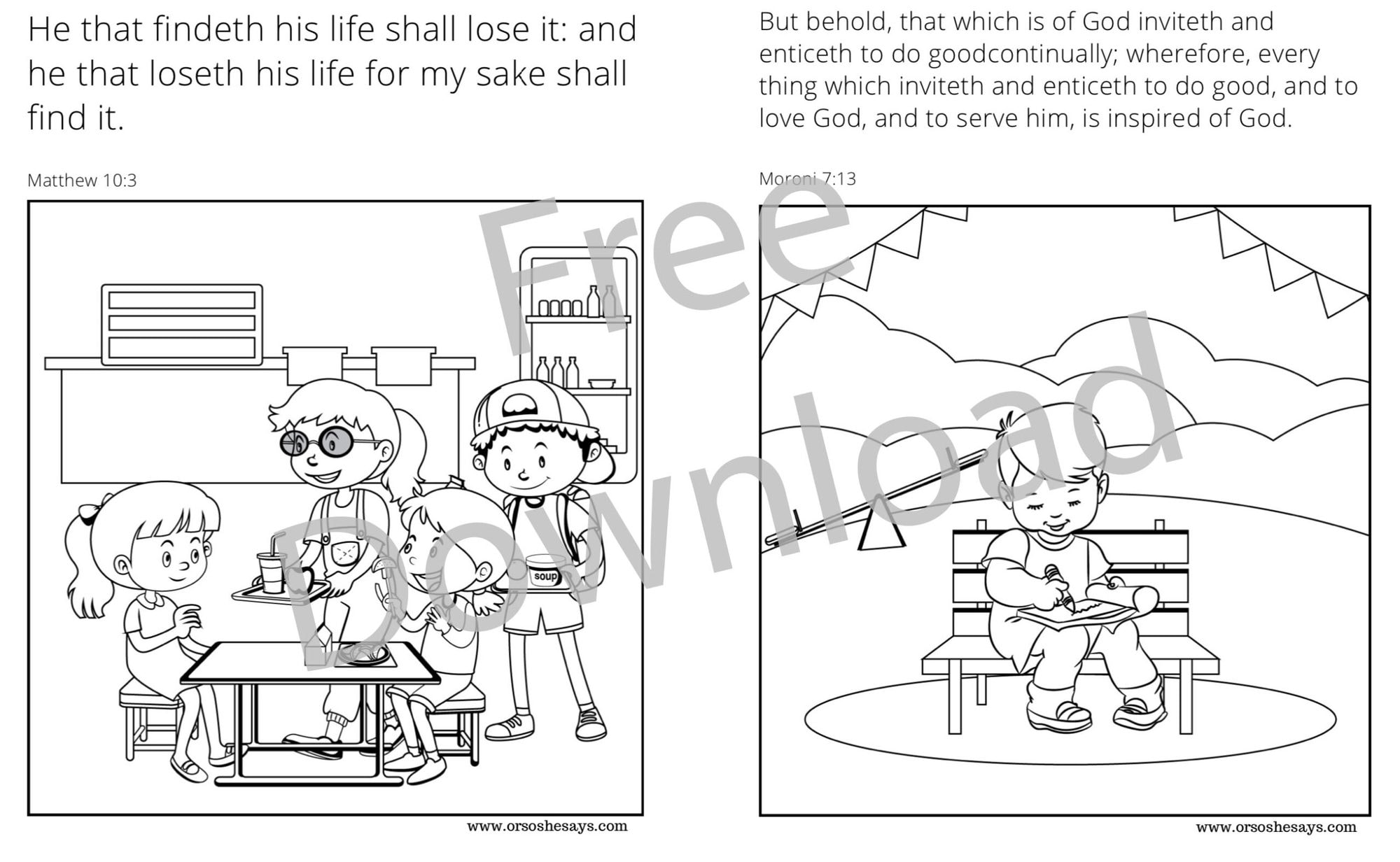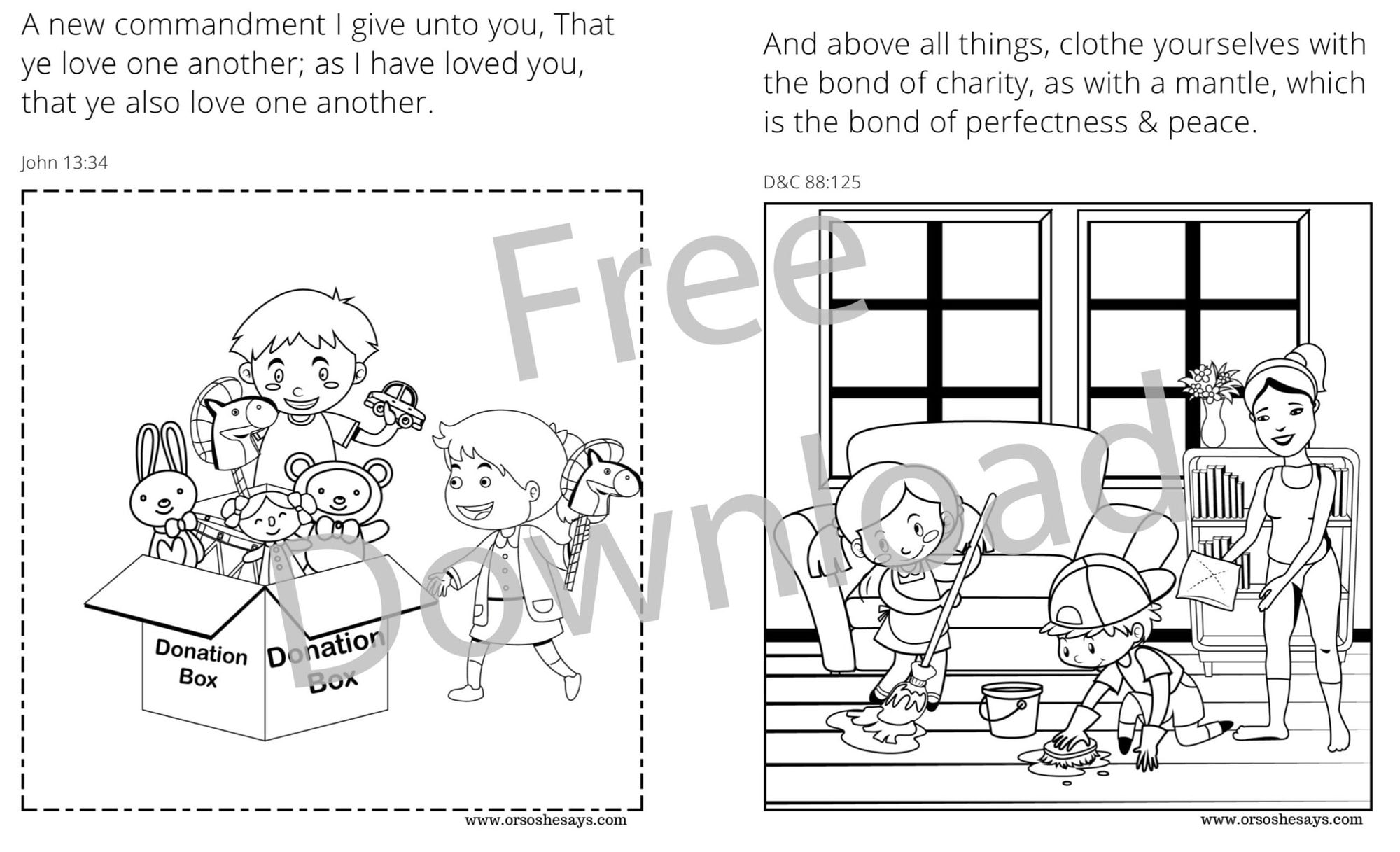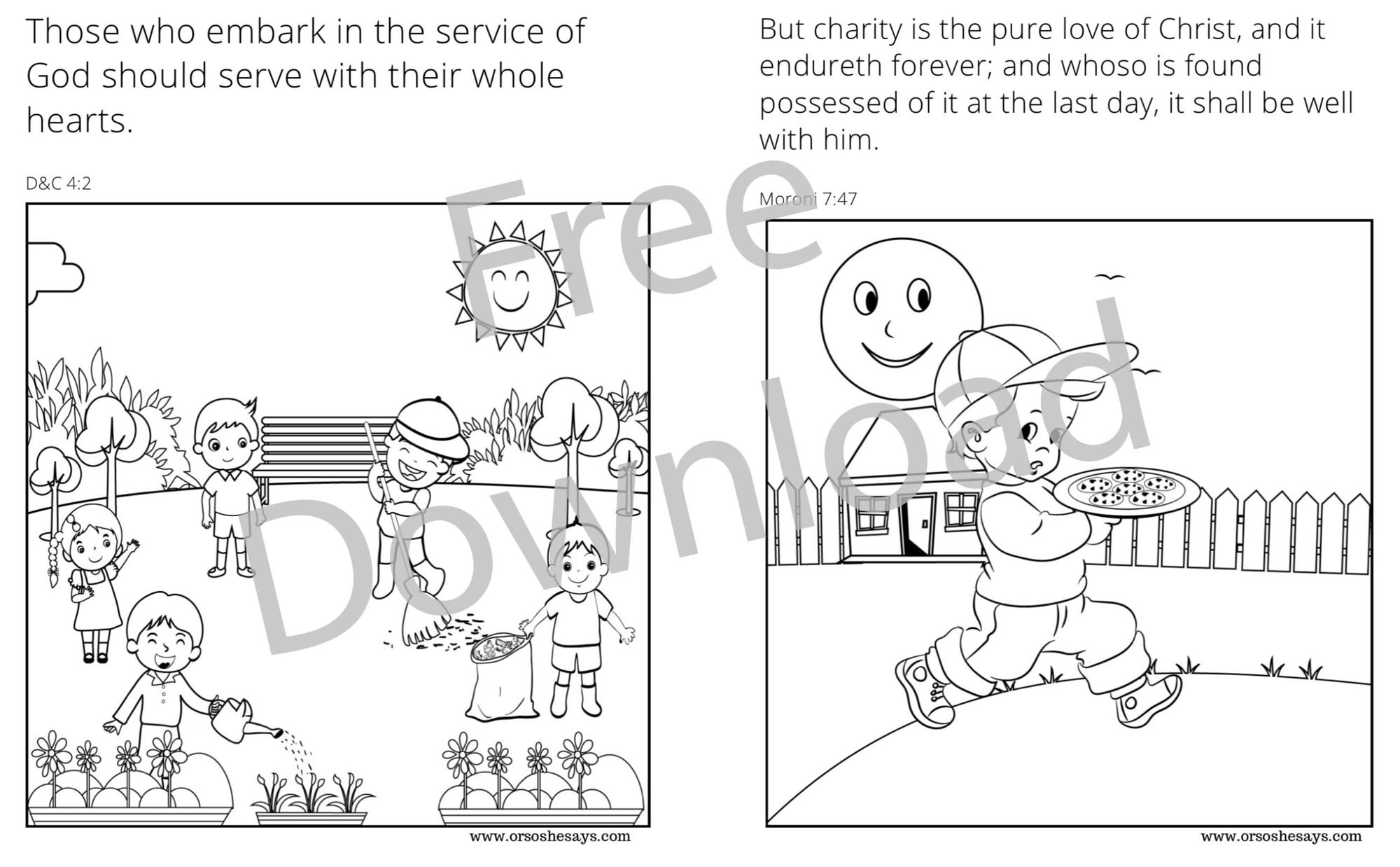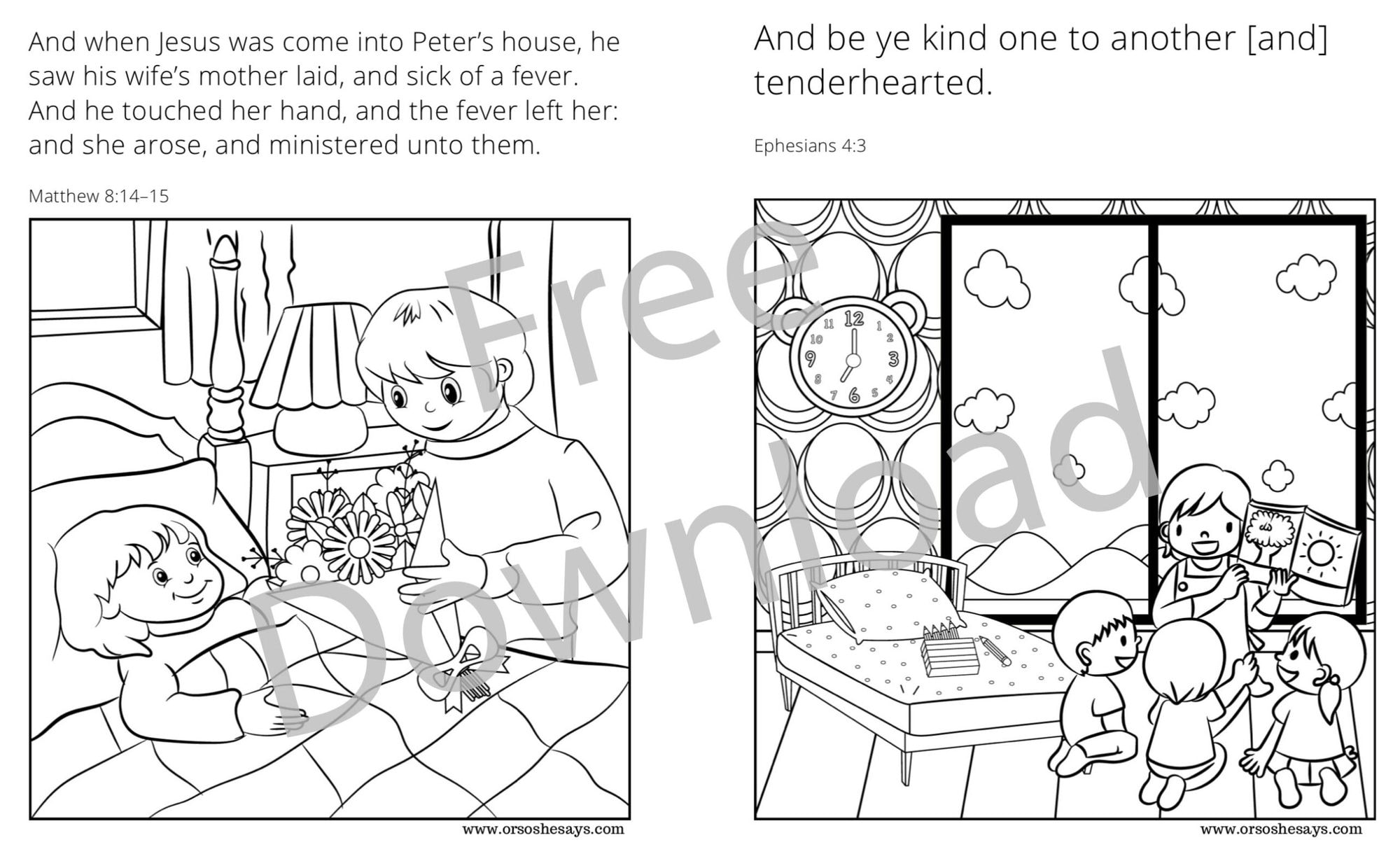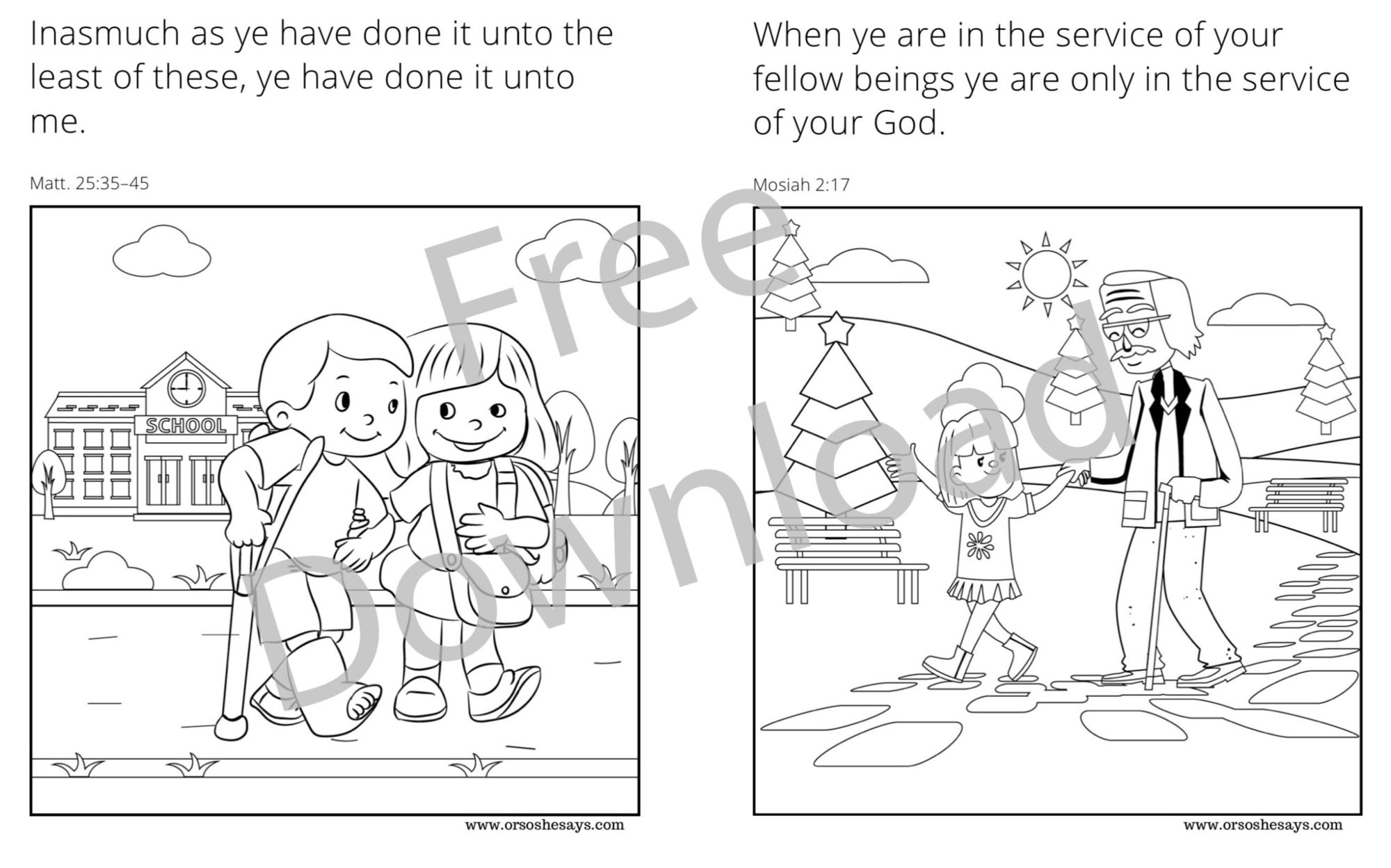 List of Light the World 'One by One' Service Ideas for Kids:
Make a Christmas ornament for a friend at school, grandparent, or sibling.
Invite someone that seems lonely over to your house to watch a family-friendly Christmas movie.
Make a holiday treat for your mail carrier or a widow in your neighborhood.
Bring a small gift to someone who missed school or church.
Make a mom's morning with a simple, warm breakfast, already made! Butterscotch Southern Bread Pudding
Draw or color a picture and give it to someone you love.
Give your teacher a gift and note saying you appreciate her/him.
Visit an elderly person and ask them to tell you stories about their life.
Write a letter to a relative in another city or state.
Relieve your mom and help inspire siblings to do their chores with these ways to motivate kids to do chores.
Help a toddler learn the alphabet with an alphabet game.
Smile and say hello to at least 10 people at church.
Leave a note on someone's doorstep, telling them why you think they're great.
Hand out Grocery Store Game printables and a pencil to moms at the grocery store that have kids around ages 5 to 10.
Read a story to a young child.
Invite a sibling that you don't often play with, to play a family board game with you.
Do some yard work for free, with a smile.
Have your mom give secret person assignments to all of the kids in your family, so you can all be inspired to serve more!
Offer to walk someone's dog, for free.
Prepare a Family Home Evening and teach your family about the importance of kindness.
Invite someone that is sitting alone, at church or at school, to come sit with you.
The entire day at school, practice thinking about (and doing) random acts of kindness.
Get Your Light the World Daily Ideas for Service ~ Coloring Book
If you liked this Light the World activity, check out:
10 Reasons I Love the Latter-day Saints Lifestyle
How to Get a Free Book of Mormon
Come Follow Me ~ Primary Talks (These are for November 2019's topics. If you're looking for another month's topics, just search the month you're looking for in the search box.)
5 Scriptures That Changed Me ~ #LightTheWorld
Pin This Image to Save Post