Today's Picks: Gifts for Boys, Ages 7 to 12

If there is one thing I hear from my 10 year old boy more than anything, it's 'Mom, can you tell the girls to stay out of my room?? They come in and mess everything up and just leave.' Yep. So, I'm thinking this SmartLab Room Defender is the perfect gift. It gets great reviews and sounds pretty darn cool. It protects your room with sirens, lights, and sound effects. It allows for codes, secret knocks, key cards, and you can record a personal greeting! So cool.
Bundle this gift with: the Doctor Who Lock and Key Safe (in-case the alarm doesn't scare the sibling-intruder), this invisible ink pen where the secret messages can only be read with the special light, or this pad of Spy Paper that quickly dissolves when in contact with liquid.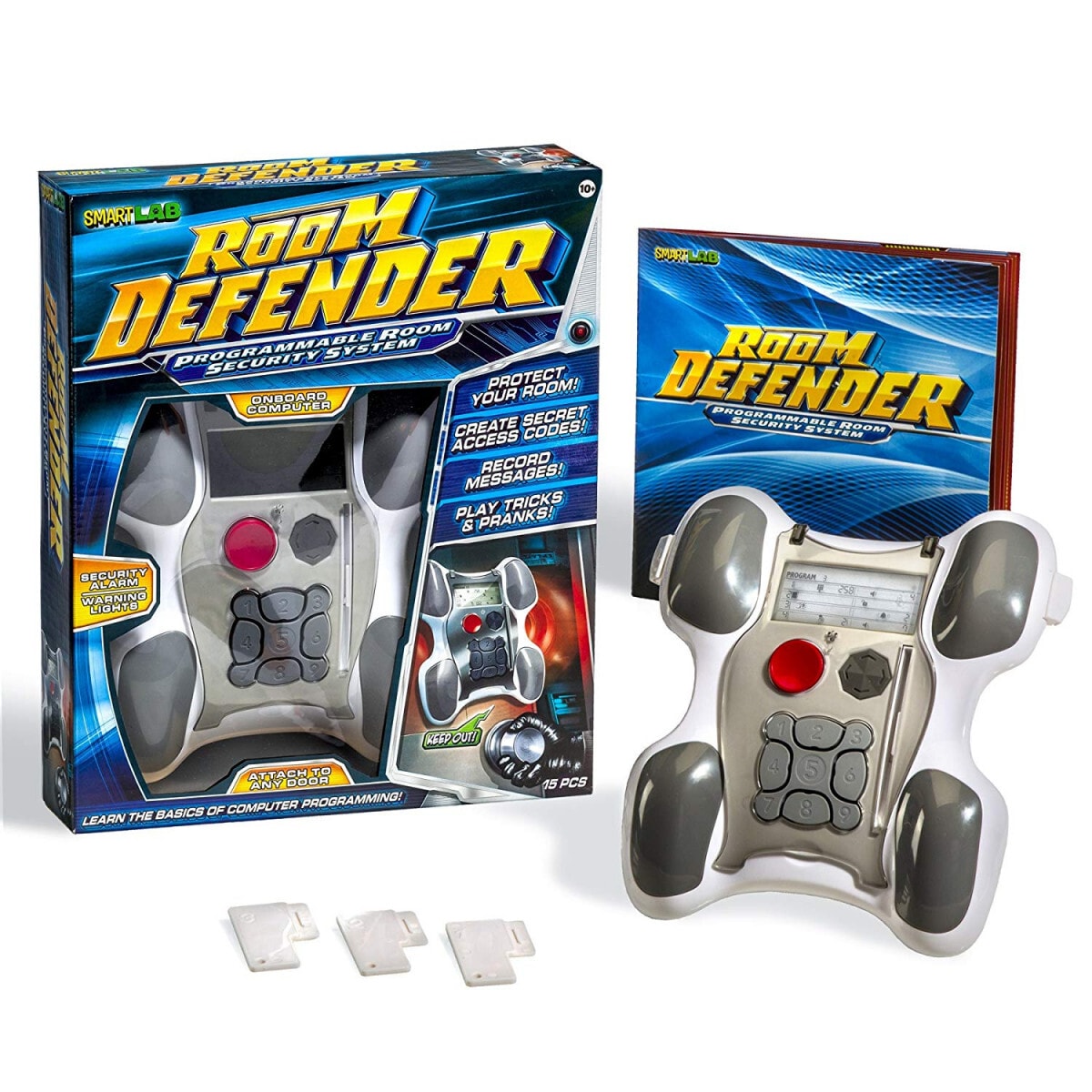 Okay, this is NOT your ordinary remote control flying machine, so keep reading… it's awesome! It's basically a car AND an airplane in one. It's a flying car!! The RC Hot Wheels Street Hawk drives on the ground like a car, but then can take off in flight! Land it back on the ground, do air stunts… this thing is pretty rad. It gets amazing reviews, as well. You'll have to watch the video to get the full effect.
Bundle this gift with: the New World Champion Paper Airplane Book, a Paper Creaser Set, or the Hot Wheels Field Guide (did you know Hot Wheels are collector's items?)
Just this month, the long-awaited book, Diary of a Wimpy Kid: The Long Haul came out! My boys have been pacing around the house for months waiting for this! That's only a slight exaggeration. The minute it came out they were BEGGING me to get it ASAP. And, the minute it came in the mail, they were constantly snagging it from each other, the minute the other would put it down. They're not long novels, nor do they have much/any educational value… BUT, they're fun for my boys to read and I love reading to be fun.
Bundle this gift with: the Wimpy Kid Do-It-Yourself Activity Book (my boys both have their own and loved using it), The Diary of a Wimpy Kid Journal, or any of the Wimpy Kid movies!
Have you seen the K'NEX Coaster Building Sets?? They look soooooo cool. Kids build the roller coaster, put batteries in the car, and watch it loop around! There are several roller coaster sets to choose from, so they could literally have a mini theme park in their room. 🙂 Top selling product, great reviews.
Bundle this gift with: this photographic book Roller Coasters: A Thrill Seekers Guide, the book The Kid's Building Workshop (lots of building projects to do), or the Swirl Building Set.
Are your boys into Minecraft too?? My boys AND girls love the video game and are always having to set rules about who's turn is next. So, you take Minecraft, then you take LEGOs, which kids also love, combine them and you get an awesome gift! My 10 year old specifically suggested The Village Set, but there are several to choose from.
Bundle this gift with: a LEGO Minecraft action figure, this super cool Minecraft Flashlight, or the Minecraft Foam Sword.
Nerf guns are always a hit with boys! ….even the big boys/men. 🙂 This Remote Control Terradrone walks on all sorts of terrain, rotates it's head, and shoots darts up to 45 feet! Reviewers say it's not the fastest moving or the quietest, but for the price, their kids love it. It would be fun if their friend had one too and they could have a major dart battle!
Bundle this gift with: a Dart Refill Pack, the Nerf Elite Retaliator (for a full-on war!), or a Dart Bandolier (to keep the extra darts handy for immediate use)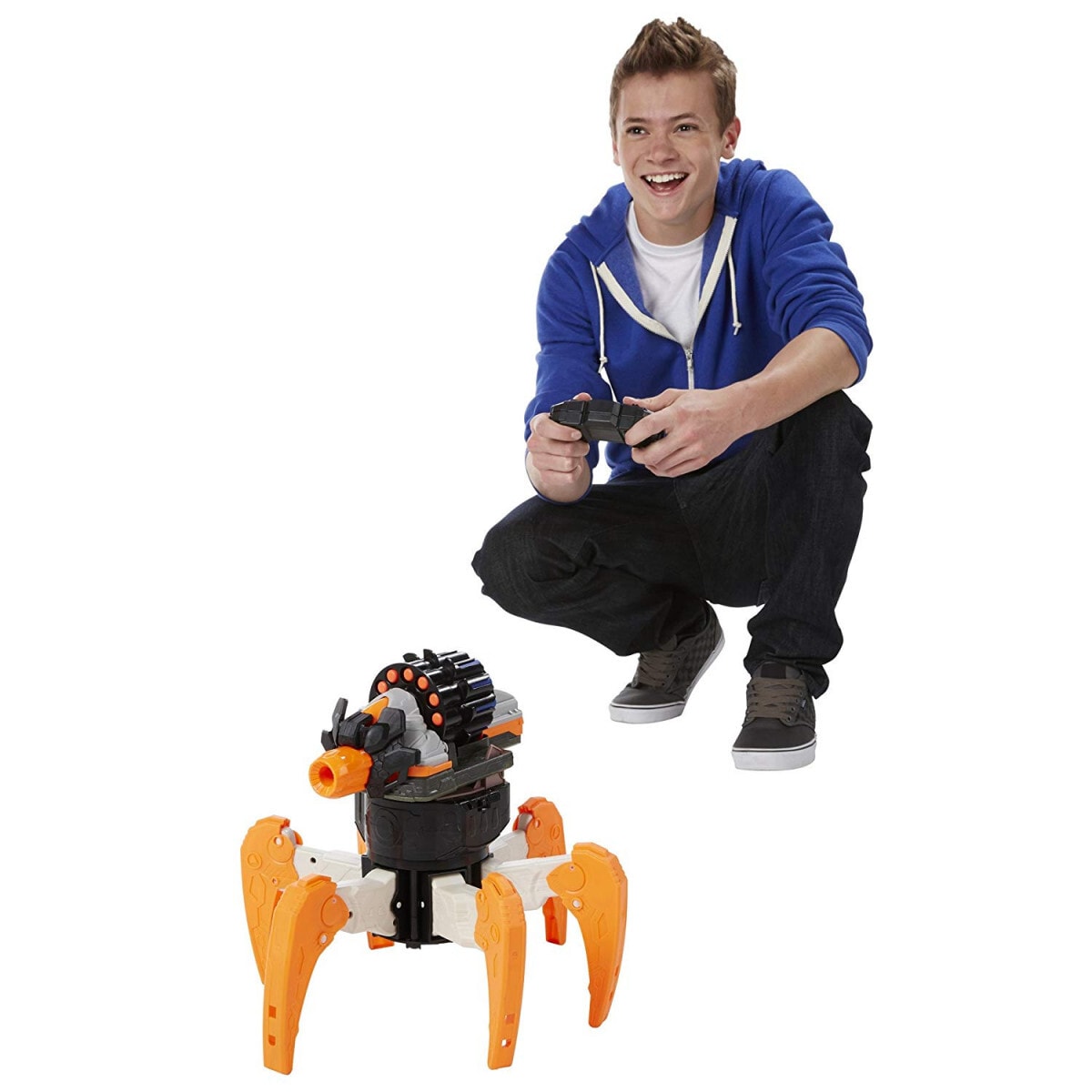 Both of my boys love basketball, and I LOVE when they get outside to play. My son actually just saw this GameDay Basketball Score Board and said, 'Whoa, if me and Caden had that, I bet we would play basketball even more!' It keeps scores, has a timer, buzzer, and it even has a 'Ref' button to settle any disputes. I love this!! It gets great reviews AND is a super price, for what you get.
Bundle this gift with: these basketball training markers, an NBA Street Basketball, or the Best Of the NBA Slam Dunk Contest DVD.
Need more gift ideas for boys, ages 7 to 12??
Check out the She Picks! from past years: 2011, 2012, 2013 and even more can be found here at Gift Idea Central (where ALL past and future gift ideas on 'Or so she says…' are saved. It's a MUST-PIN!!)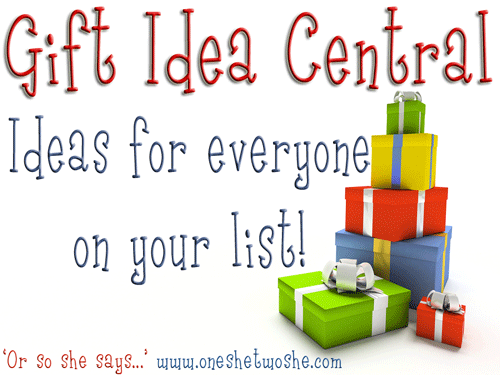 Lots more great gifts on my favorite shopping site, Amazon!
See you back tomorrow and every weekday for the next 3 WEEKS for more She Picks!
Previous She Picks! 2014:
Gift Ideas for Girls, Ages 3 to 6
Gift Ideas for Boys, Ages 3 to 6