Hey! It's Kimberly with Get Away Today here to tell you all about Halloween Time 2017 at the Disneyland Resort this year. Some exciting changes are coming this year and there is something for everyone- scary or not! September 15, 2017 is the beginning a spooktacular time for both young and old to celebrate this not-so-scary holiday. The good news is, these Halloween Time experiences are included in your regular admission Disneyland tickets. Plus you can use promo code OSSS10 for an additional $10 off your package when you book with Get Away Today.
Here is what you can expect for Halloween Time 2017 in Disneyland: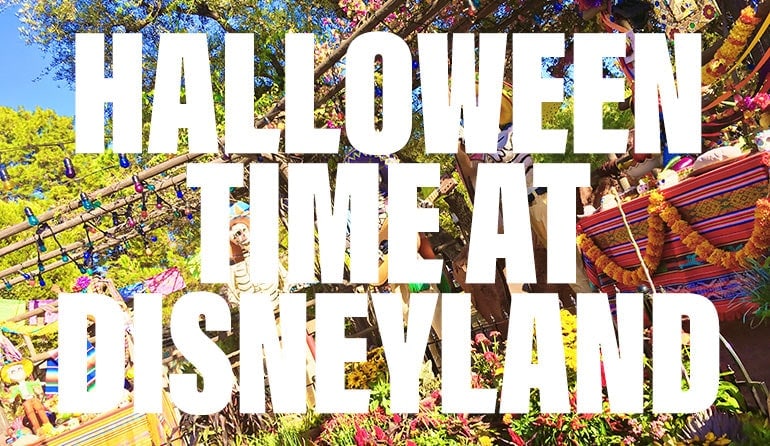 If you are looking for something not-so-scary…
If you want something a little more mild for your family when you visit the parks during Halloween Time, there is no need to worry. Disneyland offers plenty of attractions and events that are fun for everyone in your family, even your little ones. My boys don't like to be scared, and Halloween Time is one of their favorite times to visit.
The ever-famous Pumpkin Festival will return this year on Main Street U.S.A. along with all the fun Halloween decorations you have grown to love. But, Disneyland isn't the only place getting Halloween decorations this year…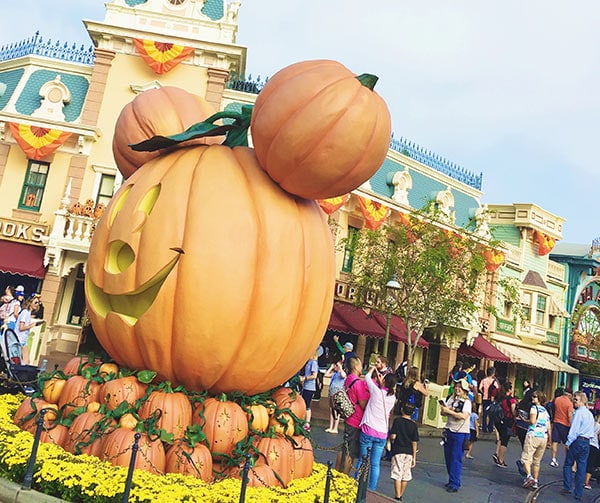 For the first time ever Halloween Time is making its way over to Disney California Adventure! You will be able to see Cars Land in a whole new way when Radiator Springs will transform into Radiator Screams. Mater's Graveyard JamBOOree, Luigi's Honkin' Haul-O-Ween, Filmore's Jack-Oil Lanterns and Witchy Miss Lizzie's are just some of the fun things coming for the holiday. You will even see your favorite Cars dressed in Halloween attire. My boys are obsessed with Cars and they're going to freak out to see Mater and Lightning all dressed up. This overlay is going to make for some really incredible photo ops for families.
Buena Vista Street is also changing this year and is getting a makeover with décor inspired by The Nightmare Before Christmas. Oogie Boogie greets you with bats in tow at the entrance of California Adventure. It will really get the spooky spirit started right when you enter the park. A a statue of the Headless Horseman will be waiting for you too. You'll want to have your camera ready.
If you are looking for something a little spookier…
There are so many options for you if you are looking for some frights while visiting the parks during Halloween Time. Disneyland doesn't do anything half way and has proved that time and time again.
I love the ride overlays that Disneyland does for Halloween Time. The Haunted Mansion gets a spooky Nightmare Before Christmas overlay complete with all your favorite characters, including Jack Skellington, Sally and Zero. It's not too scary for my little ones to enjoy though. It's actually the only way they will ride it! The holiday overlay adds a more fun and silly aspect to this ride. If that's not ghoulish enough for you, head on over to Space Mountain in Tomorrow Land, which turns into Space Mountain: Ghost Galaxy during Halloween Time. While you are cruising through space, watch out for creepy ghosts and fearful phantoms that follow you throughout the ride. This one is too scary for my kids, but I'm sure they'll love it when they're older.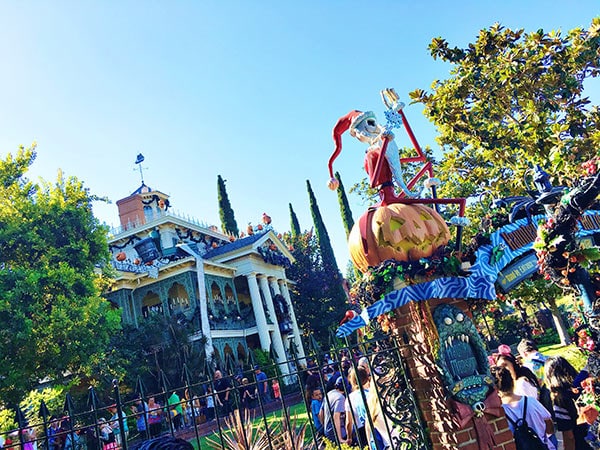 Mickey's Halloween Party is a separate ticketed event on select nights in Disneyland. The park will close early for the party, so be sure to check the schedule so you know what nights it will affect while you are there. This is where a Park Hopper comes in handy. Once Disneyland closes early for the party, you can hop on over to California Adventure to continue all the Halloween fun. That way you don't have to cut your magical day early. You can find out all of the ticket information on Disneyland's site directly.
I am so excited for my family to see all of these fun changes coming to the park. Halloween Time is one of our favorite times to visit and this year is going to be more awesome than ever. Whether you want a scary visit or not, the Disneyland Resort is the perfect place to spend the holiday. Book with Get Away Today to get the best price on hotels and Disneyland tickets. You can call in to 855-GET-AWAY or go online to getawaytoday.com to book your trip now. Don't forget to use promo code OSSS10 to get an additional $10 off your Southern California vacation package. Happy Hauntings!

For more great posts with Disney insider info, check these out:
Groot Pudding Cups ~ Copycat Disneyland Recipe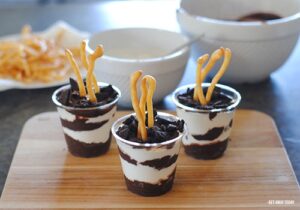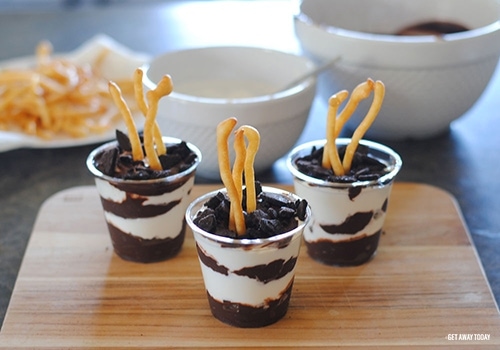 5 HUGE Changes at Disneyland This Year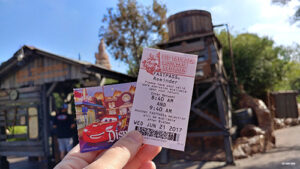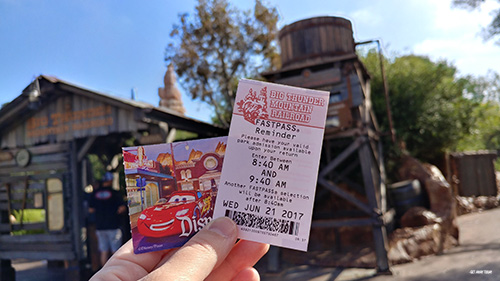 Disneyland Tips ~ How to Make Your Vacation As Enjoyable As Possible