Hey Everyone, it's Adelle from over at PackedwithFun.com, the official blog for Get Away Today, where I get to share fun ways to keep vacation magic alive at home. School has started and depending on where you live, fall may already be in the air. Although I love the change of the seasons, every once in a while I start to feel a little like Olaf and wish to bring back summer!
A few months ago I put together this Olaf beach ball game and printable that is perfect for those days when your kids long for some summer fun. My kids have had so much fun with it, that I wanted to share it with you!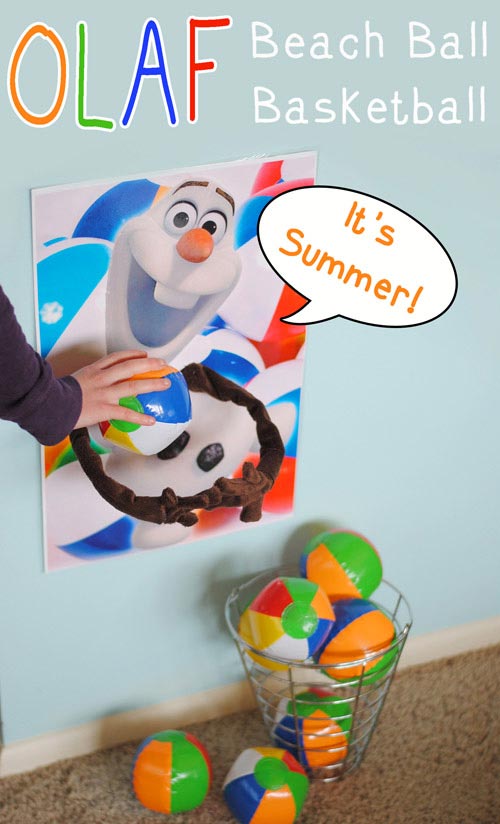 Start making your Olaf beach ball game by printing the Olaf backboard on 11×17 inch card-stock and have it laminated. Download here. Next, you will need a regular wire hanger to make the frame for the hoop.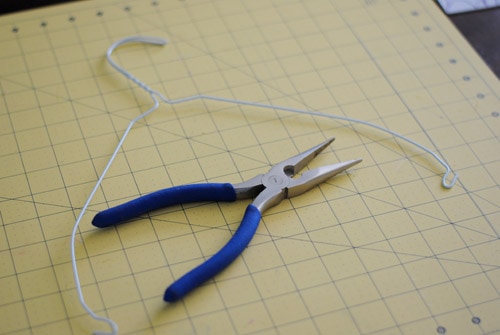 Bend the hanger into a circle.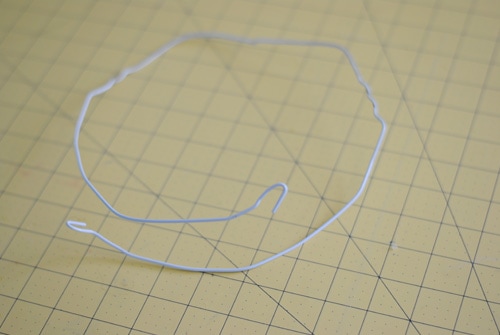 Next, you'll sew the fabric coverings to make Olaf's arms. First, cut two 6″ x 20″ strips of brown fabric. You can use any brown fabric from your scrap pile. Felt or fleece would work great because they don't fray. I had some soft brown minkey in my stash that I used. Fold each fabric strip in half lengthwise, so you have a double thick 3″ x 20″ piece of fabric. Then cut the top 5″ off to use for the hand. You will now have one 15″ x 3″ piece and a 5″ x 3″ piece. Do this for both of the arms.
Sew the Olaf hand shape into your small square of fabric. Olaf has four "fingers." It doesn't have to be perfect and should look something like this: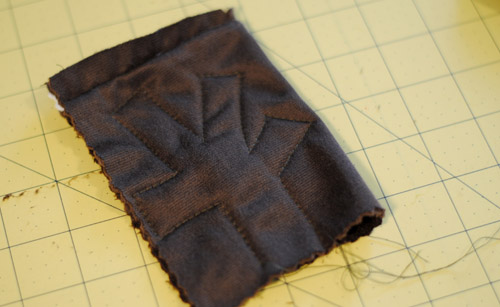 Sew both hands and then cut them out and turn them. Sew a seam along the open length of the "arm" piece so that the fabric makes a long tube. You'll turn this as well.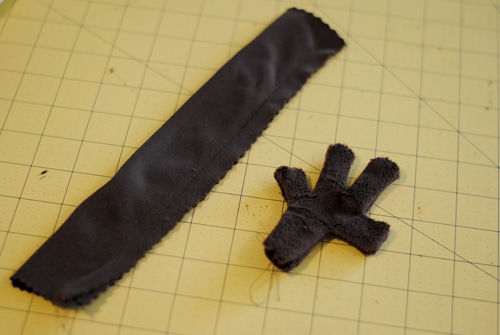 Test to make sure that the fabric covers the hanger. They will look like this: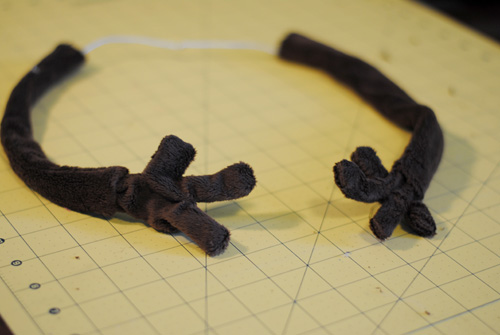 Now it is time to assemble your Olaf basketball hoop! Now that you have all of your pieces, it should look like this: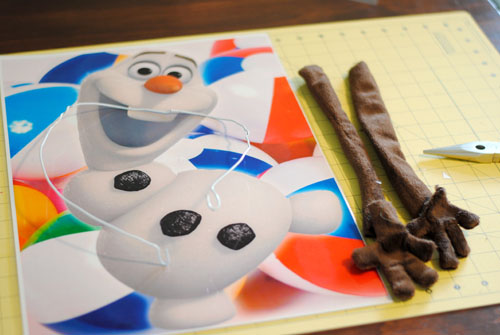 Poke holes in the Olaf backboard where his arms should be and slip the hanger through the holes.
The next step is the trickiest. You want to add a support strip to the back of the hoop to give it more stability. I used a paint stir stick. It is the perfect size! Just attach the stir stick to the back rim of the hoop with duct tape.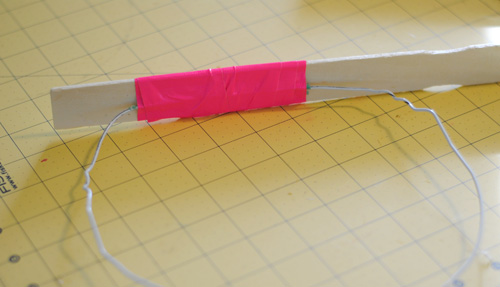 Then attach the stick and hoop to the backboard with duct tape. Feel free to tape away! No one is going to see the back of the hoop since it will be against a wall.
Once you have the hanger hoop in place, put on the arm covers and glue them in place with hot glue.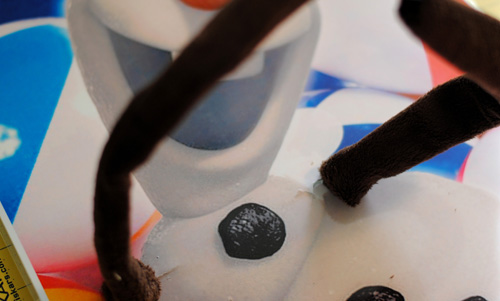 You will want to hot glue the arms where they attach to the backboard and also along seam where the hand meets the arm piece. Just tuck the hand into the arm and glue. It will look like this when you are finished: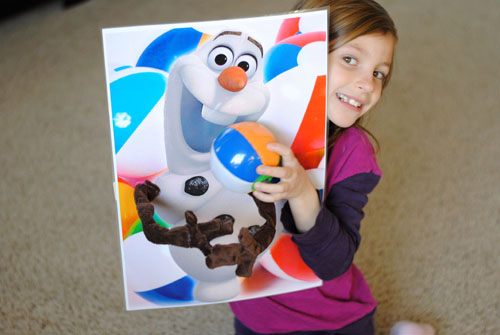 You can play any basketball-type game at your party with the Olaf hoop. We bought a 24 pack of 6-inch beach balls for less than $10 at the party store. We used them as decorations for our Frozen themed party, in the Olaf Ball Game and then gave them to the kids to take home as a party favor! We of course held onto a few beach balls and the Olaf inspired summer fun continues on at our house year round.
I hope you have as much fun with your Olaf beach ball game and printable as our family has had with ours! And if you'd like to meet the "real" Olaf in person, here are all the ways you can see him at the Disneyland Resort:
During the holiday season at the Disneyland Resort Olaf hosts a special version of World of Color called Winter Dreams featuring the best songs of the season done Disney-style. The show plays nightly November 14 , 2014 – January 3, 2015.
Olaf has prepared a spot in Fantasyland where guests can meet Anna and Elsa for a quick visit. Olaf can be seen checking out visitors from his spot on the roof.
If you're not traveling during the holidays, you'll want to be sure to catch the first showing of Mickey's Soundsational Parade and get there early. Olaf, Elsa and Anna make a special appearance on a float as part of the pre-show about 15 minutes before the parade begins.
Beginning in mid-September you'll have the chance to visit Anna & Elsa's Boutique in Downtown Disney. Not many details are available yet, but we do know it is replacing Studio Disney 365 and it will be full of Frozen fun!
When you're ready to visit Olaf at the Disneyland Resort, we'd love to help! Our staff visits Disneyland at least once a year to tour all of our hotels and attractions so we can give you personalized assistance. Book at www.getawaytoday.com or call 855-GET-AWAY. Use promo code: OSSS10 and you'll save an extra $10 off your vacation package.