As a busy mom, wife, daughter, sister, friend, Christ follower, and full time social worker I have discovered that I must make CRAFT and CREATIVE time for my sanity. I have a son who turns 3 this month (!!!) and am pregnant with our second son who is due in January. This busy-ness is one of the main reasons I carved out a little nook in my house (actually my guest room closet which I dubbed as my "craft nest" which can be seen here. Out of that came my craft blog, april's craft nest. I love all type of crafting and do not claim for a second to have expertise in any one area. I love paint, fabric, buttons, paper, my sewing machine and my glue gun! I have been inspired by so many creative women and their blogs. I try to sneak a peek at my google reader at least once a day to see what others have been up to.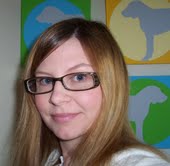 I made two painted door mats this weekend. One for everyday use and one for Halloween. I got the idea from Lowe's magazine and added freezer paper stenciling and painters tape to make the design. And mine is way cheaper. I have enough to make 5 or more rugs for under $18 because I had everything but the rug on hand. I wanted to make an Initial rug like this.
Halloween version:
Here's how I did it…
I plan to make one for Christmas sometime soon too! The possibilities are endless!
~ April