I love anything with a personalized touch, and you can see that in many of the jewelry pieces I design. We recently moved, and I have slowly been decorating my youngest daughter's bedroom–making the transition from crib to bed. I have wanted to add a little something to personalize her room. Usually for wall decor in my other children's bedrooms, I have displayed a piece of their artwork in their room. So, since my youngest daughter is at that toddler's age and she loves to make "messy" artwork, I thought it would be a fun project to create an abstract piece together using a large canvas initial letter.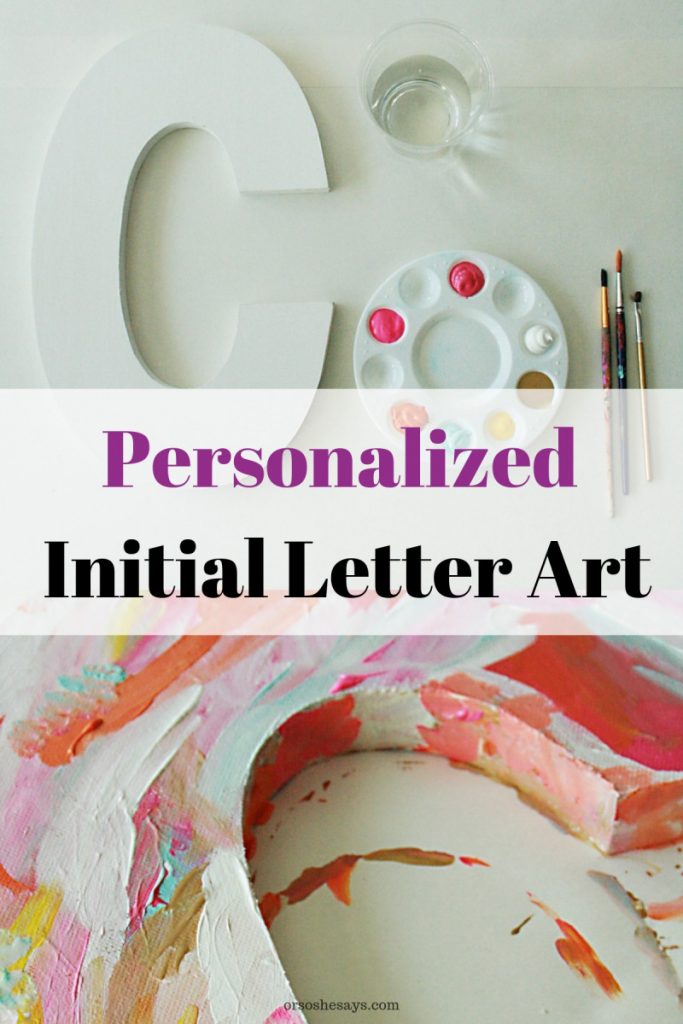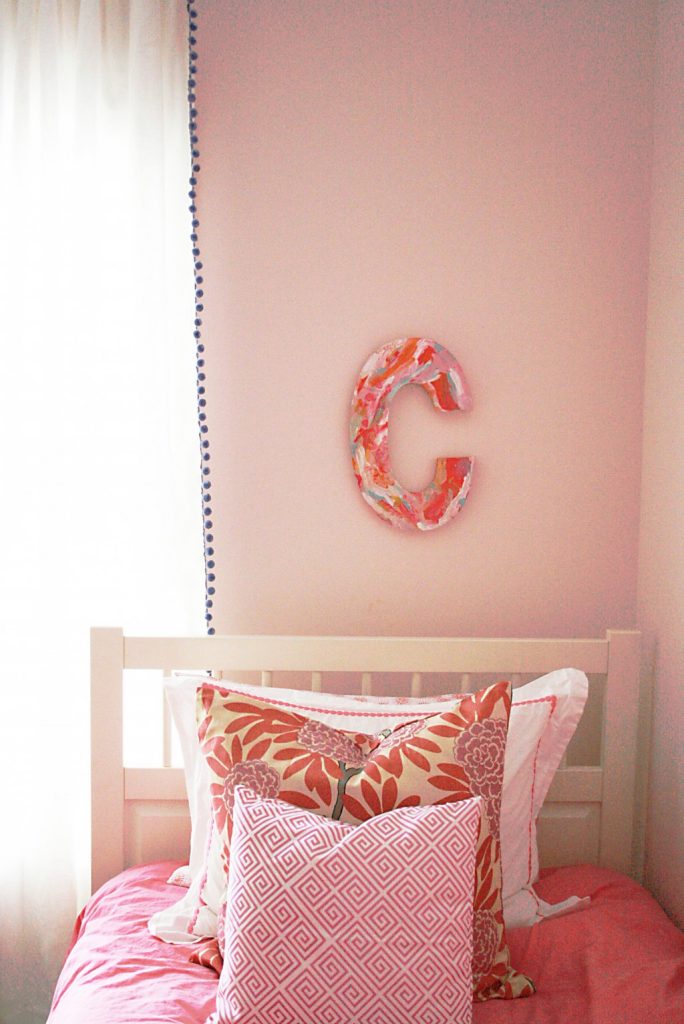 As you can see, this is just your basic painting project–paint brush, acrylic paint and canvas painting board. But the one who is making the personalized initial letter art is your child.
I picked up the large, canvas letter from Hobby Lobby. If you can't find canvas letters at your local craft/hobby store, you can always pick up a cardboard-type letter that is sold at Michaels or Joanns. You'd need to spray paint it white though so the background stays true to the acrylic paint colors.
I picked out paint colors from her room's color scheme and separated them on a painting palette. I added white and some gold paint to the palette too. Don't forget to cover your work space!
With a painting apron on, I let my daughter paint and paint and paint. She was in painting heaven. Most children her age tend to just paint with one color and she did do just that…paint with only one color, pink. I encouraged her to mix the colors and she did that only a couple times.
Let your kid(s) be creative with their personalized letter art!
Once she painted her letter mostly pink, I had her paint the sides. I then took the paint brush and added lots of white paint strokes. She refused to do it– maybe because it was white and most kids don't think white is a color. I also added different strokes from what she did.
Feel free to embellish the personalized initial letter art with your own touches, but keep it simple!
You can see how I dotted a small section of paint and added white and small sections of the accent colors to make her canvas painting more abstract.
We love the results! And love it even more because it personalizes her room.
Thanks for letting me join you once again on OSSS!
Supplies for your personalized initial letter art:
5.9
Acrylic Paint Set 24 Colors by Crafts 4 ALL Perfect For Canvas, Wood, Ceramic, Fabric. Non toxic & Vibrant Colors. Rich Pigments Lasting Quality For Beginners, Students & Professional Artist
Apple Barrel Acrylic Paint Set, 18 Piece (2-Ounce), PROMOABI Assorted Colors I
12 Pcs Paint Tray Palettes Plastic for DIY Craft Professional Art Painting
Pack of 2 Kids Art Smocks, Children Waterproof Artist Painting Aprons Long Sleeve with 3 Pockets for Age 2-6 Years by Bassion
Melissa & Doug Art Essentials Artist Smock – One Size Fits All
Other posts you'll love: