July Primary Talks for Kids are here and ready for download! These simple talk templates are written based on the Come Follow Me lesson for each month in July. We have new topics each month, so be sure to check back for new content.
You can download each talk individually with the link provided in each section or download all four Primary Talks for July here.
July 4th Primary Talk – Do Your Best
Do you like to be busy? Is it nice to have things to do. I like to ____________________ and ______________________.
Did you know that the Lord has asked us to stay busy. In the scriptures He told the Saints to not be idle and to labor with all their might. That means Jesus wanted them to work hard.
When we work hard it makes us feel good about ourselves. Do you feel proud of yourself after you clean your room or create a really cool craft project? Hard work helps us to develop talents. It also gives us chances to love and serve other people.
I hope that we can all labor with all our might so we can make good things happen in our homes and in the world.
Download PDF Do Your Best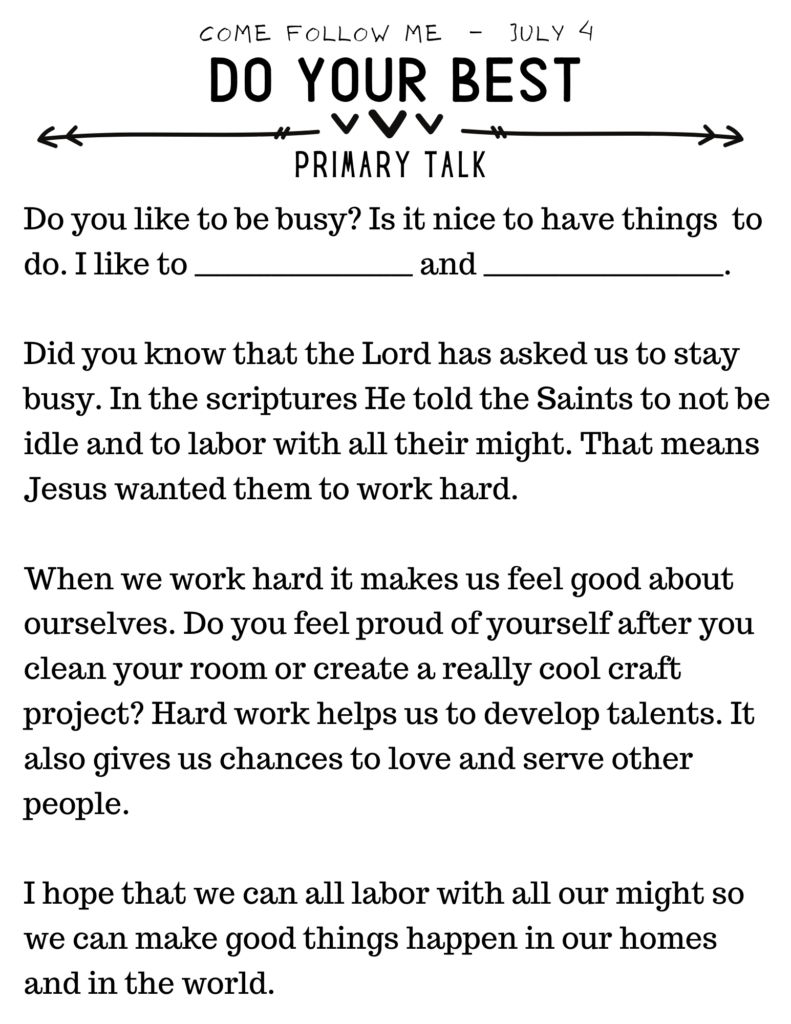 July 11th Primary Talk for Kids – We Are Sons and Daughters of God
One of the very most important things to know is that we are sons and daughters of God. God is our Heavenly Father. We were created in his image. That means we look like Him!
He has a body. He has arms that can hold us and a mouth that can speak kind words to our minds.
If you ever feel scared or alone or if you are struggling to make a good choice, remember that you are a child of God. He is watching over you and loves you.
As His children, we can return to live with Him again someday. I am glad that I know my Heavenly Father and that I can be like Him. It makes me feel happy inside.
Download PDF We Are Sons And Daughters Of God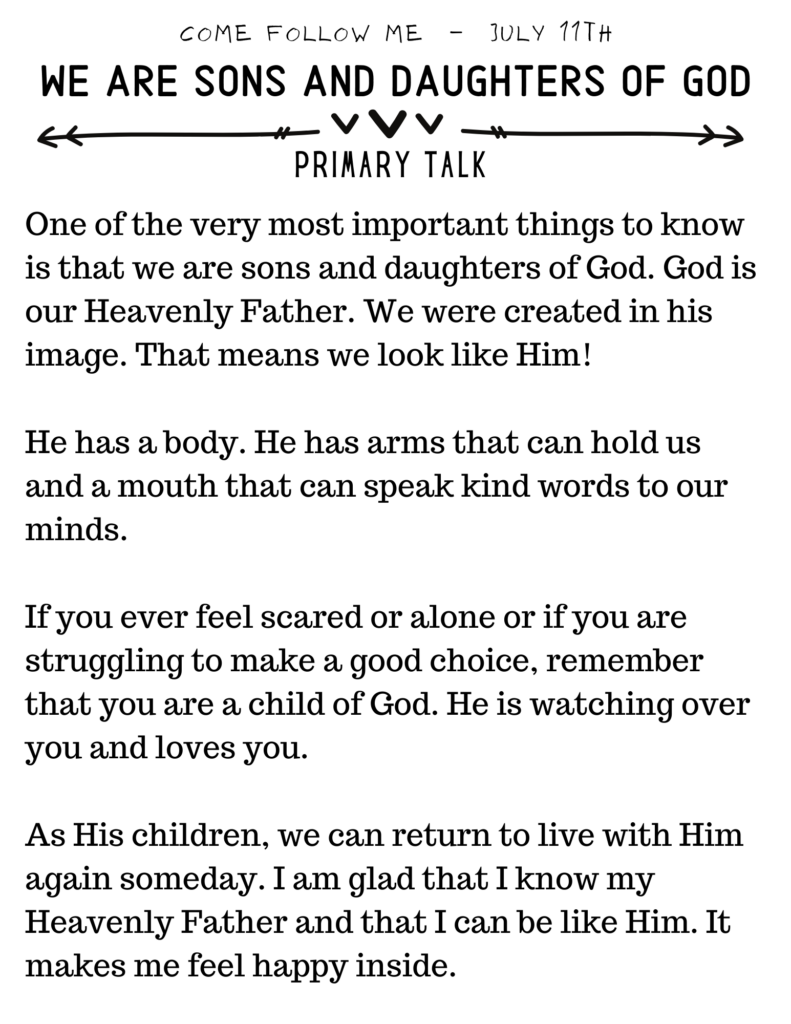 July 18 Come Follow Me Talk for Children – God Created All Things
What is your favorite animal? Do you like cats or dogs? Do you have a special pet that is part of your family? There are so many creatures in the world. Think of them all!
There are monkeys, lions, bears, snakes, butterflies, horses, sloths, whales, chickens, pigs, eagles, elephants and so many more.
God created all of the creatures, big and small, for our happiness! When you pet a puppy or watch a dolphin jump in the ocean you can feel God's love shining through.
We should be grateful for the gift of animals and treat them with love and care.
Download PDF God Created All Things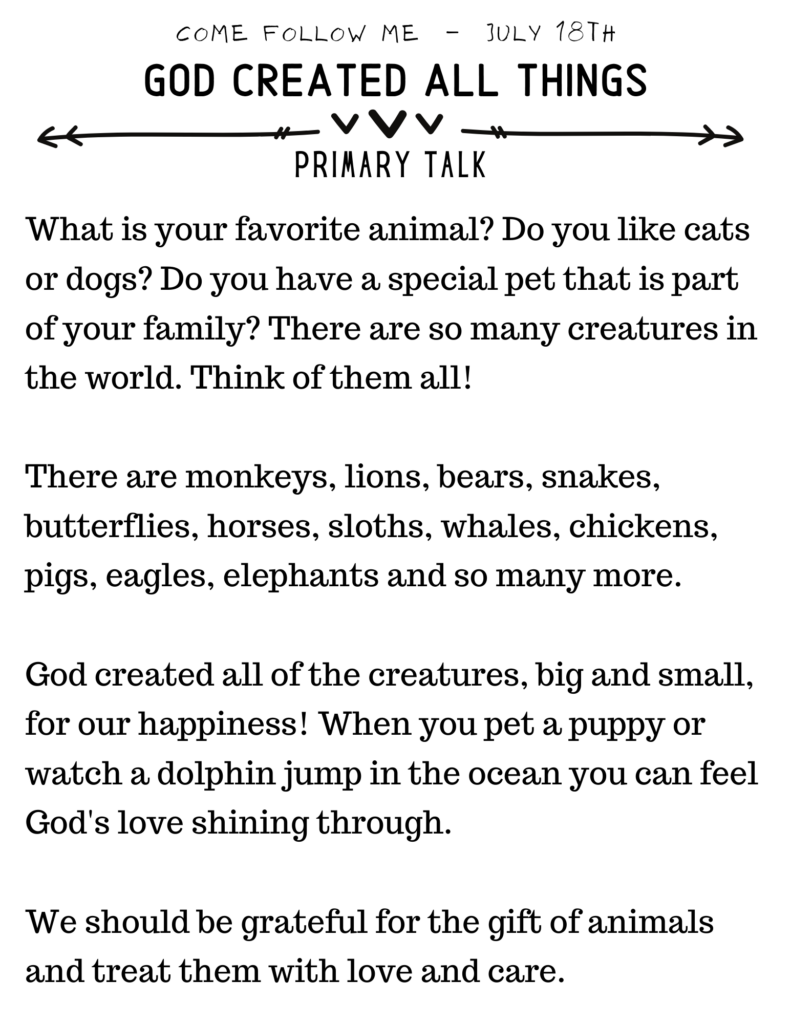 July 25th Come Follow Me Lesson Talk – Pray Always
I am going to give you some instructions. Listen to see if you can figure out what they are for:

"I begin by saying "Dear Heavenly Father",

I thank him for blessings he sends;

Then humbly I ask him for things that I need,

In the name of Jesus Christ, Amen."
These instructions teach us how to pray! Saying a prayer is very simple. Anyone can do it.
We have been asked to pray always. Praying always does not mean you have to kneel by your bed and talk to God all day long! That would be silly. Instead, it means that we should remember that God is there and waiting to bless us.
Take time to use the instructions to pray out loud. There is better than starting or ending a day with a prayer. I am grateful God is always there.
Download PDF Pray Always