These LDS Primary Talks make it easy to have children participate in home based church lessons. Each talk is written based on the weekly message from Come Follow Me for Primary.
Are you enjoying having your family home together for Church on Sunday's right now? With most of the world practicing social distancing, weekly church service has changed drastically! Lesson planning has been put on the shoulders of parents and families instead of individuals with ward callings. For some, it is a precious time of unity and growth! For others, it is completely overwhelming and difficult. No matter if you feel one way or the other or somewhere in between, these primary talks will help make Sunday a day of rest and enjoyment.
This post contains five separate talks. There are five Sunday's in May. So, you can use one talk per week.
The message of each Home Based Church LDS Primary Talk corresponds to the message in the Primary version of Come Follow Me.
Parents, you can download a PDF version with the link provided in each section or read the talk directly from our website! Our goal is to help make your at home church service as easy as possible. If you are a primary teacher, you could send the weekly message to your class through email or a link. The children in your class might enjoy hearing from you! Check back each month for the next installment!
To download all five talks in the same PDF file, click here: May 2020 Primary Talks
May 3rd Message for Home Based Church: God Can Help Me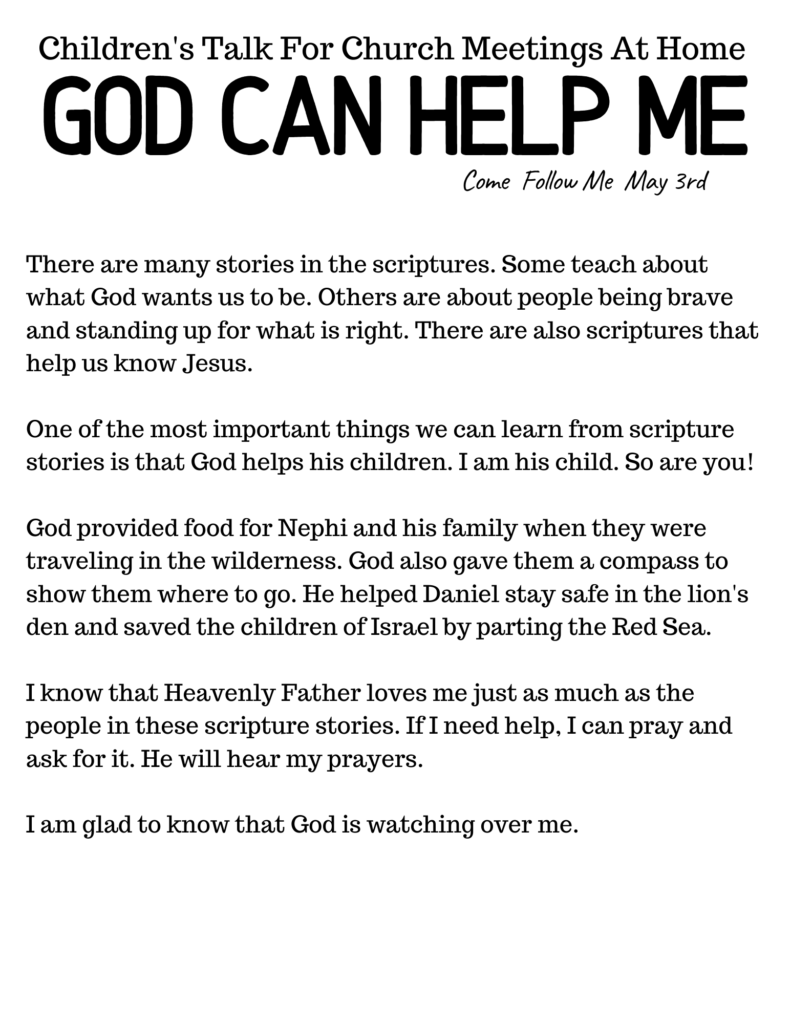 There are many stories in the scriptures. Some teach about what God wants us to be. Others are about people being brave and standing up for what is right. There are also scriptures that help us know Jesus.One of the most important things we can learn from scripture stories is that God helps his children. I am his child. So are you!
God provided food for Nephi and his family when they were traveling in the wilderness. God also gave them a compass to show them where to go. He helped Daniel stay safe in the lion's den and saved the children of Israel by parting the Red Sea.
I know that Heavenly Father loves me just as much as the people in these scripture stories. If I need help, I can pray and ask for it. He will hear my prayers. I am glad to know that God is watching over me.
May 10th Primary Talk: I Will Stand For Truth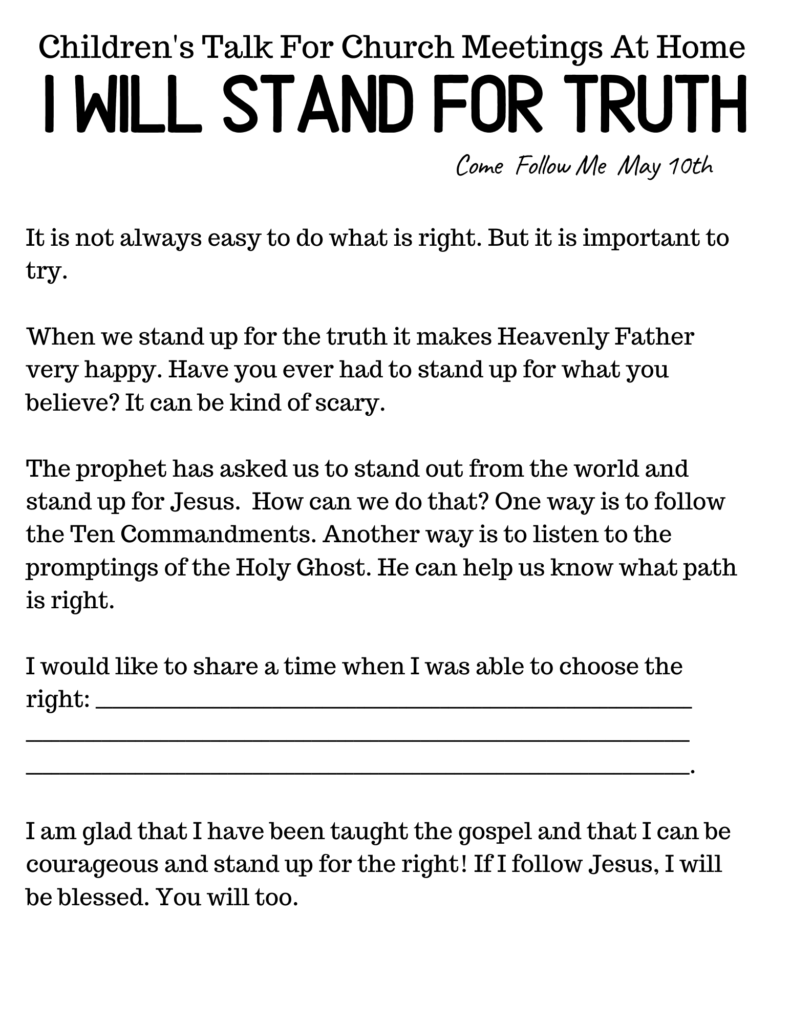 It is not always easy to do what is right. But it is important to try. When we stand up for the truth it makes Heavenly Father very happy. Have you ever had to stand up for what you believe? It can be kind of scary.
The prophet has asked us to stand out from the world and stand up for Jesus. How can we do that? One way is to follow the Ten Commandments. Another way is to listen to the promptings of the Holy Ghost. He can help us know what path is right.
I would like to share a time when I was able to choose the right: _______________________________________________________________________________________________________________________________________________________________________________________________________________________________.
I am glad that I have been taught the gospel and that I can be courageous and stand up for the right! If I follow Jesus, I will be blessed. You will too.
May 17th LDS Primary Talk for Home Based Church: God Will Make My Burdens Light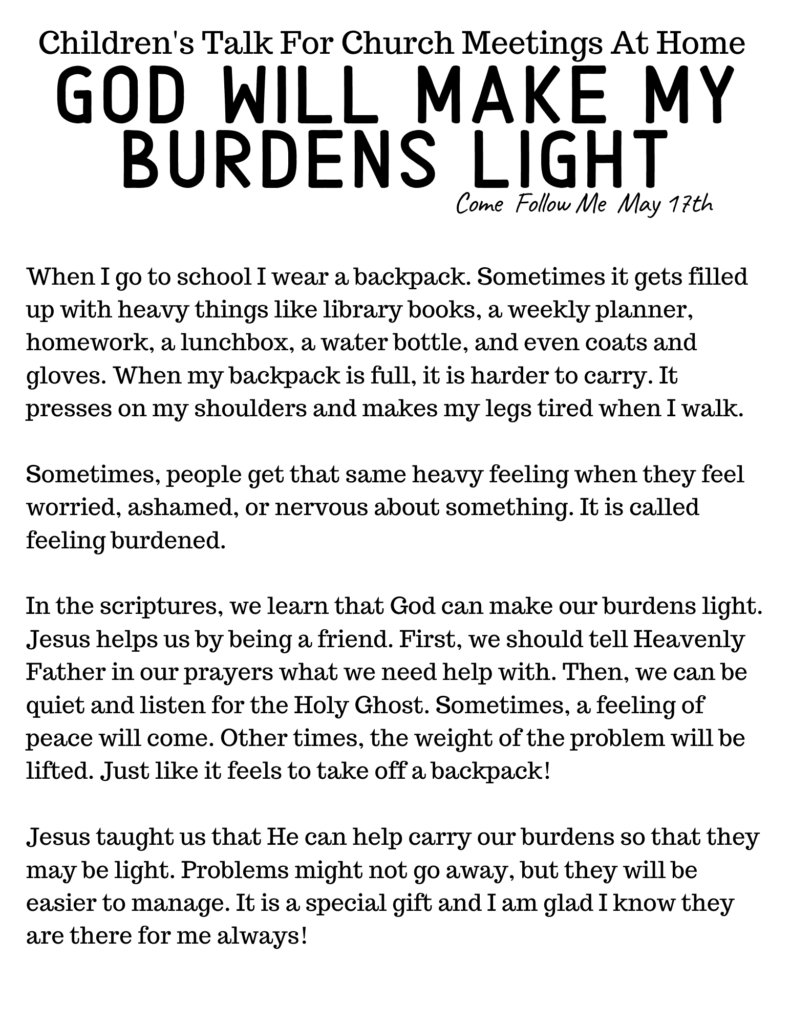 When I go to school I wear a backpack. Sometimes it gets filled up with heavy things like library books, a weekly planner, homework, a lunchbox, a water bottle, and even coats and gloves. When my backpack is full, it is harder to carry. It presses on my shoulders and makes my legs tired when I walk.
Sometimes, people get that same heavy feeling when they feel worried, ashamed, or nervous about something. It is called feeling burdened.
In the scriptures, we learn that God can make our burdens light. Jesus helps us by being a friend. First, we should tell Heavenly Father in our prayers what we need help with. Then, we can be quiet and listen for the Holy Ghost. Sometimes, a feeling of peace will come. Other times, the weight of the problem will be lifted. Just like it feels to take off a backpack!
Jesus taught us that He can help carry our burdens so that they may be light. Problems might not go away, but they will be easier to manage. It is a special gift and I am glad I know they are there for me always!
God Will Make My Burdens Light PDF
May 24th Primary Talk Message: We Should Forgive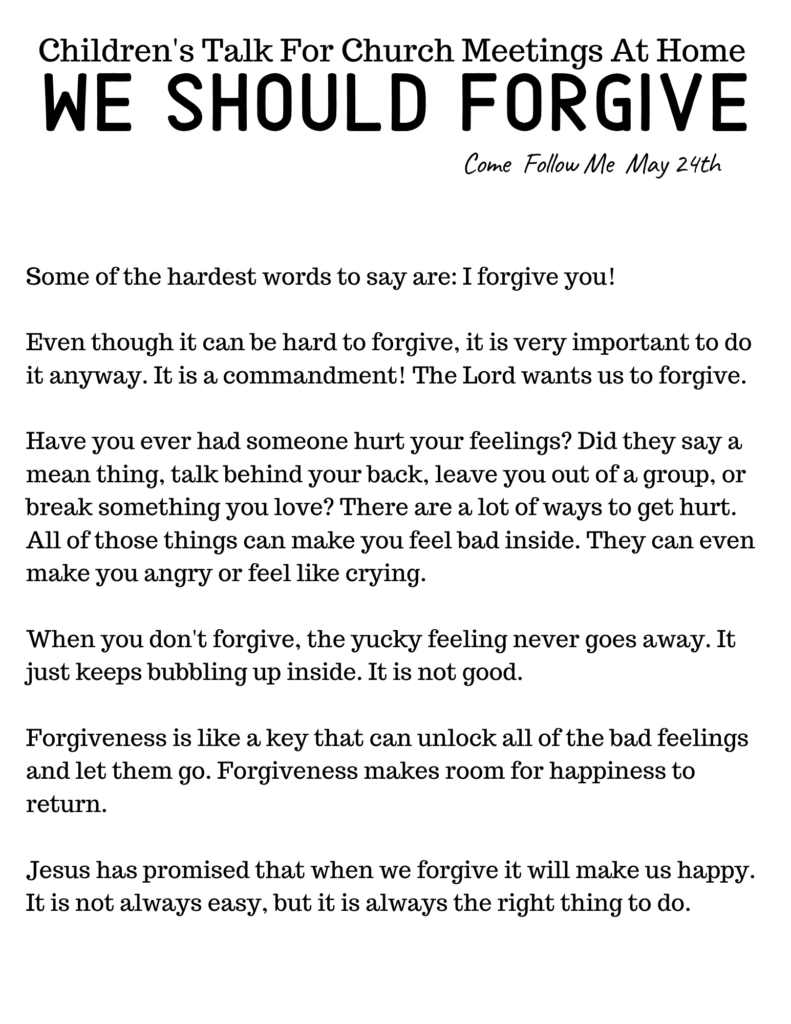 Some of the hardest words to say are: I forgive you! Even though it can be hard to forgive, it is very important to do it anyway. It is a commandment! The Lord wants us to forgive.
Have you ever had someone hurt your feelings? Did they say a mean thing, talk behind your back, leave you out of a group, or break something you love? There are a lot of ways to get hurt. All of those things can make you feel bad inside. They can even make you angry or feel like crying.
When you don't forgive, the yucky feeling never goes away. It just keeps bubbling up inside. It is not good. Forgiveness is like a key that can unlock all of the bad feelings and let them go. Forgiveness makes room for happiness to return. Jesus has promised that when we forgive it will make us happy. It is not always easy, but it is always the right thing to do.
May 31st LDS Talk for Children at Home: My Testimony Can Help Others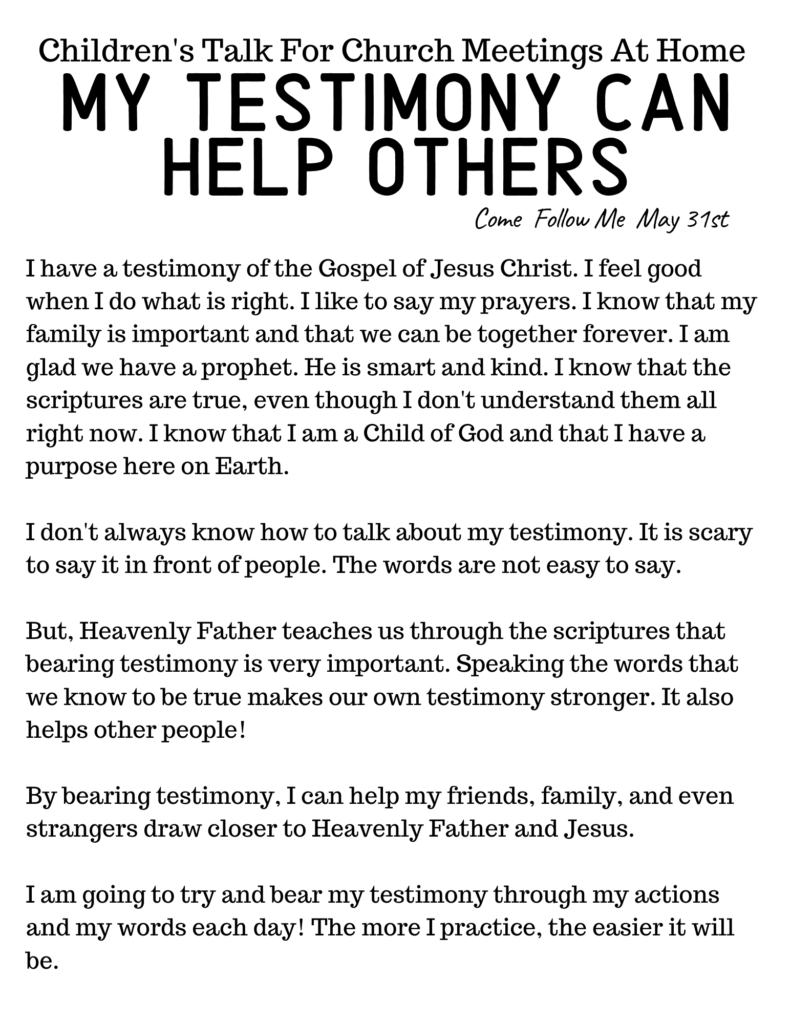 I have a testimony of the Gospel of Jesus Christ. I feel good when I do what is right. I like to say my prayers. I know that my family is important and that we can be together forever. I am glad we have a prophet. He is smart and kind. I know that the scriptures are true, even though I don't understand them all right now. I know that I am a Child of God and that I have a purpose here on Earth.
I don't always know how to talk about my testimony. It is scary to say it in front of people. The words are not easy to say. But, Heavenly Father teaches us through the scriptures that bearing testimony is very important. Speaking the words that we know to be true makes our own testimony stronger. It also helps other people!
By bearing testimony, I can help my friends, family, and even strangers draw closer to Heavenly Father and Jesus. I am going to try and bear my testimony through my actions and my words each day! The more I practice, the easier it will be.
My Testimony Can Help Others PDF
Pin this image to save Primary talks post: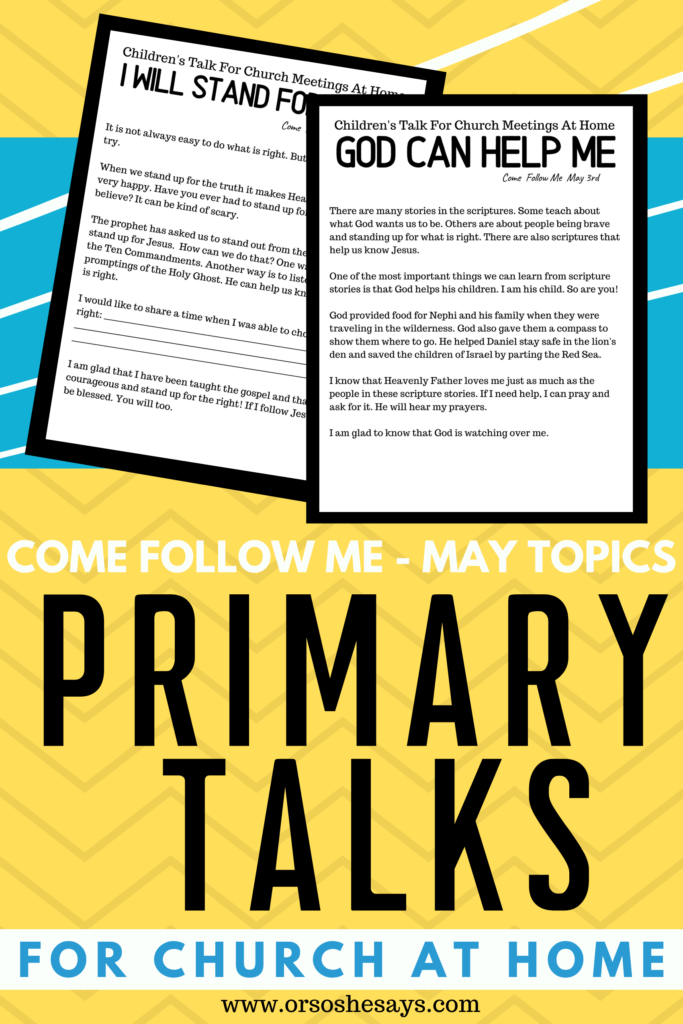 If you liked these Come Follow Me ideas for church at home, check out: