Need some rotisserie chicken recipes for dinner at home?? I've got over 50 of them for you! Honestly, I made this list for myself… to give me some ideas when I need an easy dinner that includes rotisserie chicken. But, I'm hoping you find it valuable too.
Life with 7 kids can get pretty busy, so any time I can knock one major step out of my recipes, I'm all for it. I'm talking about rotisserie chicken, folks. Rotisserie chicken has making family dinner possible around here. No more dealing with slimy, raw meat. No more chopping, trimming off the gunk, cooking, and sanitizing everything that touched it. All of that is completely done! Just pull the meat off the bones, and you've got yummy, flavorful chicken, ready to add to any chicken dinner recipe.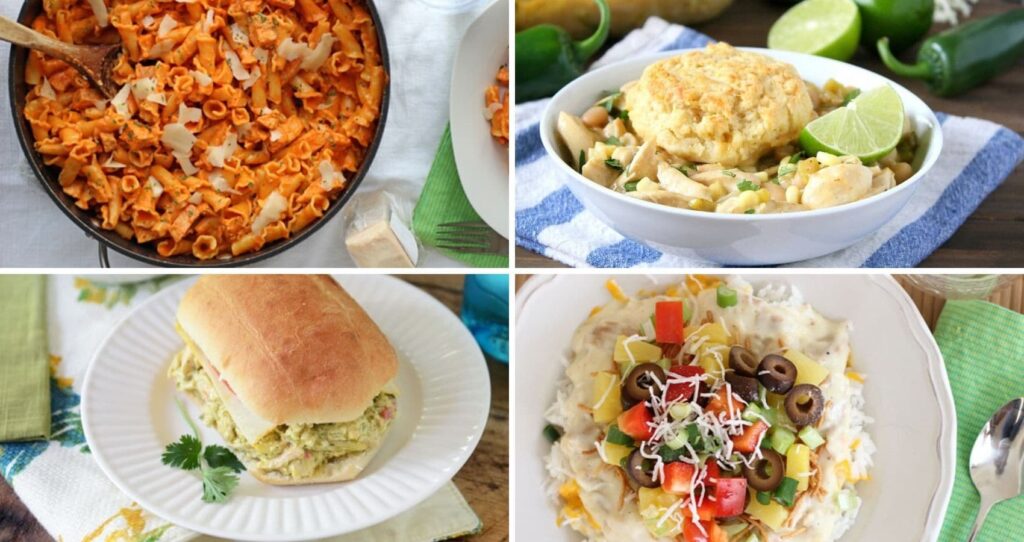 Rotisserie Chicken Recipes for Dinner at Home
Not every recipe will specifically say to use rotisserie chicken. But, I verified that rotisserie chicken can be used in place of cook-yourself chicken, for each recipe. They should all be easy to figure out how to substitute.

Salad Recipes with Rotisserie Chicken
BBQ Chicken Salad
Strawberry Chicken Bacon Salad
Chinese Chicken Cabbage Salad
Classic Chicken Cobb Salad
Thai Peanut Chicken Salad

Sandwiches and Wraps with Rotisserie Chicken
Chicken Pesto Sandwiches
Greek Chicken Pitas
BBQ Ranch Chicken Wrap
Chicken Puffballs
Chicken Bacon Guac Quesadillas
Chicken Salad Sandwiches w/ Bacon & Ranch
BBQ Chicken Grilled Cheese
Copycat Chick-fil-A Chicken Sandwiches
Chicken Cowboy Quesadillas
Chicken Wraps with Peanut Sauce
Curried Chicken Salad Wraps or Sandwiches
Buffalo Chicken Wraps
Asian Chicken Lettuce Wraps

Soup Recipes with Rotisserie Chicken
Olive Garden Chicken Gnocchi Soup
White Chicken Chili w/ Mozzarella Biscuits
Easy Chicken and Dumplings
Chicken Noodle Soup
Copycat Panera Chicken and Wild Rice Soup
Easy Chicken Tortilla Soup
Creamy Chicken Noodle Soup
Crack Chicken Chili

Pasta Dinner Recipes with Rotisserie Chicken
Lemon Cream Chicken Pasta
Roasted Red Pepper Chicken Pasta
Chicken Alfredo
Cajun Chicken Pasta
The Best Chicken Spaghetti
One Dish Chicken Yakisoba

Pizza Recipes with Rotisserie Chicken
Chicken Pesto Pizza
Chicken Bacon Ranch French Bread Pizza
Buffalo Chicken Mini Pizzas with Rhodes Rolls
Easy BBQ Chicken Pizza

Rotisserie Chicken Dinner Ideas ~ Misc.
Coconut Chicken Curry
Chicken Fried Rice
Hawaiian Haystacks w/ Chicken Gravy
Baked Chicken Chimichangas
Chicken & Cottage Cheese Enchiladas
One Pot Cheesy Chicken, Broccoli, Rice
Italian Chicken & Sausage Nachos
Chicken Pot Pie (Using Frozen Pie Crust!)
Bourbon Chicken and Rice
Honey Chicken Stir Fry
Chicken Enchilada Casserole
Chicken and Rice Casserole
Chicken Tacos
Fiesta Chicken Casserole
Baked Creamy Chicken Taquitos
Chicken Cordon Bleu Casserole
Chicken Tostadas w/ Poblano Sauce
Pin This Image to Save These Rotisserie Chicken Recipes at Home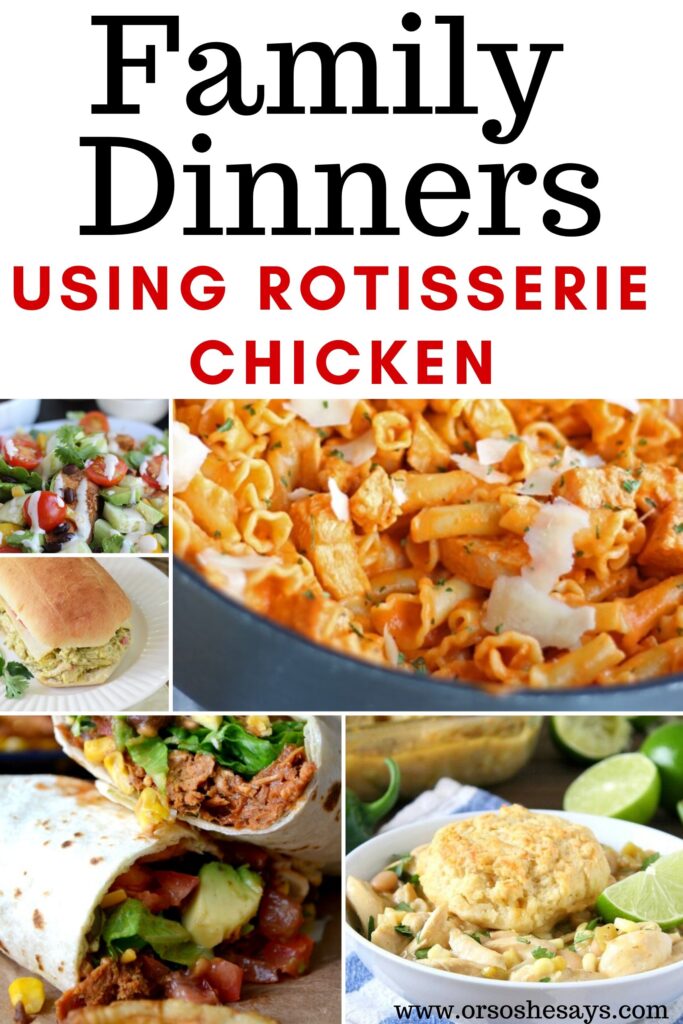 Love These Store-bought Rotisserie Chicken Recipes? Check Out:
Join 180,000+ others & follow OSSS for lots of family ideas!
NEWSLETTER (free most-requested family recipes download included!)
PINTEREST (lots of awesome family related ideas!)