Hello new friends! My name is Jeanie and I blog over at Create & Babble. I'd love for you to come visit me there! I can't tell you how excited I am to be here today to share this craft with all of you! First a little about me: I have three grown children (gulp….how did that happen so fast?!?) and recently became an empty nester when my daughter married last summer. I must say it was a little hard at first, but I've definitely gotten used to this new status! Bonus: the house is all mine (and her bedroom makes for an awesome office/studio/craft room!). You know the saying, that the best time of your life is the time you're in right now? That is so true.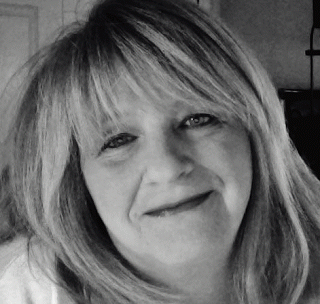 Who is ready for Spring? (I'm sure we all are, especially those of us here in the Northeast!) Well, since March is just around the corner and with that brings St. Patrick's Day, I want to share this little craft tutorial. Warning: it involves glitter. I know, I know: glitter is messy. I love the look of glitter, but not the mess. But not to worry. I have come across a way to use glitter that avoids all the mess, so glitter and I are friends again! I used this method to create these Christmas Ornaments last year and I thought, "Hey, I can try this method with a vase!" The good news is: it worked!
Pour a few tablespoons of the floor finish into a clean, dry vase and swirl it around to cover the inside of the vase. I just put one hand over the opening of the vase and shook it. Pour the excess floor finish back into the bottle. Next, just dump some glitter into the vase, and using the same method, shake it around with one hand over the opening until the entire inside of the vase is covered with glitter. Nothing to it, and it only takes a minute or two.
Of course since you can't put water in the vase, you'll have to come up with something else besides real flowers to put in it. My "something else" are these cute shamrocks I made using my Silhouette Cameo. If you have a Cameo, there a tons of shamrock shapes in the Silhouette Library, and if not, you can make your own. I cut two of each patterned paper and glued them onto a wooden skewer. (You do have to be kind of careful when putting the skewers into the vase because the glitter can scratch off) I have to admit that I really don't do much in the way of decorating for St. Patricks's Day, so this is a pretty, little way to acknowledge the day and add a touch of green and glitter to your home.