THIS GIVEAWAY IS NOW CLOSED. HOWEVER, THE DISCOUNTS REMAIN VALID UNTIL EXPIRATION. THANKS FOR ENTERING!
Oh, yes. It's time. Time for the annual Mother's Day Giveaway where I have lots of prizes (12 winners!), Mother's Day gift ideas, and discounts…JUST FOR YOU!
So, pull up a seat, grab some Crystal Light, and check out the good stuff…Mother's Day is right around the corner…
If you're a regular on my blog, you are probably familiar with Malouf Fine Linens. I blab about them all the time, and they're always up for participating in my giveaways…which is awesome, cause everyone wants to win their stuff! Plus, they give my readers killer-discounts (see below.) AND…I love them. After trying nearly everything they make, I think I have zeroed in on my favorite pillow, the Zoned Dough, Low Loft (of course, the priciest ones.) It's got the whole memory foam thing going on, but it's way softer. If you imagine laying on a wad of bread dough, and your head slowing sinking in…it's kinda like that, except better, and its low in carbs, in case you happen to eat it, while dreaming of bread dough. My husband loves the Convolution, because it's a little lighter and fluffier. For movies, we like propping up with the high loft Talalay Latex. It's funny how there are endless opinions and options, when it comes to pillows! I love trying them all. I also love their sheets and mattress protectors, I keep ordering more and more. I actually gave their pillows to my relatives for Christmas. They were a big hit! 🙂 I'm practically a Malouf Fine Linens connoisseur (I just had to look that word up to spell it correctly.) Anyway, women love luxury bedding, so I'm thinking it's a great Mother's Day idea, especially considering the mega-discount! I may just have to order some more, too!
Visit their shop and 'like' their Facebook page too!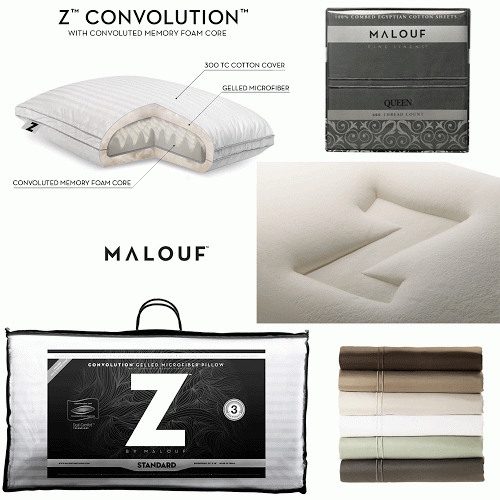 Malouf Fine Linens is offering the winner TWO of their most popular pillows, the Convolution, with a choice of King or Standard size (valued at $160 bucks!) Everyone else can receive a hello-whopping 50% discount on the purchase! Just enter the code OneSheTwoShe at checkout. This offer is valid until June 1st, 2012.
I have an entire drawer stuffed full of swimsuits, and at least half of them are from Hapari. I'm the kind of gal that wears a swimsuit because, well…I'm going swimming. I'm chasing after my kids, whipping together PB&Js on the beach, changing diapers while trying to keep sand out, and building sandcastles. I like to look stylish, but I don't feel the need to 'let it all hang out,' if ya know what I mean. And, THAT is why I love so many of Hapari's swimsuits. They make it easy to look hot, and still be stylish. Thank you, thank you. Plus, they have put a lot of thought into women's 'trouble zones,' and have specifically designed their swimsuits to help you feel more confident while wearing them. I so appreciate that! We could all use another swimsuit…kinda like shoes…so, why not give one for Mother's Day, or even a gift certificate, then Mom can pick her own. Summer is right around the corner!
Visit their shop and 'like' their Facebook page too!
Hapari Swimwear is offering the winner $85 dollars to spend in their shop on a new swimsuit!
Prairie Creations holds a special place in my heart. Why? Because 3 years ago, I blogged about their awesome necklaces, and how I really wanted one. That was the FIRST POST I ever wrote on this blog! Ahhh…sweet. So, now they're here with me today, participating in one of my giveaways and I am the proud new owner of my man's fingerprint, on a necklace, in silver. It's awesome. These "Priceless Prints" are endlessly amazing because they can become family heirlooms and special mementos to remember those you love. I can't wait to get a fingerprint charm of my grandparents, parents, and children. I'm a sentimental gal, and th ese are so perfect…great for Mother's Day! I literally cannot think of any woman that wouldn't want this…so, do you have a mother that's hard to give to?? Give her one of these kits!
From the owner…
"Prairie Creations is the "original" pure silver fingerprint pendant kit. Capture that new bundle of joy, the bond of sisterhood, the love of your life, a furry friend or each one of grandma's pride and joy. "Priceless Prints" are unique, free-form fingerprint pendant charms offered in solid .999 fine silver or 22kt gold. The are the actual fingerprints, not reproductions of molds. Each kit contains enough pure silver clay to make one fingerprint of your loved one! They are heirlooms to pass down and will surely be treasured forever!"
Visit their shop and 'like' their Facebook page too!


Prairie Creations is offering the winner one Priceless Prints kit (valued at $85!) Everyone else can receive 10% off their purchase. Just enter promo code OSTS at checkout. This discount is valid until April 29, 2012.
If you ever come to Utah, you have to visit Historic 25th street in downtown Ogden. It's one of those places where you gather up your girlfriends and spend an afternoon eating, visiting the Farmer's Market, and checking out the shops. It's one of my favorite places! The buzz is everywhere about 25th Street's newest shop, The Imaging Depot. This HUGE, technology and customer service driven, modern shop is every photographer's dream…from professional all the way down to I-barely-know-what-I'm-doing-with-this-camera. At first, I was like, "eh, another printing shop with camera equipment," until I walked inside. There were photography classes going on, customers printing their own pictures, camera equipment everywhere, and professional employees helping people create, at every turn. There's printing being done on metal, slate, slap bracelets, canvas, wallpaper, you name it. Things I had never heard of! The photo books were gorgeous, a zillion times nicer than the Shutterfly one's I've made. The paper quality was top of the line, and all the options on bindings and layouts really caught my attention. Another bonus to printing with The Imaging Depot is that they're a pro-lab, they'll personally color correct your photos for you, even when you use their online service. So, you don't get your finished product with poor looking photos. Something I'm personally excited about is their photography and photoshop classes, which heaven knows I need. Really, they're something for everyone…especially for Mom. So, head on down there, or visit their shop online, and they'll take good care of you!
Visit their shop and 'like' their Facebook page!
The Imaging Depot is offering the winner a 20 x 30 custom photo canvas wrap, valued at $136 dollars, plus free shipping! Everyone else can receive 20% off printing services or photo gifts. Just enter the online code "orsoshesays" at checkout, or mention "Or so she says…" discount in the store. This offer expires May 12, 2012, the day before Mother's Day, so get crackin! Also, take note of their current sale, 100 pre-paid 12×12 scrapbook pages for just $1.39 each.
~ Mama's a Princess Too ~
I love supporting Etsy sellers! So many of them are stay-at-home mothers, who are trying to earn a few bucks on the side. I know that lots of us that can relate to that. Maria, owner of one of my favorite shops, Mama's a Princess Too, is so adorable. Everything she creates is super feminine and vintage inspired. She packages everything so they're ready-to-give, and the cute poem she attaches adds the perfect touch. I have a whole pile of her handmade cards…and they're hard to give away, they're too pretty! But, really…they're a perfect card to write your mom a love note. Or, even give her a whole stack of them, with a custom address stamp, and pen, so she can write her own. We could all write a few more sweet notes and 'Thank You' cards, right? Wrap one of her custom hair bows around the package, and you're set. Mom will love you! …maybe, she'll even send you a 'Thank You' card, if you're lucky. 🙂 You will also find darling items for the baby, in the shop, as well…tutus, hair bows…check it out! And, be sure to take advantage of the discount (see below).
Visit her shop and 'like' the Facebook page too!
Mama's a Princess Too is offering the winner $75 dollars of in-store credit! Everyone else can receive 20% off their purchase! Just enter promo code 4MOMMAS2 at checkout. This offer expires May 13, 2012.
I had the pleasure of visiting Wasatch Crossfit (Layton, UT), last week, for a personal training session and tour. It was awesome…and, I was way sore the next day. Have you tried crossfit? I love it, because even though it's hard…you're really pushing yourself and trying to do things quickly, the workout is over before you know it. You might do a difficult 20 minute workout, but it will be far more beneficial than an hour long standard workout. Michaela (the trainer I met with) was perfect for me. We went through a series of exercises and I realized I had been doing nearly all of them wrong! She showed me simple adjustments that would significantly increase the effectiveness of the exercise, such as my sit-ups, push-ups, squats, and so on. The facility was huge, and dedicated to crossfit. There were several classes going on, filled with men and women of all different ages, shapes, and sizes. I even saw a lady who looked about 8 months pregnant! Me…8 months preggo…moaning and groaning on the couch. If I lived a little bit closer, I swear I would be there at least a couple times a week. If you're interested in their classes, check out the web site. There's boot camp, crossfit for kids, Olympic weightlifting, and even a FREE class every Saturday morning at 10. Another thing I loved about Wasatch Crossfit, is that it was filled with mostly women. Not that there's anything wrong with men…we love them, right? But, working out with a bunch of other women, just feels a little more comfortable. For me, at least! Anyway, a personal training or nutrition package or a membership to Wasatch Crossfit, would be a great Mother's Day gift for the mom who is wanting to get in shape, lose weight, gain endurance, or whatever their fitness needs may be.
Visit their site and 'like' their Facebook page too!


Wasatch Crossfit is offering the winner a 6 week nutrition program, valued at $169 dollars! This will include a pre/post meeting to measure body fat, body composition goals, the development of a nutrition plan, weekly food journal and feedback. People typically lose 10-20+ lbs and 2-5% + body fat during 6 weeks. Another winner will win a one time nutrition consultation via email. Everyone else can receive $25 dollars off their personal training session with Michaela. Just mention this giveaway discount when scheduling ([email protected]). This offer is valid until May 30, 2012. Also, don't forget that anyone can come to the Saturday at 10 class for FREE!
~ doTERRA Essential Oils ~
doTERRA Essential Oils
are seriously the RAGE here in Utah (but, they're available everywhere.) Women are going crazy over this stuff. It's all about using nature to heal your ailments and saving money on health care. There are lots of essential oils on the market, but
doTERRA
guarantees the safest, most pure, therapeutic grade oils available. My friend, Kara, is a sales rep, and she is literally the Oil Goddess. She is a die-hard believer in the goodness of oils, can answer all your questions, and get you everything you need. I'll call her up and be like, "Dude…I've got a bladder infection." And, she's like, "You need lemon grass oil and the On Guard blend. Also, take oregano in a capsule 3 times a day." Then she'll tell me 10 stories about how this oil helped so-and so, and this other oil worked wonders on so-and-so, and how life is so wonderful with these oils. She is literally the perfect person to know if you're interested in using oils in place of medicine. So far, the oregano has totally worked for getting rid of my pesky bladder infections. It's so nice to be able to avoid antibiotics, which always leads me right into a yeast infection.
(You wanted to know that, right? I'm not shy. I'll talk to you about my yeast infections all day.)
I can't speak for a lot of the oils, because I'm still in the process of trying different ones out, but I just ordered the vitamins and Kara gave me a tub of the moisturizer, both of which I'm anxious to try. There are so many products available through
doTERRA
: oils, skin care, cleaning products, vitamins, kits, and so much more. There's sure to be something that mom would love to try for Mother's Day!
Visit their shop today!
Kara is offering two winners $40 dollars worth of doTERRA product, plus an email consultation to help you pick the right products for your needs! This also includes free shipping. Everyone else can receive 10% off their order. To redeem, just email kara ([email protected]) what you want to order, and she'll work out the discount for you. This offer expires May 6, 2012.
One of the most affordable ways to give a gift is to make it yourself!
Poppy Seed Projects
makes crafting simple and cheap. Now, you can take care of mom, mother-in-law, and all grandmothers without breaking the bank. All projects come unfinished with step-by-step instructions….finish it just the way you want to. Now you can perfectly match your frames and decor to the colors of your room! In their shop, you'll find: frames, magnet boards, photo boxes, subway plaques, wood letters, LDS projects, vinyl, and more. I also love that bulk pricing is available, which is perfect for gathering your friends and sisters for a crafting party, take care of Mother's Day together! You can even host a class at your home, and earn free
Poppy Seed
products.
Check out their shop and 'like' their Facebook page too!
Poppy Seed Projects is offering 3 winners an 11×14 Eleanor Frame, valued at $25 dollars each! This also includes free shipping. Everyone else can receive $10 dollars off your $50 dollar order! Just enter code "soshesays" at checkout. This offer expires May 5th, 2012.
~~~~~~~~~~~~~~~~~~~~~
Pretty fancy stuff, eh?
Here's how to enter…

You can earn up to 3 entries (leave a comment for EACH entry):
1. Leave a comment (preferably with your email address, to contact you, if you win.)
Bonus Entries:
2. Tell your friends about "Or so she says…" (or this giveaway) on either Facebook, Twitter, or your blog (with a link.)
3. Visit each shop (really), and tell me about some of the coolest things you saw.
This giveaway will run until April 28, at midnight MST. Winners will be announced next Sunday evening on the blog and Facebook.
* Be sure to take note of all the great discounts…they all expire fairly soon! All of these things would make great Mother's Day gifts. 🙂