It happened. My little girls caught the American Girl Doll bug. I thought I was in the clear, my girls have never really been into dolls. But then…the catalog came. They carried it around everywhere, looked at it in bed, circled their favorites with markers, started noticing which of their friends had one, and now…it's ALL they want for Christmas.
Okay, okay…I confess. I checked out that catalog, and I kinda…sorta…wanted some of those dolls too. Not sure what I would do with them, but those historical dolls are so fun!
Anyway, I did it. I got them both a doll and researched my brains out. Seriously, they're like laying on the floor. It's disgusting. I keep stepping on them. But, at least I found some great info to share with you! Oh, and if you have any great tips for us, your fellow American Girl doll shoppers, please share them in the comment section!
Let's get started…
Dolls –
I wish I could say that I found some killer, secret way to get American Girls for cheap, but I came up empty. It looks like you just have to fork over the dough. However, there's always unreliable options, like finding a good deal on eBay (remember when eBay had good deals??), finding a used doll in the classifieds, and…that's about it. I suppose it helps to know that American Girl Dolls can actually go UP in value if they're well cared for, which also makes it easier to explain to the husband. But, it's also why it's hard to find a deal…boo. So, it's a trade-off. However, if you get the doll, full price, don't fret…there's ways to save money on clothing and furniture.
* If you purchase an American Girl doll, the word on the street is that you NEED to get the doll hairbrush that they sell too. It keeps that doll's hair nice and non-frizzy.
* Update 2013 – Also, from my personal experience, get a doll with straight hair, if your little girl will be playing with it a lot. I bought my Isabelle a doll with curly hair, to match her own hair, big mistake. The curls got so nappy, to the point where there's no saving them. My other daughter Audrey got a doll with straight hair (McKenna) and her hair is still perfectly soft and smooth. Isabelle won't even play with her doll anymore because she says her hair is ugly. 🙁
Clothing –

American Girl Doll clothing averages about $30 per outfit, sometimes a couple dollars less, sometimes many dollars more. But, here are some options for finding cute outfits cheaper…
– My favorite way to get clothes for the American Girl dolls is when Zulily is offering a 'daily deal' sale. Probably three times in the last month or so, they have had great deals on 18″doll outfits. The ones I love the most are the deals where they offer the doll outfit and a matching outfit for your daughter. I totally stocked up. For example, Dollie & Me was offering a deal through Zulily for the matching sets…I believe they were around $20 bucks for both outfits (doll & daughter), maybe less. They're normally twice that much. So, I just watch every day for those deals. They also recently had one on furniture for 18″ dolls. It was way cute stuff, but I was too late in the game. The items I wanted were sold out. Oh, the only beef I have with Zulily is their shipping…it's slow!! So, if you order too close to Christmas, unless they say otherwise, I would plan on not receiving the items until after Christmas.
– Carpatina is a company that makes 18″ dolls (like American Girl). Their dolls are only about $15 dollars cheaper. Probably not enough difference to sway you from getting an AG doll, if that's what your daughter is hoping for. However, Carpatina has adorable outfits, that will fit AG, that average about $20 dollars. Just be sure to get their Girlfriends Collection line, as the waists are a little bigger, made to fit the AG dolls.

– Doll Factory Direct also has cute clothing for 18″ dolls. They tend to be just a couple dollars more than those from Carpatina, and several dollars less than American Girl. I do like that you get several pieces with the outfits, like the belts, shoes, purses, etc.
– I haven't been yet, but a Facebook fan mentioned that children's consignment stores sometimes have racks of American Doll clothing. Now, THAT would be a find!
– Target offers an American Girl knock-off called Our Generation. Although the price is significantly better, reviewers say the quality, cuteness, and 'magic' just doesn't compare. But, you can find entire outfits from the Our Generation line that will fit American Girl dolls for just $16 bucks. Toys R Us also has a knock-off line called Journey Girls. Their outfits average around $16 dollars, as well.
– I've also heard rumors that American Girl will offer deals on Black Friday and Cyber Monday. It sounds like they don't pertain to the dolls, but sometimes you can get sales on clothing and accessories.
– The Springfield Collection offers 18″ doll outfits for super cheap! Try nine bucks. They don't seem as I'm-gonna-die-cute, but they're still cute, and for THAT cheap…?
Furniture & Home Accessories –

As expected, American Girl doll furniture is insanely cute, but super pricey. I'm talking $100 – $200 bucks for a single doll bed! No thanks. But, what fun is a doll without cute furniture? Here's some less expensive options…
– The best price I could find on a cute bed is from Busy Beaver Toys. Granted, most of them are unpainted, but that doesn't scare me, especially when the beds range from only $29 to $49 (for the bunk bed with ladder.) How hard is it to paint a mini bed?? I just ordered that white bunk bed, so the girls can have their dolls bunk, just like they do. Plus, it was fun shopping for cute bedding…which we'll get to in a minute. ADM Woodcrafts also has cute single beds, also unfinished from around $30 to $40, but doesn't come with the mattress. If you're up to building your own bed, I love the easy explanation and guide from Ana White.
– To store the doll's clothing, Busy Beaver also has really nice unfinished dressers for $39. However, I opted for an unfinished wood trunk, because they were having a super sale at the craft store. I'll just paint it to match their room, or the doll's bedding. Also, craft stores, like Michael's or JoAnn's, offer great coupons if you sign up for their emails or mailers. Use those and get a great trunk! They sometimes have mini rocking chairs, stools, etc. that make really cost-effective and quality doll furniture.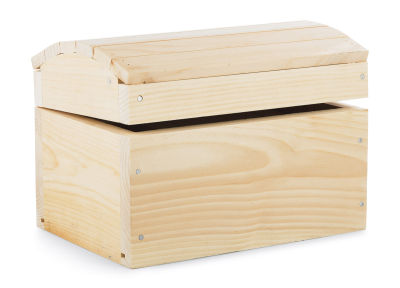 – I had the hardest time finding tables for a reasonable price. However, the items from the Etsy shop, ADM Woodcrafts are probably my top pick. A table and two chair set, unfinished, is $39.95. There are a couple variations to choose from. The shop is small, so I would jump on this. There is also the possibility that the owner will take pre-orders, just contact him.
– If you like the picnic table look, these sets are only $25 from CrrConstruction1 on Etsy. They also come in pink, white, and yellow.
– Though not the wood-look and quality that I love, Target's Our Generation line also offers furniture at a much lower price than AG. They have cars, tents, kitchens, salon chairs, bath tubs, and lots more.
– Etsy is a great place to shop for 18″ doll items. I just found the cutest bedding from Madi Grace Designs for just $24 (I shopped around a lot!) Of course, I had to get two coordinating ones for my two girls. There are several to choose from, and I love the details and fine work that is included for that price. I've also seen great bedding deals on Zulily, you just have to keep your eye out.
– If you sew…the greatest thing?? Bean bag chairs. Economical, make-to-match, and cute. You can even buy a pattern, here. If you don't sew, you can find them on Etsy (search 'American Girl Beanbag Chair') for under $20 bucks. This one from Jill's Fabric Designs is just $10.
– I also love these flip chairs (think chair/bed…sleepover??) from Honey Creek Crafts. $21.50
– Speaking of sleepovers…love these sleeping bags ($20) from Ava's Doll Room (also has cute bedding.)
…and, that's a wrap! Hope these finds help you with your shopping!
* For more of my American Girl favorites from across the internet, follow me on Pinterest, where I have an American Girl Doll board. I'll also try to notify you of any sweet AG deals that I find, on Facebook.

* Need gift ideas for everyone on your Christmas list?? I have a killer list of gift idea posts, just waiting for you. Find it here: Gift Idea Central.
I would love for you to share with us any of your tips on American Girl doll shopping!