* This post is sponsored by TruMoo. All content and thoughts are my own. *
I live in the Rocky Mountains – the part of the Rocky Mountains that is usually snowed in from Thanksgiving to Easter.
Not this year, though. We had an especially long Fall, and Spring is already on it's way. We had one huge snowfall on Christmas day, and it's been melting ever since. Are we the only ones with a super mild winter this year?
Part of me wants to enjoy this. The other part is wondering how we will water our crops this year. As for the rest of my family – well they are kind of bummed about all the enjoyable winter activities they missed out on this year. So while the birds chirped outside, I decided to bring winter indoors for a day, and we had a BLAST creating a winter wonderland right inside our living room. We had so much fun, I had to share these 5 indoor winter activities to enjoy, when winter doesn't happen outside.
Before we began, I set everything up for the activities and told the girls we were going to have a winter festival right in our house.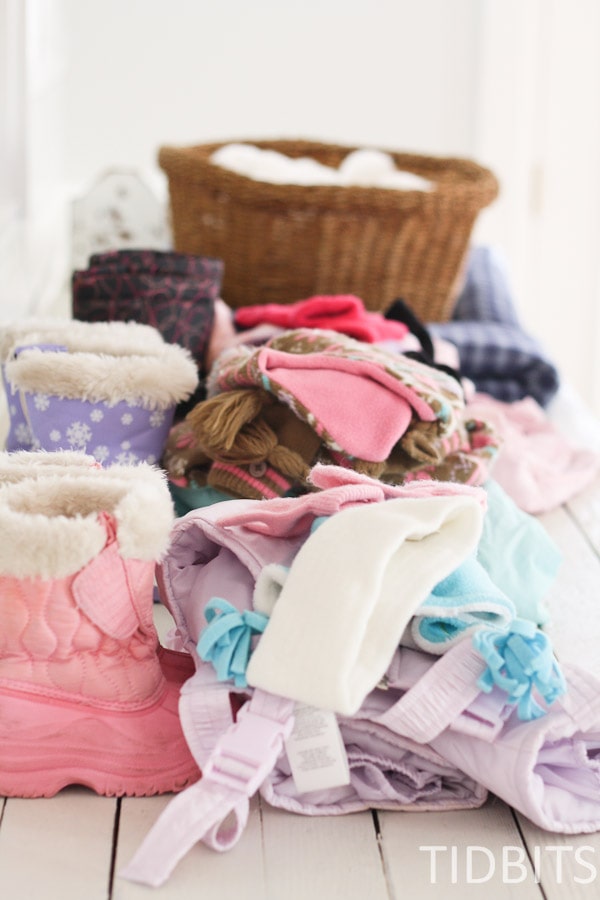 Then the fun began.
#1 – Indoor Sledding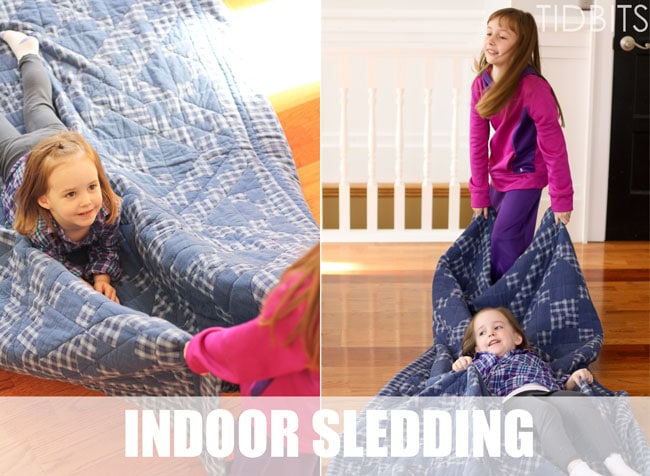 Sledding is my kids favorite thing to do in the winter time. We managed to fit it in once before the snow disappeared. To mimic the thrill inside, we used blankets and a little muscle and the kids took turns taking a ride around the house. You should have heard the giggles.
Even better, was when they hopped in a sleeping bag and slid down the stairs. Did you ever do that as a kid? Good times.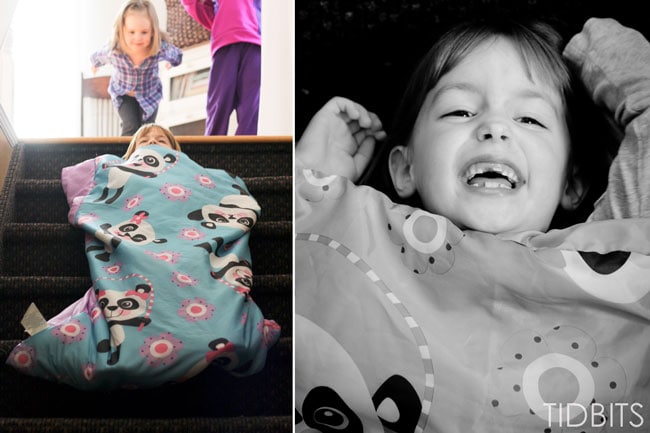 #2- Winter Clothes Race
I set out their winter gear and they raced each other to see who could get it all on first.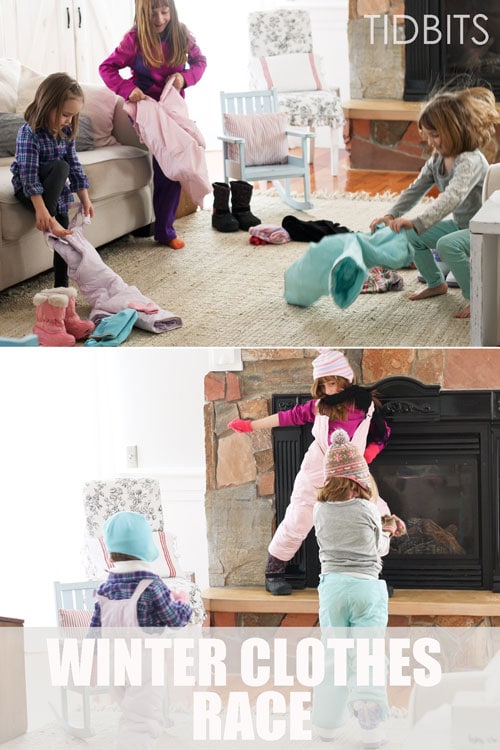 Then they had to strike a lovely pose on the fireplace.
And to complete the races, it all had to come off. There were clothes flying everywhere, which was hilarious to watch!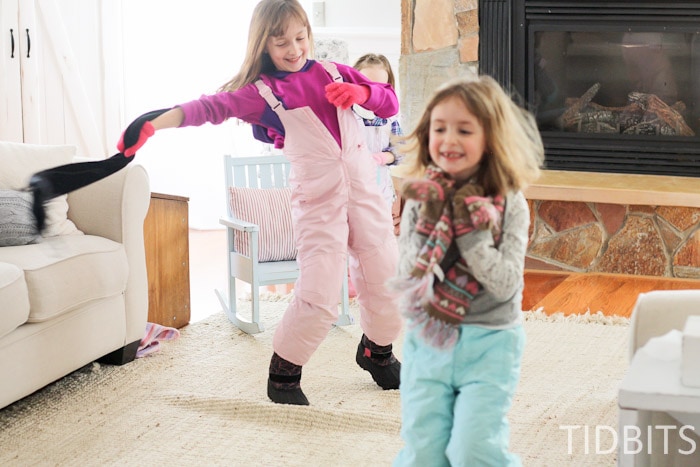 #3 – Build a Snowman
They were to use anything they could think of to make a creative snowman (or snowgirl, as they preferred).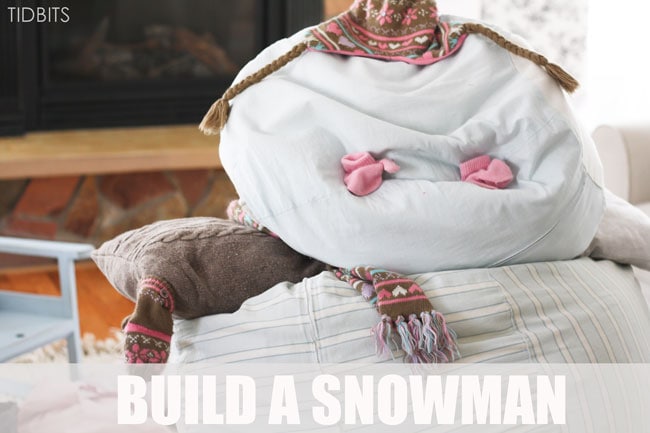 2 of my girls teamed up and worked with the bean bags – and whatever they could find.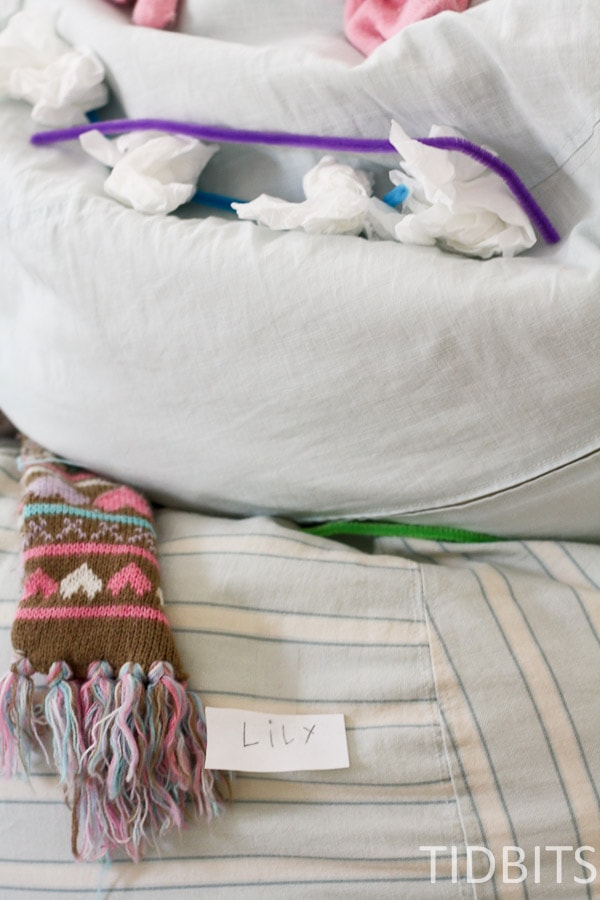 Her name was "Lily", and they quite adored her.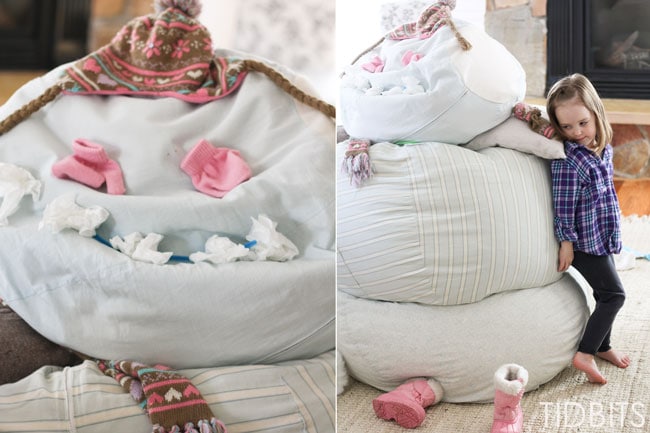 She had to be left up all. day. long.
Then my oldest spit out the funniest thing I have ever seen!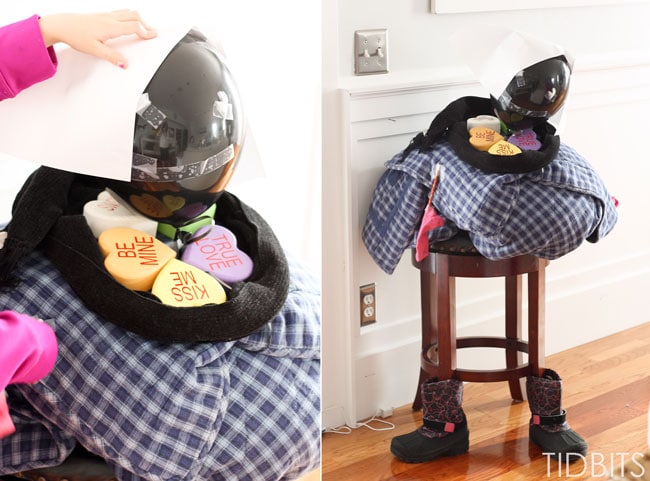 Such ingenuity. We all had quite the laugh!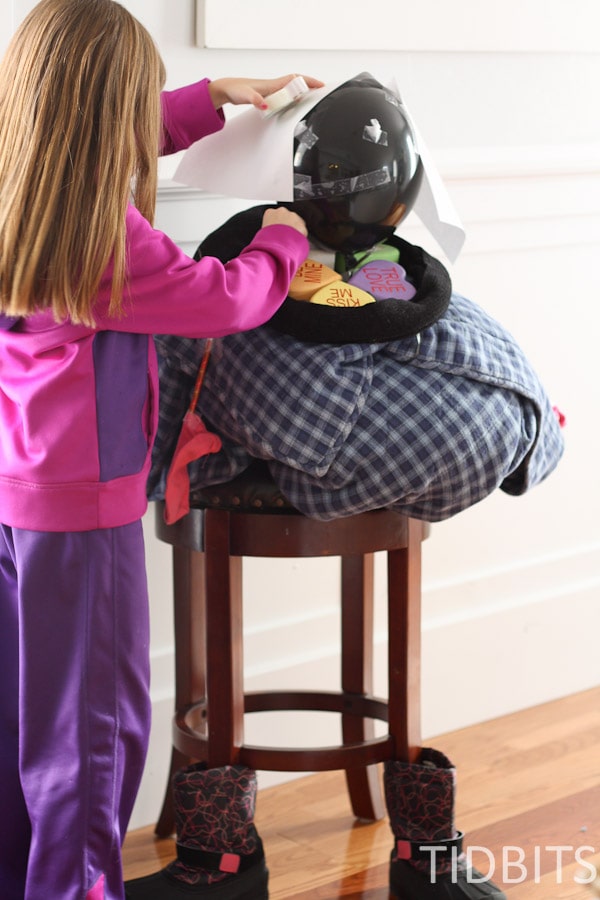 #4 – Snowball Fight!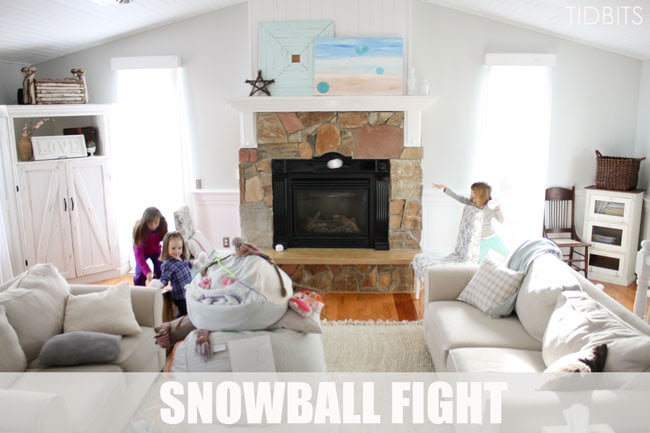 We happen to have these perfect soft indoor snowballs, for just such occasions. However, if you don't have such a thing, there are many other ways to have a snowball fight indoors.
Try crumbled up paper, or grocery sacks for starters. One of my daughters did that in her school class and they loved it.
Once I got the pictures I wanted, I was all over this game! We each took turns coming up with rules for different snowball fight games. This activity was definitely the favorite.
And to wrap our winter festival up –
#5 – Hot Cocoa
What is winter without a cup of hot cocoa right?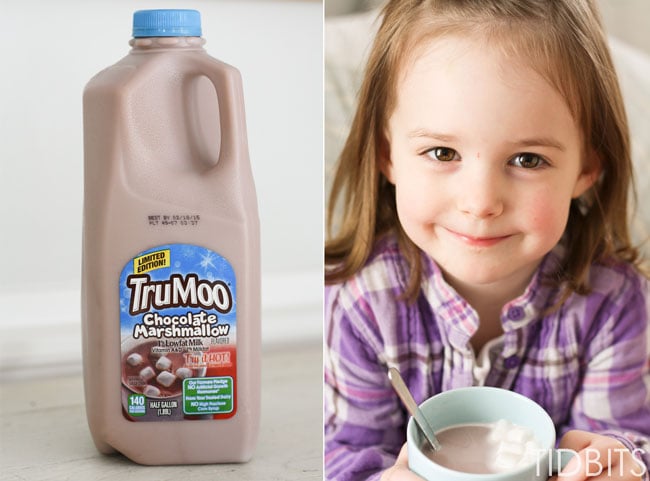 This TruMoo, chocolate marshmallow flavor comes highly recommended by 3 adorable little girls. All I did was stick it in a pan on the stove top, and warm it up for them – except one girl. She despises warm milk anything. But she loved it cold, just the same!
And the only thing better than chocolate marshmallow hot cocoa, is chocolate marshmallow hot cocoa with extra marshmallows!
A fun recipe to try with your TruMoo Chocolate Marshmallow Milk ~
TruMoo Rocky Road Hot Chocolate!!
TruMoo Rocky Road Hot Chocolate
Ingredients
TruMoo Rocky Road Hot Chocolate

2

cups

TruMoo Chocolate Marshmallow milk

1/4

cup

coarsely broken graham crackers

2

teaspoons

vanilla extract

Garnish: chocolate chips

graham cracker pieces, mini marshmallows, toasted almonds
Instructions
In small saucepan over medium heat, heat TruMoo Chocolate Marshmallow milk, graham crackers and vanilla until milk is hot.

Pour into mugs. Garnish with chocolate chips, graham crackers, toasted almonds and mini marshmallows* if desired.

*If desired, broil mini marshmallows until lightly browned before garnishing.

To heat in microwave oven, combine milk, graham crackers and vanilla in large glass measure. Heat on High 1 minute or until warmed through. Garnish as above.
A few facts about winter activities:
Watching movies tops the list of Americans' favorite indoor winter activities, followed by reading books and playing games.
The top outdoor wintertime activity for Americans is building a snowman, followed by starting a snowball fight and sledding.
Nearly 70 percent of Americans agree that hot chocolate is the drink that reminds them most of their childhood.
I hope you try out your own winter festival with your kids. Mine have been talking about it for days!
{To find out if a store near you stocks this flavor of TruMoo milk, visit this site here.}