Hello again! And happy February! You may think I'm crazy after you read a couple more of my posts, but hey, who doesn't need a bit more "crazy" in their lives? This month I want to share with you some thoughts on creating a little bit of NONSENSE in your life!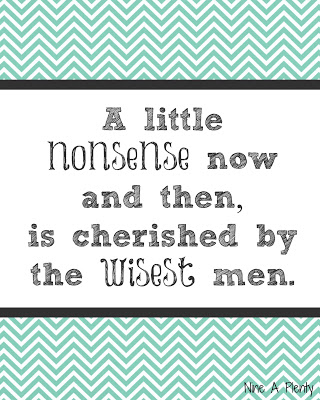 I'm a mom who finds the greatest joy in life's little moments. And I'm determined to catch those moments when I can. But, I'm also a mom who believes that sometimes you have to create those moments.
I'm a photo girl. Actually I'm a pretty crazy photo girl. Somewhere in my brain I've convinced myself the I. must. get. a. photo. of. EVERYTHING. The fun part of this, is that I have had fun catching the fun day-to-day moments. I have lots of great photos, with kids who have the perfect smile, the perfect outfit and the perfectly groomed hair. But then I have THESE:
They are some of my FAVORITE pictures because they tell the story of our family and remind me of 'moments' as a family that I want to remember. The ones that make me laugh. The ones that remind us that we have a fun, strong and happy family.
I thought I'd share just a few ideas/tips with you as you find and create your own NONSENSE!
UNPLANNED MOMENTS: Be spontaneous. Think outside the box. The mustache ones were a last minute idea while we were doing the "nice, well-groomed, posed" pictures. I don't even know the last time I looked at the nice ones.
I took this one after hearing them laughing on the car ride home. They were having so much fun with each other, so when they got out of the car, I got this fun picture. It will always reminds me of that car ride.
USE FUN PROPS: I found my mustaches at the dollar store, but you can get them here. Or Pinterest has a million fun printable props you can easily download and print. Like these:
GET TO KNOW YOUR CAMERA: These weird deformed pictures came at the end of a day while kids were doing dishes. I found the fun fish-eye setting on my point-and-click camera and went and had a little fun. Play with your camera. Even the small compact point-and-clicks have some really fun settings now.
GET CLOSE: I love my kids faces. I love their emotions. I love catching THEM. Try getting closer, where you can see more of their cute little faces.
TAKE MORE THAN ONE: Capture the story. This is one of my recent favorites! I just kept clicking. To read the sweet story behind it, take a peek at my blog post here.
INDIVIDUAL SESSIONS:
Have a fun 'session' with each child. I usually say something like this. "LUCY! Make a funny face! (click) Another one! (click) Another one!"…you get the point. My kids love this. They love being silly. They love creating new funny looks. And you'll end up with a treasure like this:
DON'T BE AFRAID TO EDIT: You don't need an expensive photo editing software. Don't get me wrong, they are awesome, but one of my favorite FREE, quick and easy ones is Picmonkey. It is EASY!! They have so many fun editing options and the collages are very simple to create. You'll love it. Try black and white. Try cropping closer. Try a collage. Don't be afraid to get on there and just play around.
The one on the left is straight out of the camera.
I didn't like the distraction of the big head of the angry bird.
It was his first tooth, so I wanted to just see the tooth, so I changed it to black and white and adjusted the exposure just a bit.
I love this picture of Lucy, but didn't like the white thingy-ma-jigger in the background.
Cropped it out, brightened it. LOVE that I can see her face better.
Black and white is a fun option because then there's no distraction of color, and I can really see her expression.
ANYHOOOOO!
I could share with you all my favorite photos. I won't, but IF I DID, you would see that most of my favorites aren't the darling, posed and perfect pictures. They are the pictures of real life in my home and they create a fun history of the REAL life we live.
So, to all you cute mama's. Don't be so serious. Pick your camera up, and start clicking. Don't worry about the 'perfect' photo or the 'perfect' smile. Catch the NONSENSE in your lives. And if there isn't enough going on, create some! Get silly. Laugh more. And start clicking!!
MOM TIP: Come on all you cute mama's! Get in the shot! Because if you don't, you may never have a beauty like this after your little lovelies do YOUR hair! Don't wait to lose "the weight", don't worry if you don't have makeup on…just get in the shot!
(Don't be jealous! You can have your own!)
NO KIDS AT HOME: Mama's who have no kids at home?! You've forgotten the biggest kid of all! Get some shots of your sweetie!
Have fun ladies! Get clickin'!