My lovely sis-in-law, Kylee is finally having a baby! I'm so happy for her and so excited to not be the only sibling with kids anymore…it's been a long time coming. I can't wait for my new little nephew 🙂 Anyway, so this weekend I threw together a small baby shower for her…here's just some of our group, below. That's her in the blue shirt, next to me. Look at that little belly! Does that look like a girl having a baby next week?!? Crazy.
Anyway,
I thought I would share with you what we did because it was so fun and intimate…
I had everyone come over for breakfast. We served up my very favorite, Breakfast Fajitas. They are SO seriously easy to make and I can eat like 10 of them. I think everyone that knows me has been served these at my house at one time or another. A long time ago I went to…oh, what is that restaurant called…Mia's Cafe (is it Mia's??) Anyway, I have never like anything I've ordered there, until this…and I love it. Luckily, it was so common sense that I could make it myself that I don't have to go back! Phew!
I'm not going to do a picture tutorial for you, because it's too easy. You would be offended.
Here's the recipe:
Breakfast Fajitas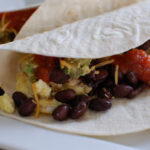 Breakfast Fajitas
Ingredients
Small Tortillas

Chopped Avocado

Shredded Cheese

Salsa

Black Beans

Sour Cream

Scrambled Eggs
Instructions
Make your scrambled eggs

Heat up the black beans...that's seriously it!

Wipe some sour cream on the tortilla.

Top with black beans, eggs, cheese, salsa, and avocado.

Eat lots!
We also served these with a fresh fruit salad, Mexi hash browns, and bread pudding. Yum!
So, I didn't really want to do a shower where we played game after game…and after lots of internet searching, I came across a couple of ideas I liked.
First, I picked up a couple packages of plastic binkis at Michael's craft store. I tied ribbons on them and gave one to each guest to wear around their neck. Each time they caught someone that had said the word "baby," they got to take that person's binki. The person with the most binkis at the end of the shower won a special prize (we did the movie, "
Three Men and a Baby
" and a bag of Baby Ruth).
Meanwhile, we appliqued onesies for the little babe! I picked up a few packages of onesies, cut out several picture patterns to be traced, a roll of heat bond, and several different fabric quarters.
See that table my husband built me for Valentine's Day?? Oh, I love him. (Now, I just have to paint it and find some cute chairs…ugh.) Anyway, making onesies was really fun, relaxing and made everyone feel comfortable. We got all the pictures cut and ironed on, just to be extra cautious we wanted to sew around the edges of the pictures…but, we decided to save that for later because Kylee still had presents to open!
For some more baby shower ideas, click HERE.