Hey everyone, it's Kimberly from Packed with Fun, the official blog for Get Away Today. As you probably know by now, we LOVE the Disneyland Resort. You may have heard that the happiest place on earth is coming up on a huge milestone, it's Disneyland's 60th anniversary. If you've ever been to a Disneyland anniversary, you know that they go all out to celebrate and this year is no exception. The official countdown to the Disneyland Diamond Celebration is on and the celebration officially will kick off on May 22, 2015 with a 24 hour party. No end date has been made available, so we're hoping for at least an 18-month celebration so that everyone can make travel plans to enjoy it.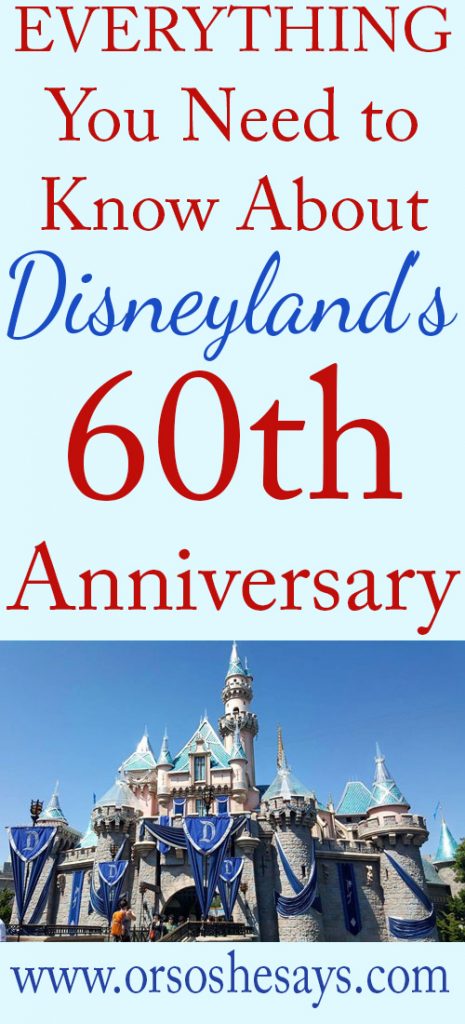 If you're wondering what all the buzz is about, here are the latest updates and a sneak peak into what you can expect during Disneyland's biggest celebration yet:
Disneyland Forever: Out of everything that the 60th Anniversary brings, this is probably what I'm most excited for. This is Disney's new fireworks show you'll want to see again and again because it's completely immersive and will be a different experience depending on where you view it. I got to see a sneak peak from Main Street U.S.A. in January, but when it premieres on May 22, it will be seen from Main Street U.S.A., Sleeping Beauty Castle, the Matterhorn, "it's a small world," or Rivers of America. If it were me, I would try to stay five nights and see Disneyland Forever from all perspectives, but I realize that may be a little overboard for some people. 🙂
Disney Paint the Night Parade: So, I may be equally excited for this as it is being touted as the NEW Electric Light Parade, which I totally remember from my first visit to Disneyland in the early/mid 80s. This incredible new parade features more than 1.5 million LED lights, lively music, energetic performers and your favorite characters from the Little Mermaid, Frozen, Cars, Monsters Inc. and many more. It's pretty cool that Disney is mixing some of their classic characters with so many of the more recent Disney/Pixar characters.
World of Color – Celebrate! The Wonderful World of Walt Disney: OK, perhaps it's a three-way tie for what I am the most excited for. I adore World of Color, and it is being replaced with an all-new version of the show. It will be hosted by Patrick Neil Harris and Mickey Mouse and tells the story of Walt's dream of Disneyland coming true. It will also focus on the first 60 years of the park and all of the beautiful family memories made there. I'm a sucker for nostalgia, so I'll be bringing my tissues just in case.
Diamond Mad T Party: The original Mad T Party was super popular a few months ago, and left to make way for the limited time Freeze the Night party. For the 60th, it's coming back and will shine even brighter than before with a new version called the Diamond Mad T Party.
Disneyland Diamond Days Sweepstakes: As part of the festivities, lucky park guests will have the opportunity to win daily and weekly prizes throughout the entire celebration. More information is going to be released closer to the anniversary, but some prizes that have been mentioned are VIP guides, real diamonds, and even an overnight stay in the Disneyland Dream Suite! If you went during the Year of a Million Dreams, you'll remember seeing prizes all over the place. This is supposed to be even bigger and better!
Fancy Characters: Mickey, Minnie and friends are putting on their party clothes and getting a whole new wardrobe for the Diamond Celebration. It'll make for some fun photo ops!
Diamond-ized Sleeping Beauty Castle: The stunning centerpiece of Disneyland Park just got even more dazzling with thousands of crystals and mirrors in all shapes and sizes. It's gorgeous during the day and promises to be even more dazzling when night falls.
Glistening Carthay Circle Theatre: Not to be out shined, the Carthay Circle Theatre will have its own dazzling makeover for the celebration.
Tomorrowland Preview: For a limited time you can watch an extended sneak peek of the Tomorrowland movie inside the actual Tomorrowland Theatre – how awesome is that?
The Hatbox Ghost Reappears: Fans of the Haunted Mansion will be thrilled (or chilled) to learn that the (in)famous Hatbox Ghost who was part of the attraction when it opened will be reappearing. Even he couldn't stay away from the 60th celebration!
Peter Pan's Flight: This is my favorite Fantasyland attraction and it is getting ready for an update. A new nursery scene and updated special effects are being added. The ride is scheduled to re-open in July.
The Matterhorn: The Matterhorn will re-open for the celebration with new effects and a storyline involving the Abominable Snowman and hidden treasure.
For the First Time In Forever: A Frozen Sing-a-long: Frozen fans will rejoice knowing that although many of the Frozen Fun elements at Disney California Adventure Park will melt away before the Diamond Celebration, the popular sing-a-long will stay frozen for the time being. We don't have an end date, but I can almost hear families shouting "Hooray!"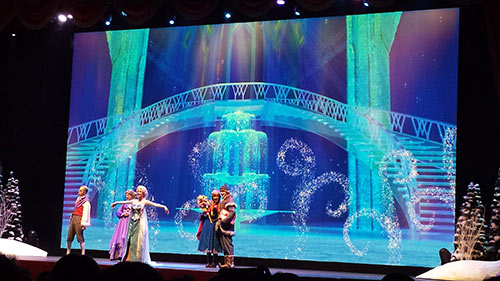 Anna and Elsa's Royal Welcome: Likewise, the royal sisters are going to stick around for a while over in the Animation Building. We're so glad that we don't have to let them go yet!
Frozen at the Royal Theatre: Elsa and Anna can also be seen daily in their own fast paced show at the Royal Theatre in Fantasyland.
There's SO much fun and magic to be had! In addition to everything listed above, special 60th merchandise and food items will be available throughout the celebration, Fantasmic! will be playing, Soarin' Over California will re-open with new and improved technology, and so many other surprises are in store. Because there is so much to see and do, I definitely recommend staying for as long as you can. For a limited time we have an "Extra Day Free" ticket so you can get five full days at the parks. We also have a number of free night hotel specials at Anaheim area hotels, so you can stay longer for free. It's a great way to go!
You can book your Disneyland Diamond Celebration vacation now and lock-in your low price for just $125 down and use promocode: OSSS10 to save an extra $10 on any 2-night or longer package. Our Disneyland packages can be booked at www.getawaytoday.com or by calling our Disney experts at 855-GET-AWAY.
For more great Disney posts on OSSS, try checking out the following:
25 Best Kept Disneyland Secrets
Disneyland Tips for the Pregnant Mom