Hello again! Creative Carmella here, and I am excited to share a beautiful and really simple, DIY personalized teacher gift that you can make in minutes! We are so grateful for the teachers in our kids' lives, and I love being able to show that appreciation in some small way. While treats are a nice gift, I think it's nice to accompany them (or maybe even school supplies) with a personalized note or piece of art that the teacher can hold on to.
For this project I used a burlap canvas I picked up at the craft store, lightweight cotton fabric, canvas ribbon, and my trusty hot glue gun.
The design on the cotton fabric is actually printed from my home, inkjet printer and it's so easy to do!
Start by designing your print, I use PicMonkey for things like this. Start with a blank canvas and then add text and pictures. A lot of fonts and stickers, borders and embellishments are actually free on PicMonkey, which is really nice. You could also upload your own photo and edit it.
Once you have your design, cut it to size and tape the cotton fabric to a piece of card stock paper. Load the paper, fabric side down, into your printer and print.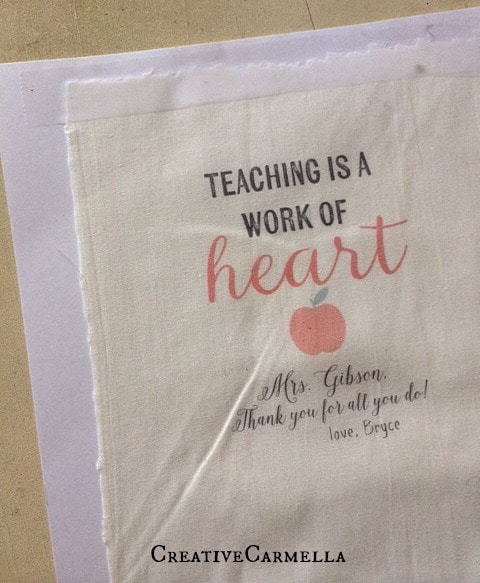 Cut out your design and hot glue it to the canvas.
Glue everything into place, and that's it! Your gift is ready to give. You could even add brass tacks to the corners, or buttons or anything else you may have on hand.
This would make a great gift for any teacher on your list- and something they could display in their classroom.
I hope you'll check me out elsewhere, like my Instagram and my shop! Have a great day, OSSS readers.
For more fantastic teacher gifts, check out these great OSSS posts:
Vintage Ruler Frame Chalkboard Sign