Hi there! I'm Sierra from the Blue Robin Cottage! I'm a mother of 3, lover of vintage things, preschool teacher by day, crafter by night and so excited to be here today! I don't know about you guys but at our house during summer break, we love getting our craft on! To kick off our summer crafting fun, we decided to make some whimsical little animal necklaces. Its a simple, kid-friendly project that you can help them make in under an hour! They also make great gifts!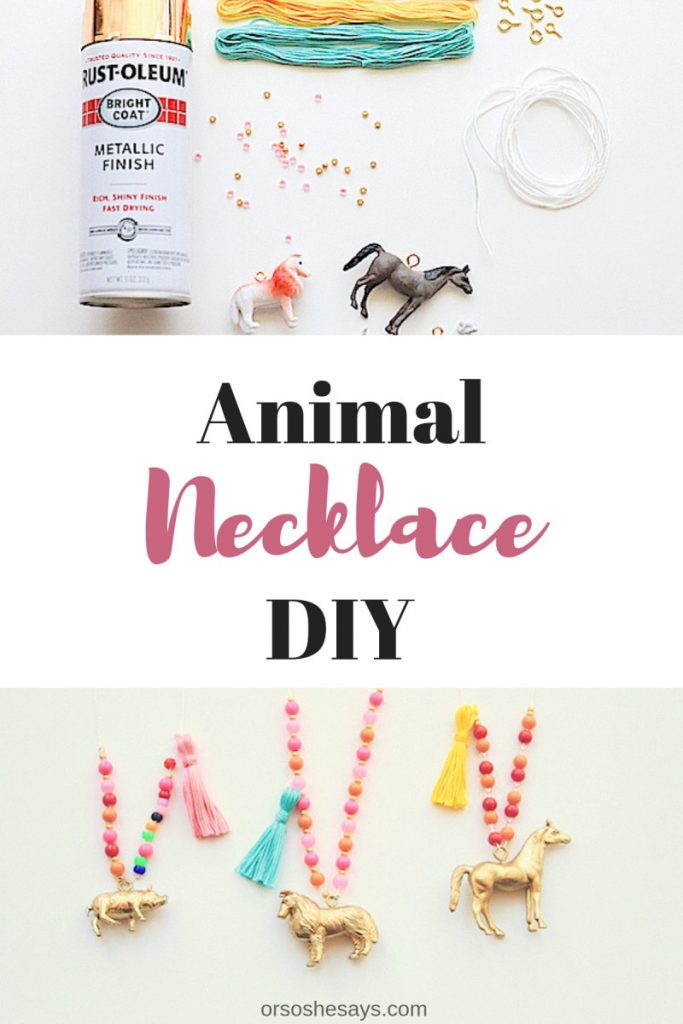 So let's get started with this awesome craft for kids!
You will need:
* Plastic Animals
*Several different colors of embroidery floss
*Small screw eyes
*String
*Beads
*Metallic gold spray paint (I like Rust-Oleum the best)
First, we made some tassels out of embroidery floss to accent our necklaces. To make the tassels, fold your embroidery floss in half (most already come this way):
Tie another piece of string around the top, leaving a tail. Wrap the string around several times tying it off to the tail:
Cut the end of the the tassel to desired length:
When finished, set those aside.
Next, take your screw eyes and twist them into the animals! You may need to poke them with a sharp tool to get them started.
When all of your animals have screw eyes in them, you can spray paint them gold:
Now for the fun part! Let the kiddos bead their necklaces! My kids loved choosing their animals and beads and had an absolute blast!!
Here's how our animal necklaces turned out:
It was a great way to spend time together on a summer afternoon. 🙂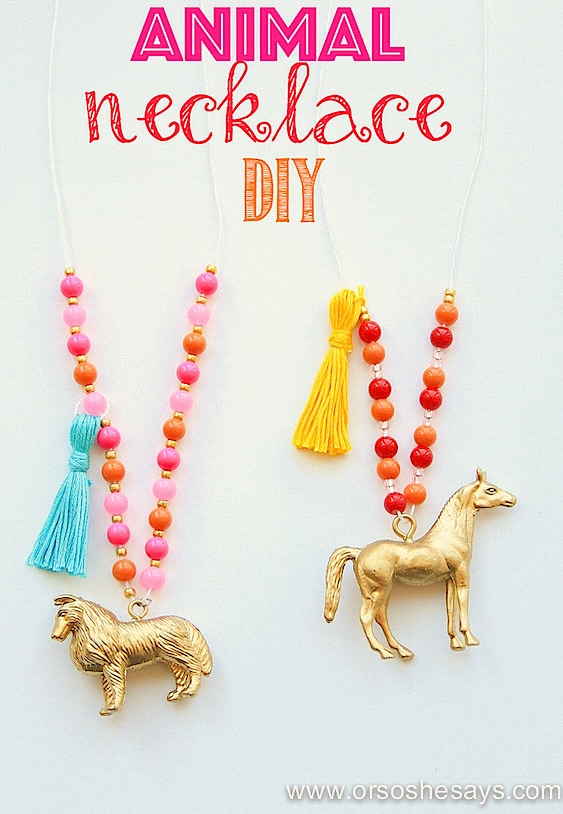 SUPPLIES YOU MIGHT NEED FOR MAKING YOUR OWN ANIMALS NECKLACES:
Animals Figure,54 Piece Mini Jungle Animals Toys Set,ValeforToy Realistic Wild Vinyl Plastic Animal Learning Party Favors Toys For Boys Girls Kids Toddlers Forest Small Animals Playset Cupcake Topper
Joyin Toy 69 Pieces Natural World Animal Dinosaur Insect Sea Animal Farm Animal Figures Easter Basket Stuffer Mini Plastic Vinyl Assorted Figures Playset
Etmact Small Plastic Farm Animals 24 Piece
Renba Embroidery Floss 100 Skeins Embroidery Premium Multi-Color Cross Stitch Threads Friendship Bracelet String
Small Screw Eye 216.5 Short Shank Screweyes 9/16 inch Long – 200 Pack
YYaaloa Pack of 200 Mini Tone Screw Eyes Pin Findings Jewelry Making Findings for Crafting, Clay Jewelry, Resin, Bead, Plastic10.3mmx4.7mm/0.4×0.18
Regency Cooking Butcher's Twine on Handy Dispenser with Cutter for Meat Prep and Trussing Turkey
Tenn Well Red and White Twine, 656 Feet 200m Cotton Bakers Twine Perfect For Baking, Butchers, Crafts and Christmas Gift Wrapping
Rainbow Pony Beads Kit, 6x9mm, 12 Bags Variety Pack, 12 Colors – 300 grams (about 1200 beads), Gift Set
Pony Beads Multi Color 9mm 1000 Pcs in Bag
Beadery Bead Extravaganza Bead Box Kit, 19.75-Ounce, Pearl
Cousin 31673 Mixed Plastic Beads, Assorted, 5-Pound
Krylon K09194000 COVERMAXX Spray Paint, Metallic Gold, 12 Ounce
Rust-Oleum 7710830 Bright Coat Metallic Color Spray, Gold, 11-Ounce
If you are looking for more fun summer craft ideas and sewing projects, make sure to visit my blog: The Blue Robin Cottage! I'd love a visit from you! 🙂
For more great crafts for kids, check out the following posts on OSSS:
Easy Father's Day Treat {Mustache and Tie Edition}