Happy Fall! I am so excited to be back and show you how I made this dresser mirror.
I recently painted a chest of drawers that is in my bedroom. You can read about that Ikea Hack here. I was thrilled with how it turned out but it was missing something: a mirror above it. Through a series of craft fails and happy accidents, I ended making the mirror using a cheap plastic tray that I keep in my craft closet as a template for large circles. The round mirror I bought months ago in hopes of jumping on the starburst mirror bandwagon, but I couldn't come up with an original idea! I've had the glass beads forever.
The mirror was incredibly easy to make. I just put it all together with E6000 glue and Glu6 Original and let it cure overnight before propping it up in the stand. I originally thought I would hang it on the wall, but because of all the glass beads on it, it's pretty heavy and it turns out that putting it in the easel-type stand (from Home Goods) works perfectly. It's at just the right angle. Want to make one? Here's how:
Materials:
round mirror (mine is from Jo-Ann Fabrics)
large, round acrylic tray (dollar store)
2-3 bags of Accent Gems from Dollar Tree
glue that works with non-porous surfaces (E6000 or Glu6 Original)
plate stand or easel (sturdy enough to hold mirror)
I started by gluing the mirror to the center of the tray, then glued the gems around the mirror. I ended up with four rows of gems to fill the tray. I let it lay flat overnight for the glue to cure.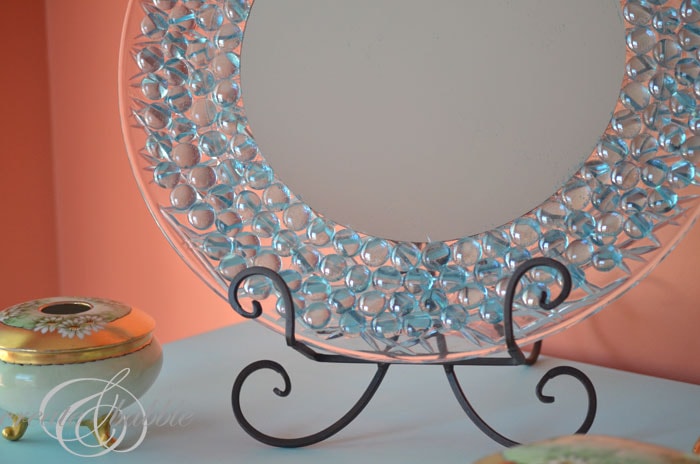 I had my doubts at first about how this would turn out, but I must say I love it! It looks great on my dresser and I think it adds just the right amount of sparkle and glam to my bedroom.
What do you think? I'd love to hear if you make one!
Now that it's officially fall, I'm sure you're all getting ready and decorating for the season. I am sad to see summer end, but we're still having summer-like weather here in the Northeast and I hope it continues for a few more weeks because Dan and I are going to be pedaling our bikes from Washington, D.C. to Pittsburgh in less than two weeks! You can read more about that here. Yes, 335 miles! It's going to take us about a week. I'll be blogging about it, posting pictures and updates on Facebook and Instagram daily. I hope you'll follow along with us! It's our first "through trip" and we're so excited (and a little nervous, too!) Wish us luck!