My husband and I have been on a mission recently to replace some of our older furniture that was either handed down to us or purchased inexpensively when we got married. Since we've been married over 11 years, it's about time for a furniture overhaul! We are currently looking for a sofa delivery company to help us out with the furniture.
Our old, scratched and beat up entryway table was the first thing to go. I don't even know how old the thing was since it was a hand-me-down from my mother-in-law. It's served several uses over the years and has been well used, and it showed!
When the opportunity came up to review this beautiful Carson Forge Writing Desk from Sauder, I jumped at the chance!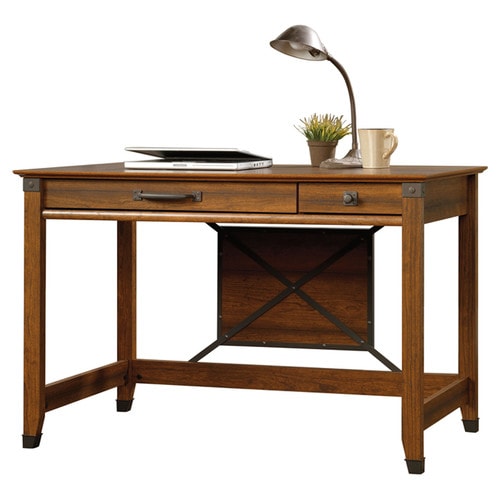 A new entryway table also necessitated a complete makeover of my limited entryway space! I enlisted help from my uber creative and talented friend who was simply born to decorate and make things beautiful. It was so fun to go through my house with her and find all kinds of hidden treasures that I would never have thought to include in the final design of my new entryway.
She helped me incorporate my love of red with some of my favorite books that gave just the right splash of color.
We also found a way to display my favorite Korean kissing ducks that have sentimental value since they were a gift from my brother and his wife.
One of the best features of the Carson Forge Writing Desk is its versatility. I'm obviously using it as an entryway table for now, but we have plans to eventually convert it to a laptop/computer desk. The generous space below the table works well for my basket and storage ottoman, but a cute chair will also fit comfortably underneath for when we change it over to a computer desk.
Sauder furniture pieces are made to be versatile and durable. The affordable style of Sauder pieces gives your home an expensive and trendy look without actually spending much money to achieve it. Sauder pieces come ready-to-assemble, which usually makes my husband cringe. However, we were both pleasantly surprised by how clear and readable the assembly instructions were. Plus our new writing table is really sturdy and solid, which is good since it's in a high-traffic area frequented by lots of small children!
If you don't have an expert designer friend, or if you just need some additional inspiration on how to style your Sauder furniture, then be sure to check out their new Lookbook. It's full of amazing ideas and design inspiration. I could spend all day scrolling through Sauder's Lookbook and dreaming of all the other furniture pieces I'm anxious to upgrade!
The next time you're in the market for new furniture pieces, be sure to give Sauder a look. They've got more than 40 collections of furniture with great choices for each room of your home. And the best part is their furniture is affordable without sacrificing style or quality! It's the best of both worlds!
This is a sponsored conversation written by me on behalf of Sauder. The opinions and text are all mine.