I recently shared this post with The Crafting Chicks readers. Today, I wanted to share it with you! It's something you'll find me making ALL THE TIME in the summer. It's nothing fancy, but the kids are always begging for me to make this picnic sandwich. And, I'm happy to… it's easy, delicious, versatile, easy to pack, and feeds a crowd.
So, I have two grocery stores right by my house… a Fresh Market and a Wal-Mart Neighborhood Market. I think we all have the list of things we buy at one store and not the other. For example, most of my produce I get at Fresh Market, although it's not anything too special. I LOVE the produce at Harmon's… but, it's a drive. However, if I need avocados, I go to Wal-Mart, because I know they'll be ripe, hopefully not over-ripe. Avocados at Fresh Market are typically hard as a rock. Fresh Market I go to when I'm lazy, because it's about 1/2 a mile closer. And, it's a little cleaner and friendlier. Oh, and they have pretty good donuts, for those Saturday mornings where I'm feeling deserving, which rarely happens.
Anyway, the point I'm slowly getting at is… French Bread. We LOVE the French bread at Wal-Mart. I'm not talking artisan, fancy-schmancy bread. But, if I need cheap French bread to make our most favorite picnic sandwiches, I pick Wal-Mart. Hands down. It's got that chewy thing going on, not the dry kucka-mucka thing that I find from most grocery stores. It's probably pretty rare that I say 'Wal-Mart has the BEST… ', but this is one of those times.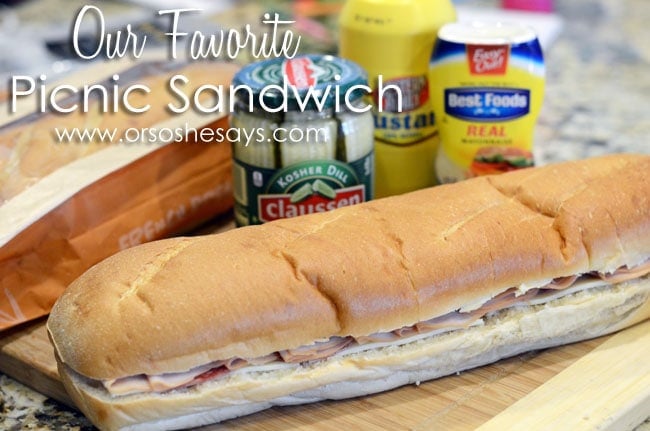 So, it's nothing fancy, no complex or even clever recipe. It's just a freakin sandwich. I make them all the time and I'm so serious, people always think they're the greatest thing and want more. Any time we go on a picnic, we bring a few of these. Every time we go boating, there are several in the cooler. Even when we're not out and about, my boys are always asking me to make some to keep in the fridge, where they can cut a piece off whenever.
I'm almost embarrassed to tell you how unspecial these are, as far as ingredients go. I just do Havarti cheese (Yum!), salami, and deli smoked turkey… on our favorite Wal-Mart French bread. I don't put any condiments on, I just pack those in the cooler, so people can add what they want (sliced tomatoes, Claussen pickles, lettuce, peppers, mayo, mustard, etc.). After they're put together, I slip them right back into the bag they came in and seal it up, ready to go!
Pretty darn easy, right? Need some more spring ideas?? Let's see what I have for you…
Time to get that booty in shape for summer?? My trainer shares her 10 No Equipment Needed Workouts…
When you're done working out, maybe you'll feel like ruining it all with The Best Sugar Cookies in the World.
And for all of you crafty gals, a super easy Easter decoration, Patchwork Easter Eggs…
Those ideas and zillions more over at 'Or so she says…'. I would love to see you there!