Hey there friends! It's Liz from Liz on Call. I'm excited to be back this month to share with you a yummy drink recipe! I know that in most parts of the country it's just barely spring. But here in AZ we are already "enjoying" 90 degree weather. The summer has rushed in, like usual, which means I am thinking in terms of summer entertaining already. There is nothing that says classic summer gathering than a BBQ with fresh lemonade. I thought it would be fun however, to put a twist on a the classic, and created this kiwi mint lemonade.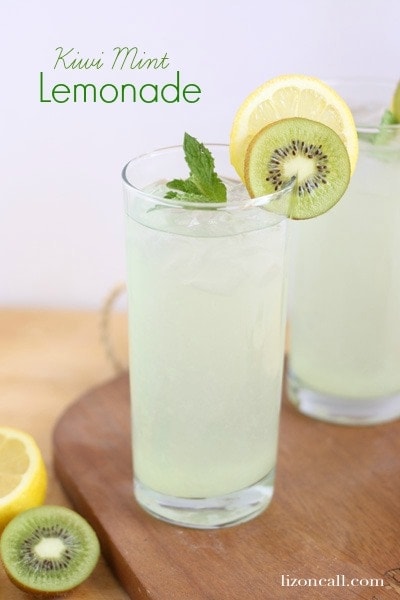 Making a fun drink is one of my favorite tasks when entertaining. Now I should specify that I only do non alcoholic drinks, which means, the whole family can enjoy my creations. This kiwi mint lemonade is super refreshing and your guests will love the subtle additions.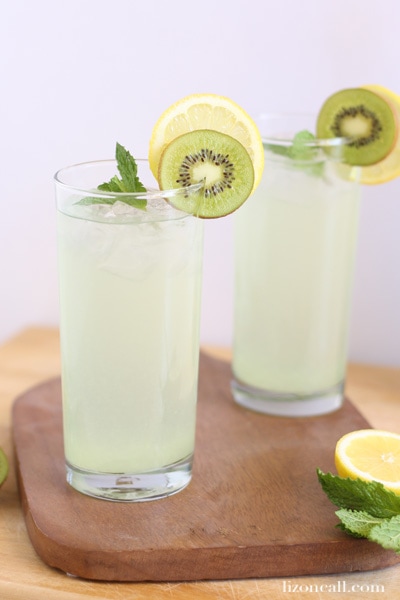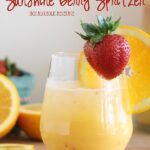 Kiwi Mint Lemonade
Ingredients
2

cups

white sugar

2

cups

fresh lemon juice

1

gallon

water

1/3

cup

kiwi flavor syrup

3 - 4

mint leaves

sliced lemons and kiwi

ice
Instructions
Mix together sugar, 2 cups lemon juice and gallon of water in a big pitcher.

Add kiwi syrup and mint leaves and stir.

*I like to mix it up the day before serving so flavors can combine well*

Serve over ice with a slice of lemon, kiwi and a sprig of mint.
If you have a favorite lemonade recipe, just add some kiwi flavor and some mint to jazz it up a bit. I have a favorite fresh lemonade recipe that I love which is delicious and makes a great starter for any lemonade based drinks.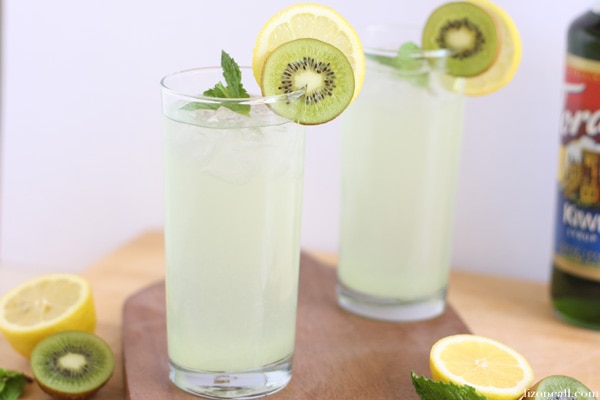 Impress your guest at your next BBQ or gathering with something unexpected but classic. This kiwi mint lemonade passed the true test at our house. My husband's thumbs up approval! 🙂
If you've got an upcoming brunch, this sunshine berry spritzer is a great drink to compliment your meal.
Thanks for stopping by today! I'd love for you to all stop by and say hello. Or check out more of my non-alcoholic beverages over at Liz on Call.
Happy Partying!
Liz