I had all these big, productive plans for the summer…update my food storage, organize the kid's closets (out with the old), touch up the paint on my walls (kid damage), catch up on my digital scrapbooks, etc. And, here it is almost August and I have nothing to show for myself…and I can't explain it, other than I've been completely running myself ragged. Can you relate? Between birthday parties, family vacations and outings, weddings, and the usual messy house and mommy stuff, there's no more time! What was I thinking?? Food storage, yea right. But, I haven't given up hope. I'm determined to check some of these things off my summer list. So, when I'm a total grouch and recluse, you'll know why. Anyway, my point is that cooking has dropped on my priority list and Chick-fil-A has become my new best friend. At least until summer is over. 🙂 However, I manage to sneak back into the kitchen now and then, and I'm only feelin-it for the super easy recipes…like Pink Lemonade Ice Cream Pie. Holy easy.
You can make your own graham cracker crust (recipe makes 2 regular size pies) OR you can take the easy way out and buy a pre-made crust. I opted for the Keebler Mini Ready Crusts (recipe made 18). Besides the crust, you will need 2 quarts of vanilla ice cream, a 12 oz. can of pink lemonade, red food coloring, and whip cream for the topping.
Soften your ice cream and dump in a large bowl with the can of pink lemonade and about 4 drops of red food coloring. Stir together.
Scoop the pink lemonade ice cream into the pie crusts and place back in the freezer until set. Maybe, 2 hours?

Squirt a wad of whip cream on top and serve!
Pink Lemonade Ice Cream Pies
Recipe from Jamie Cooks It Up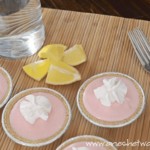 Pink Lemonade Ice Cream Pies
Ingredients
2

quarts

vanilla ice cream

12

oz.

can pink lemonade concentrate

4

drops red food coloring

Graham cracker pie crusts

store bought or make your own with 2 1/2 cups crumbs, 1/2 cup sugar, and 1/2 cup plus 2 TBS melted butter
Instructions
Soften your ice cream.

Dump in a large bowl with the lemonade concentrate and food coloring. Stir until smooth.

Scoop into pie crusts.

Place back in the freezer until set, at least 2 hours.

Top with whip cream.
Love easy ice cream desserts?? Try Butter-Mint Oreo Ice Cream Bars
Craving lemons? Try my favorite Lemon Bars.