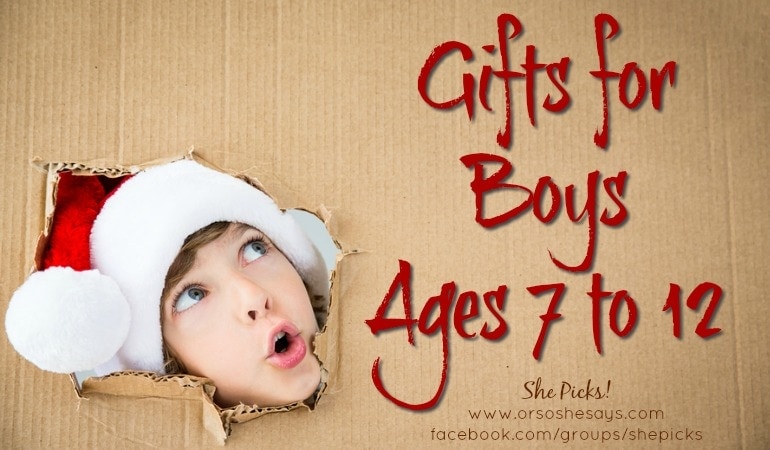 Gifts for Boys, Ages 7 to 12
Pick #1
Is your little dude into Minecraft? My son loves playing the game and collecting anything and everything that has to do with Minecraft. For his last birthday, I got him this Light Up/Color Changing Minecraft Potion Bottle and it's been a hit with all of the kids. When you touch it, it lights up. Then when you pretend to pour the bottle, it will change colors. The light stays on for about 1 minute to save batteries. So, it's not necessarily a night light, it's mostly just for fun or for a quick minute of light. Either way, all my kids find it pretty fascinating and it's the perfect addition to any Minecraft collection.
Bundle this gift with: The Transforming Pickaxe has been a hit in my house or maybe this super popular Minecraft Lego set.
Pick #2
A dedicated Lego table can be pretty pricey, so that's why these Peel and Stick Baseplates are EXTRA awesome! They make turning any old table into a Lego table super easy. Not only that, but these Baseplates could be used on walls, which is a cool way to build creations and decorate a bedroom. They get amazing reviews, as well. You know I like to hear that!
Bundle this gift with: a box filled with Legos or a book filled with Lego building ideas.
Pick #3
Okay, this is a pricey one, but it's been very fun for my kids. I love the Nintendo Switch! My son and I recently snagged one from the Nintendo shop in NYC, to give us something to do in our teeny-tiny hotel room and on the plane ride home. It's so cool that you have a handheld device for one person that can instantly be turned into a two-player device, as the sides come off into two individual controllers. And then, it gets better! The charging station can easily be set up to a tv via the USB cable and it can be played on a tv, just like a full-on gaming system (i.e. Xbox One, Playstation). Pretty darn SLICK! If my kids are going to play video games, I would MUCH rather them place with a sibling or friend. It cracks me up seeing them have so much fun and laughing while racing in Mario Kart or taking care of restaurant customers in Overcooked (this game available for $19.99 in the shop, found on the Switch.) Highly recommended!
Bundle this gift with: a gift card to download games on the Nintendo shop or a handy carrying case.
Pick #4
I love everything about this Leonardo da Vinci Catapult Kit. It's educational, fun to create and use, has easy instructions, can be completed in under a couple hours, and comes with everything pre-cut. It's a great kit for beginners! Although the kit comes with glue, some reviewers recommend picking up your own better-quality glue. There are also several other Leonardo da Vinci model kits available.
Bundle this gift with: The book, Leonardo da Vinci for Kids or this Ornithopter Wood Kit.
Pick #5
I have to bring up Legos again, because this Klutz Lego Crazy Contraptions book is awesome! If your kids love building with Legos, this little kit helps take things to a whole new level. This Parents Choice Award Winner comes with an instruction booklet and all the Legos needed for the 16 projects. It gets fantastic reviews and is a great choice if you need an affordable, but unique gift.
Bundle this gift with: another fun version, Chain Reactions, or a box of extra Legos.
Pick #6
For big kids all the way up to grown-up big kids/husbands, Anki Overdrive has a big fan base. These robotic cars are ready for battle and programmed from your mobile device. You can battle your friends or play against robotic opponents, who learn your tricks and improve in their strategy against you. It's simple to set up and there are lots of options for expanding your kit.
Bundle this gift with: a storage kit for the cars, a launch kit, or extra cars.
Pick #7
My son is obsessed with Nerf guns right now. He even had a Nerf themed birthday, just recently. There's a fun place near our house, kind of like a paintball course, but it's specifically for Nerf gun battles. That's where he had his birthday party, and ever since, he's added a million Nerf guns to his wish list. This Rival Nemesis gun is one of them. It's easy to load, has a high-capacity hopper, and a motorized blaster. If you can snag two of these babies, you're in for an extra good time!
Bundle this gift with: this battery pack (improves performance and saves you money on batteries!) Also, some refill ammo is always appreciated. 🙂
Need MORE gifts for boys, ages 7 to 12??
Gifts for Boys, ages 7 to 12 2011
Gifts for Boys, ages 7 to 12 2012
Gifts for Boys, ages 7 to 12 2013
Gifts for Boys, ages 7 to 12 2014
Gifts for Boys, ages 7 to 12 2015
Gifts for Boys, ages 7 to 12 2016
Did you miss these She Picks! posts from THIS year?? We recently shared:
Gifts for Babies & Toddlers 2017
Gifts for Girls, ages 3 to 6 2017
Gifts for Boys, ages 3 to 6 2017
Gifts for Girls, ages 7 to 12 2017
Did you know Mariel and Mariah share even more gift ideas every single day on their She Picks! Facebook group?? It's true! And, we would love to have you join us and 6k other members. Just click HERE or the image below to join us.