Today's Picks: Gifts for Boys, Ages 3 to 6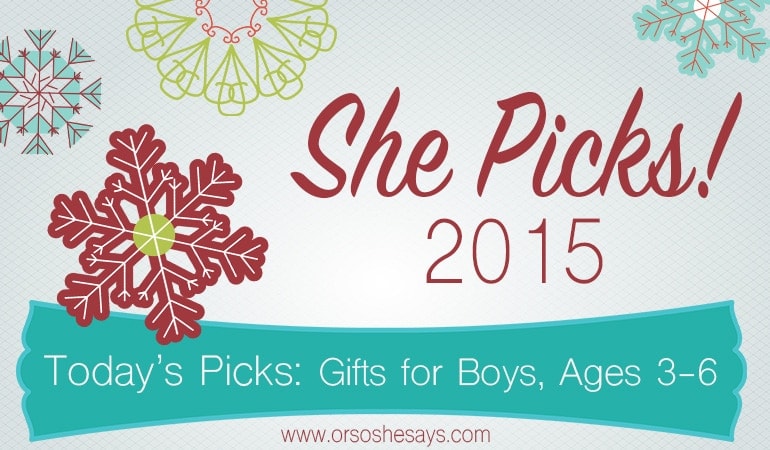 Pick #1
With Star Wars being the big thing right now and the simple fact that my 5 year old son is a perma-Star Wars fan, it's no surprise that this Ezra Bridger Lightsaber Blaster was on his wishlist. And, wouldn't you know it…. this thing gets great reviews compared to so many of the lightsabers available! Not only is it a lightsaber, but it doubles as a dart gun… pretty cool.
Bundle this gift with: the Star Wars Rebels Ezra Bridger Mask, this Star Wars Ezra and the Pilot book, or the Star Wars Rebels Visual Guide.
Pick #2
I think I love this Design and Drill Activity Center. Kids just snap a drill bit in the battery-powered drill and use the colored screw to make designs. The kit comes with design idea cards that kids can try to match. Super cool! Also top rated is the Light Up Design and Drill Kit!
Bundle this gift with: this Pretend & Play Tape Measure, this Construction Hard Hat, or this Construction Safety Vest.
Pick #3
This is definitely a 'main Christmas present' present… pricey, but super cool! The 2 1/2 foot tall Fisher-Price Imaginext Ultra T-Rex walks, lights up, fires projectiles, has sound effects, launches boulders from his chest… basically, he's ready to conquer the earth, so watch out. This is sure to be a hit!
Bundle this gift with: National Geographic's First Big Book of Dinosaurs, this Melissa & Doug Dinosaur Stamp Set, or this Extra Large Dinosaur Coloring Pad.
Pick #4
Another item on my son's wishlist are these Star Wars themed Hot Wheels, which combine two of his loves… which you can clearly guess. The cars come in individual packages so they can be wrapped individually for more Christmas fun!
Bundle this gift with: the Star Wars Race Track, the Star Wars Little Golden Book Library, or this Star Wars Bath Toys Set.
Pick #5
My 3 year old son would go NUTS for this Fisher-Price Imaginext RC Bat Bot. He's obsessed with all things superheroes and especially Batman. In fact, both he and my 5 year old are huge Batman fans… so I could see either one of them being all over this. This Bat Bot is a robot and a tank in one, with over 100 sound effects and phrases. It's a remote control tank with disk launcher and gosh, honestly I think I'm getting this one for my little BatBen (as we like to call him.) It would go perfect with his favorite Bat Cave.
Bundle this gift with: the Imaginext Bat Cave, the Imaginext Heroes & Villains Pack, or the Imaginext Penguin Copter.
Pick #6
My boys love playing with Play-Doh and Max the Cement Mixer would be right up their alley. Normally they're creating Play-Doh cupcakes and pizza with their sisters, which is great, but they'll like this SO much better! The kit also includes 5 tubs of Play-Doh.
Bundle this gift with: Play-Doh's Rowdy the Garbage Truck set, 5 Piece Dough Tools, or Chomper the Excavator.
Pick #7
So, I'm sitting here at my hair salon, waiting for my hair to process, and my stylist is telling me how her son loves playing with Squigz. I hadn't heard of them, but after hearing and reading about them, they're super cool! It's a building set where the pieces are suction cups… suction construction! She said her son is always building fun contraptions on the windows. 😉 There are a few different sets to choose from.
Bundle this gift with: Squiz Benders (these bendable sticks are a cool addition and will increase the building possibilities!)
Need more gift ideas for boys, ages 3 to 6?
Check out the She Picks! from past years:
Gifts for Boys, ages 3 to 6 2011
Gifts for Boys, ages 3 to 6 2012
Gifts for Boys, ages 3 to 6 2013
Gifts for Boys, ages 3 to 6 2014
and even more can be found here at Gift Idea Central (where ALL past and future gift ideas on 'Or so she says…' are saved. It's a MUST-PIN!!)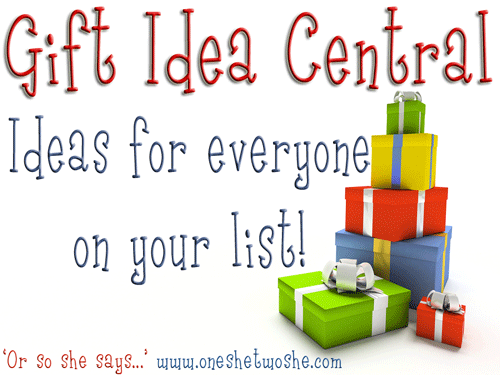 Lots more great gifts on my favorite shopping site, Amazon!
The previous She Picks! 2015 shared so far:
Gifts for Babies and Toddlers ~ She Picks! 2015
Gifts for Girls, Ages 3 to 6 ~ She Picks! 2015
See you back tomorrow and every weekday for MORE She Picks! Here's a little secret… it's Gifts for Girls, ages 7 to 12.