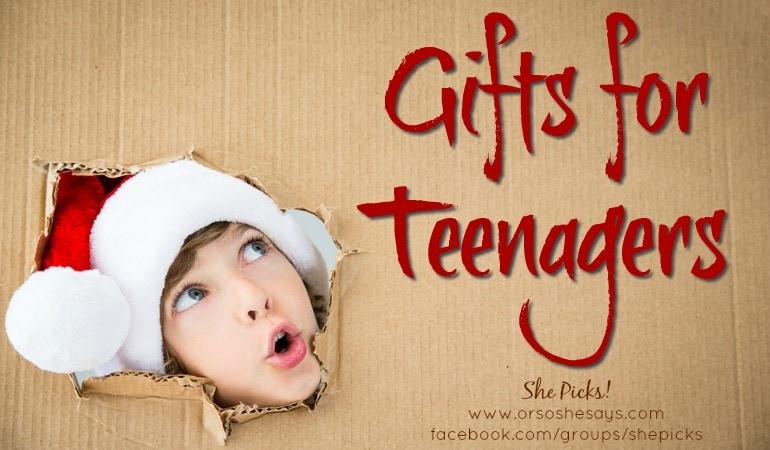 Gifts for Teenagers
Pick #1
My teenage boys would have a blast with these swords! The Cold Steel Hand and a Half Training Sword are definitely an upgrade from Nerf swords. They are top rated and from the sounds of it, they deserve it. This sword resembles a live blade in weight and size but they will not crack or spliter like wood. The best part of it all as a training sword they minimize the danger of a serious injury.
Bundle this gift with: my son's favorite computer game Medieval II Total War and you could also throw in The Lord of the Ring Collection.
Pick #2
My little sister literally never carries a purse because she has one of these babies. Thread Wallets are easily attached to a lanyard or keys and are perfect for those new drivers. They come in various styles great for any teen and for you worry-warts, she promises that your cards won't fall out.
Bundle this gift with: one of these cute lanyards and even add in your favorite soda shop gift card (Swig, Fiz, Sodalicious etc.). And, if you are feeling extra generous, a Tile is great for those 16 year olds prone to losing their keys.
Pick #3
For the Stranger Things junkies, these Funko Pops are a super fun thing to collect! I love this Eleven with Eggos, but there are several other Stranger Things characters available too.
Bundle this gift with: a Stranger Things t-shirt or a box of Eggos!
Pick #4
This Calligraphy Pen Set is perfect for all those artist you know. It comes with two colored cartridges that are refillable or pair it with this packet of twelve refill cartridges.
Bundle this gift with: this Learn Calligraphy Book or this top rated Calligraphy Paper. My girls are big artist and one thing they love to use lately is a clipboard. These Floral Clipboards are super cute!
Pick #5
My 16 year old constantly has at least one earphone in at all times blasting his music. This VicTsing shower speaker would be a perfect for music-loving teens. It is one of Amazon's best-sellers and is easily connected to your phone through bluetooth to play all of your favorite songs.
Bundle this gift with: A few bottles of 3 in 1 Nivea Men's Body Wash!
Pick #6
I feel like this hilarious Allergic to Mornings t-shirt is perfect for every teen out there.
Bundle this gift with: This huge pack of Altoids! My boys are always stealing my Altoids before they go to school. You could also pair this gift with this top rated Adidas SackPack.
Pick #7
If they're going to take selfies, they might as well look good, right?!? … kids and their selfies… This Auxiwa Clip-on Selfie Light easily clips on the phone, has 3 light settings, and is rechargeable! Reviewers love the flattering light and parents will love the price. 😉
Bundle this gift with: a phone tripod and remote or lapel microphone.
Pick #8
Teens love decorating their room and these Clip String Lights are a super cool way to jazz up any room… plus, it's not expensive at all! It's a fun way for them to display pictures of family and friends, favorite quotes, reminders, etc.
Bundle this gift with: a faux fur pillow and some printable 4×6 photo paper.
Need MORE gift ideas for teenagers??
Did you miss these She Picks! posts from THIS year?? We recently shared:
Gifts for Babies & Toddlers 2017
Gifts for Girls, ages 3 to 6 2017
Gifts for Boys, ages 3 to 6 2017
Gifts for Girls, ages 7 to 12 2017
Gifts for Boys, ages 7 to 12 2017
Did you know Mariel and Mariah share even more gift ideas every single day on their She Picks! Facebook group?? It's true! And, we would love to have you join us and 6k other members. Just click HERE or the image below to join us.