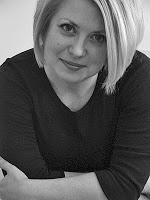 Hello! My name is Catherine, and I blog over at
The Dancing Pear
. My main occupation involves taking care of my two little ones, but I have recently started doing graphic illustration for stamp companies. I have an art degree, and a background in Human Resources and Marketing, and love all things crafty! I stopped working outside of the home when my children were born, but kept my fingers crafty. I've always loved to create handmade gifts, and a few years ago, I joined the paper obsession, and never looked back. I ESPECIALLY love inexpensive, fun, cute and FAST…because…let's face it, how many of us really have time to do everything we need, or want, to get accomplished every day?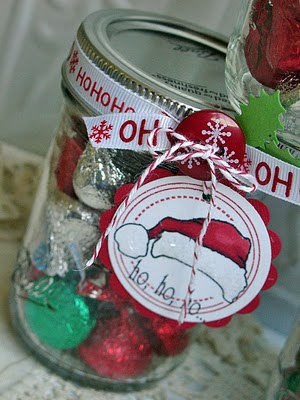 I also love to thank all the people in my children's lives…teachers, coaches, how about the secretaries at your kids school? How about neighbors? Church friends? Again, with the "rules" of inexpensive, fun, cute and fast….decorating canning jars has become my latest obsession! Wal-Mart carries canning jars year round now, and you can purchase a multitude of sizes and shapes, they carry the most selection in summer…and I stock up when I start seeing them!
For my Christmas goodie jars, I started with two punches, a circle shape and a scalloped circle shape, to create the basic tag shape. These Santa tag images are from my acrylic stamp line called Secret Santa found at My Time Made Easy
HERE
.Then I tied a bright and festive ribbon around the lid, and decorated with Christmas bobbles (buttons, jingle bells, craft snowflakes) I had laying around, filled with Hershey Kisses in Christmas colors, and I had 12 gifts ready to go in about 2 hours. I think for my "main" teachers…I'm going to tuck in a gift certificate in all the candy :0)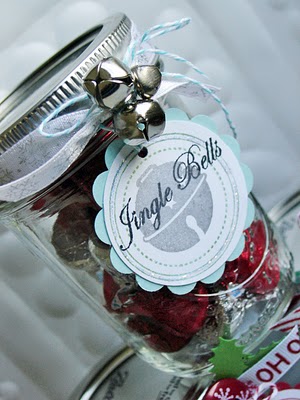 I also wanted to share what I created for Halloween, I used the large quart jars to create gifts for teachers too (I LOVE to spoil my kids teachers…). Using stamps from
Papertrey Ink
, I created a caramel apple jar and a candy corn jar. They were HUGE hits!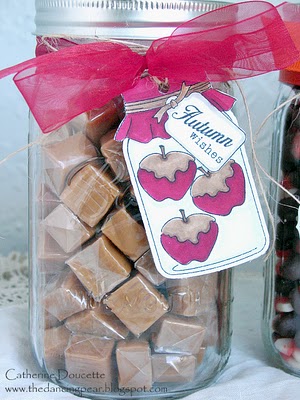 Thanks for reading, hope I inspired you to try something inexpensive, fun, cute and fast!

For gift ideas for everyone on your list, check out the Gift Ideas tab and be sure to pin Gift Idea Central, to keep the whole collection in one place.