I remember as a child, when we had salad it was a combination of lettuce, tomatoes and sometimes cucumber. Nowadays salads are made up of a wide range of meats, veggies, fruits and cheeses. I love a good salad and this Heavenly Seven Veggie salad one is a most-definitely a good one!
My grand kids love it. We had it for Sunday dinner and my youngest grand son told me, "Granny that salad is popping!" He is so funny! But in all seriousness, if you want something that is nutritious, flavorful and a quick meal, this is your salad. All the colors and flavors come together beautifully.
The seven veggies:
Kale
Spinach
Romaine Lettuce
Lettuce
Carrots
Onions
Cucumbers
Fruits:
Tomatoes
Strawberries
Grapes
The rest of the ingredients:
Feta cheese
Bacon
Eggs
Topped with your favorite dressing
Obviously, you're welcome to omit anything that doesn't appeal to you, and to add in substitutions. Avocado would be another delicious element in this salad since it goes so well with eggs and bacon.
Just wanted to share this convenient tool… egg slicer, cut perfect slices every time.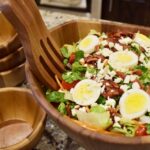 Heavenly Seven Veggie Salad (Ready)
Ingredients
Kale

Spinach

Romaine Lettuce

Lettuce

Carrots

Onions

Cucumbers

Tomatoes

Strawberries

Grapes

Feta Cheese

Bacon

Eggs
Instructions
Cook bacon and crumble

Hard-boil eggs and slice

Slice/dice all veggies and fruits (julienne the carrots)

Toss together and serve with your favorite dressing